Deep-sea fishing is an exciting adventure if you are well-equipped and prepared for the same. You have to visit the marina and rule out what you have against what they'll provide.
The charter will also provide you with information about weather conditions, the kind of fish around, and what lures will be best for your fishing spree.
Now, the lures come in different sizes depending on fish species, and that means you need the right equipment with the following characteristics:
Bright color for dark, murky waters
Heavy lure if in deep waters with strong waves
Light lure if in calm and clear water.
The following might be handy for your gaming event:
High Quality Sea Fishing Lures: Comparison Table
This is about to be a detailed review of top-quality fishing lures, and just in case you don't have time, we have this brief table up for you. It sums up the list of the leading lures for deep sea angling.
The Best Deep Sea Fishing Lures in Review
The lure type depends on the condition of waters you are in or the amount of fish you are targeting. Or better still, which kind of fish in terms of size and location.
1. Goture Tuna Lures Vertical saltwater Jigs
First on our list is the Goture Tuna lures. These fishing lures create a vertical movement (jigging) that attracts fish. 
Plus, they come in luminous colours and are suitable for different deep-sea water conditions.
Pros
Non-corrosive carbon steel hook
Fluorescent luminous jigs
Full Stream-lined body
Good for saltwater
UV reactive multi-layer coating
Sharp carbon steel hook
Cons
Bright color attracts predators too
2. Capt Jay Fishing Trolling Lures 5/6 inch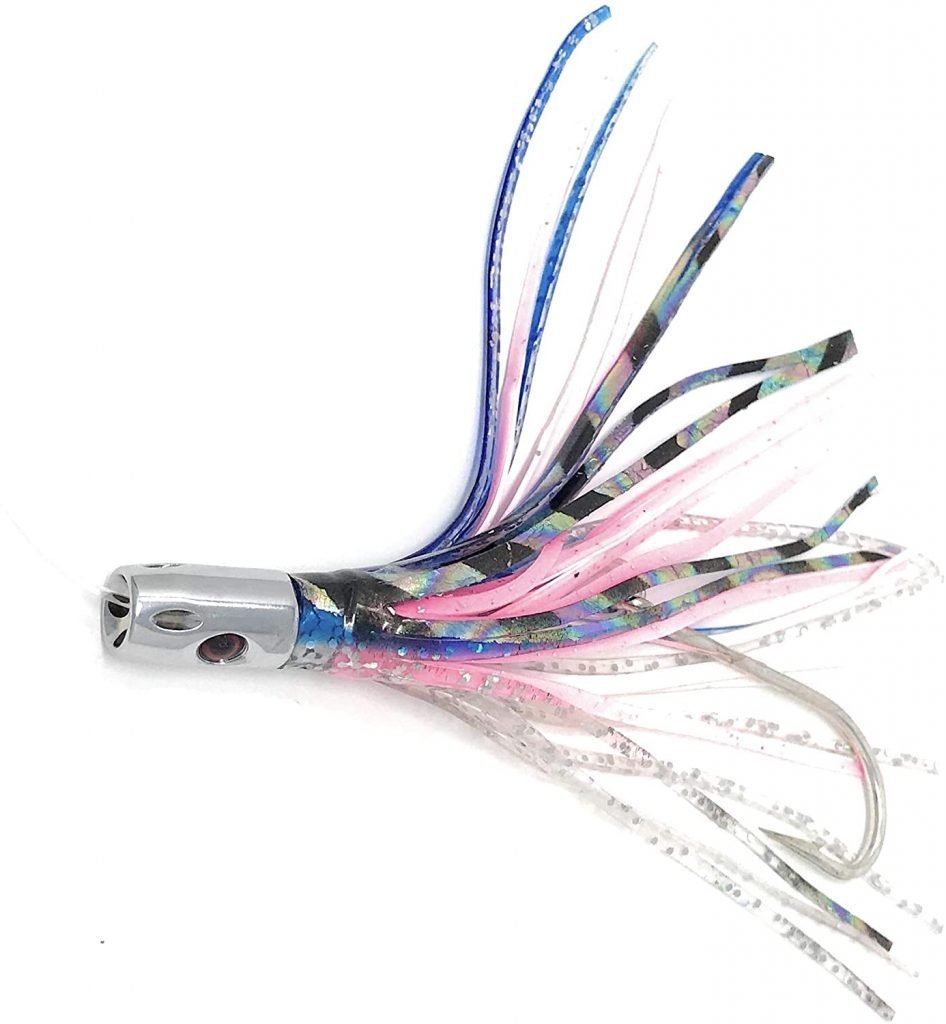 If you're looking for lures that are perfect for both offshore and inshore game fishing, you might want to consider these ones from Captain Jay.
They come in a wide variety of colors including green, mixed shell pink, yellow, and blue.
On top of that, they come with an octopus skirt and a deflector hole both which make it easy to move on water.
Pros
Effective in attracting fish
Quite affordable
Light in weight
Suitable for big game fishing
Cons
Tends to rust
Skirt length too short
3. Capt jay trolling fish Lure (9 inches)
Moving on swiftly, we come to our third pick on this list of lures meant for ocean and sea fishing. One thing we like about these 9-inch lures is that they come in a value package of 6 or 8 pieces.
We honestly feel that this package provides good value for money.
Plus, the set works quite well on big game like tuna, dolphins, and even mahi-mahi.
Pros
Good quality for their price
Well-packed
Satisfactory in length
Very affordable
Cons
It is non-selective to fish size
4. Kmucutie 5pieces 8 inches
This is uniquely made of copper head and a PVC octopus skirt, which makes it highly durable. While the copper head produces a stream of bubbles, it effectively attracts tunas, marlin, wahoo, and others.
So, we think that this is definitely a must-have especially when you need to attract the elusive fish species.
Pros
Effective for attracting any school of fish
Heavy in weight
High quality copper head
Double PVC octopus skirt therefore durable
Cons
The PVC skirt may drop off if overloaded.
5. Zoukfox 5pc Deep Sea Fishing Lure
The Zoukfox fishing lure comes in a range of bright colors: red, white, blue, et cetera. So, you get to choose something that works best for different situations.
In addition, it's made of 3D eyes that make use of LED technology, so that they glow automatically in water.
Pros
Attractive and great design
Has a high durability
Very affordable
Cons
The 3D eyes may malfunction.
6. Jaw Lures Official Offshore Deep Sea Lures
Sixth on our list is this 2-hooked set of lures. It is suitable for offshore fishing. Besides that, you can use it to catch mackerel, tuna, mahi-mahi, and sailfish among other offshore fish.
And since it's non-corrosive, you don't have to worry even if you happen to use it in salt water conditions.
Pros
Can hook two fish at once
Pocket friendly
Non-corrosive in saltwater
It's highly durable
Cons
May disentangle if overloaded
Features to Consider Before Buying Deep-sea Fishing Lures
A fishing lure is designed according to the kind and reeling effect of fish.
A good lure shouldn't disentangle during the operation. So, what specs should you look for?
Size
Fishing lures come in different designs and sizes. The longer and heavier it is, the easier it becomes to drag along.
You can also look at the number of hooks and skirts. Plus, each comes with a specific length. These vary depending on the target species.
Color
You can choose based on what species it attracts. For example, some lures have multiple bright colors, while others carry a single flashy color. These are specific to the dark, murky waters of the reefs.
The less flashy colors are good for calm and clear seawater.
Cost
It depends on the materials, size, and availability. Synthetic and rubber lures tend to be cheaper compared to wood lures with 3D eyes.
Durability
Wood lures are more durable than rubber lures.
Jet heads coated with copper and silver make the lures last longer. However, the coating poses a risk to the fish if it slowly wears out.
Common Questions People Ask on This Topic
In this section, we will answer some of the most frequent questions about deep sea fishing lures. Here we go!
Q: Do fishing lures work?
A: Yes, whether it's calm, clear waters or dark and muddy waters, there's always a fishing lure for each occasion. Bright color fishing lures attract fish faster.
It also depends on the effort of the anglers and their knowledge of the fish locations.
Q: Are lures better than bait?
A: Lures work better and alleviate the need for replacement. So, it's possible to use lures repeatedly, but bait may need new ones on each occasion.
Consequently, with proper knowledge about the fish kind, it's possible to choose exact lures for the particular species.
Q: What is the best color for fishing lures?
A: Your choice of lure depends on the water condition. Bright colors attract fish easier than dull ones. If there's enough light penetration, a dull-colored lure is a better choice.
Light penetration in the deep sea is affected by waves and winds, therefore affects visibility. 
The Best Lure for Deep Seas – Our Pick
While all the above fishing lures are well-made, we highly recommend Goture Tuna Lures Vertical Saltwater Jigs for your onshore or offshore fishing sports.
What's more, it is pocket-friendly, easy to drag in water because of its streamlined body, and fluorescent colors, that easily attract fish.
Bottom line
Deep-sea fishing is evolving from the traditional live baits to artificial rubber, wood, and synthetic lures.
The fishing lures are more durable, can access deep-sea fish more effectively, and are specific to the type of fish it attracts.
Otherwise, enjoy your biggest catch with the right tools in place.