It doesn't matter whether you are into fishing, camping, or are planning to go on a few outdoor activities at night, you'll need a reliable flashlight.
And it isn't just any ordinary flashlight, but a waterproof one. One that can remain functional even if you accidentally drop it into the water or get rained on.
Come to think of it, the list of flashlights on the market is endless, now, how do you find the best waterproof flashlight?
Don't worry, by the end of this article; you will be more knowledgeable about what to look in a flashlight and the best brands to pick from.
How To Choose Waterproof Flashlight
The following factors will help you narrow down your options on which flashlight to order from the many available ones. Although many elements determine a flashlight's efficiency, the following are the key ones.
Every flashlight has a lumens specification which indicates the level of brightness. For instance, the higher the lumens, the brighter the flashlight and vice versa.
Most flashlights are equipped with around 300 lumens although some advanced ones go for up to 1200 lumens (good for rescue missions).
Avoid anything that falls way below that range.
The type of battery in a flashlight is a key determinant of how long it can run, this is usually indicated in hours on the packaging. It's, however, worth noting that if a torch is too bright, it might deplete its charge pretty fast.
It's always a good idea to consider investing in a torch that's rechargeable. That way, you can avoid the hassle of having to buy new batteries every now and then.
Non-rechargeable batteries aren't too bad either. But you need to ensure that replacements are easy to find and affordable as well.
A good waterproof flashlight should have 2 or more modes for easy adjustment of the illumination to the intended distance. In most cases, the beam gets more focused and narrower with a reduction in the distance.
The more the merrier. A torch with more lighting modes allows you to adjust the beam of light depending on the situation.
That can be a big plus when you need to conserve the power or need to make an SOS signal during emergencies.
Since outdoor conditions can be quite demanding, it's recommended to invest in a well-made flashlight. Typically, good flashlights are ones made from aircraft-grade aluminum.
Since there's always a possibility that the flashlight could fall into the water as you work, it's wise to invest in one that's waterproof. Ideally, a good flashlight is one that can continue working normally even after being submerged in up to 1-meter deep water for 30 minutes or so.
Best Waterproof Flashlight: Our Detailed Reviews
Our unbiased editors have done all the research for you and selected some of the best yet reliable waterproof flashlights. Just keep scrolling and decide on the one that suits your needs.
1. J5 Tactical V1-PRO Ultra Bright 3-Mode Flashlight

Waterproof: IPX4
Material: Aircraft-grade aluminum
Durability: Excellent
Remember the days when folks used to own the big MagLights that ran on 4D cell batteries? Those days are long gone.
And now, this tactical flashlight only uses one AA battery and still delivers great brightness levels.
What's more, the J5 can also use a 14500 rechargeable battery which is, indeed, great if you're looking to avoid the hassle of replacing your batteries over and over.
Also worth noting is that this flashlight provides 3 different light modes namely high, low, and strobe. Of course, this is the kind of flexibility you need if you're a dedicated outdoorsy.
On top of all that, the J5 waterproof flashlight boasts a maximum output of 300 lumens. That's quite bright and can illuminate a path of up to 600 feet. But if you're into serious search missions and stuff, you might require extra lumens.
In our view, though, 300 lumens are more than enough for most fishing and camping tasks. Plus, since the flashlight isn't overly bright, it doesn't easily drain the batteries.
Pros
*Ultra-bright
*Adjustable modes
*1-year warranty
*Replaceable AA battery
Cons
*Not the brightest one available
2. Streamlight Tactical 88040 Pro Tac Professional Flashlight

Waterproof: IPX7
Material: Aluminum
Durability: Above Average
If you're looking for a flashlight that's slightly brighter than the J5, you might want to consider going for this one from Streamlight. It's available in different brightness levels ranging from 2,200 lumens to 70 lumens.
Our favorite choice is the 750 lumen variety which is just enough to illuminate a path of 800 feet.
Plus, you can reduce the beam depending on the situation. The lowest beam intensity is rated at 35 lumens which is just enough to illuminate 150 feet ahead. Not too bad!
Moving on swiftly, this baby comes with 2 lithium batteries already included. On full charge, these batteries can power the flashlight's full beam for 1.25 hours. Of course, better battery runtime can be realized on the lowest beam which enables the flashlight to run for 18 hours non-stop.
Lastly, the Streamlight provides you with 3 modes namely high/strobe/low. The strobe function is great for signaling or beam disorientation while the High/Low is great for zooming in or out.
Pros
*Different light intensities
*One-tap programming
*Awesome C4 LED technology
*High brightness
Cons
*Batteries deplete fast in high output
3. GearLight Tactical LED Zoomable Flashlight

Waterproof: IPX7
Material: Military-grade Aluminum
Durability: Excellent
This Gearlight flashlight produces up to 1000 lumens that can illuminate an outstanding 1000-feet distance. To put this into perspective, the flashlight can deliver 10 times more brightness than the old incandescent lights.
Of course, that may vary depending on the level of battery charge and the activated mode.
Talking about modes, this cool kid boasts 5 modes i.e. high, medium, low, strobe, and SOS. The SOS mode is quite useful for search and rescue missions.
The other modes are great for fishing, camping, or even walking around the backyard.
But kindly take care while using the maximum illumination as it can have a blinding effect on people or animals around.
Moving on swiftly, the package includes 2 torches with each being powered by 2 AAA batteries (sold separately) or 1 rechargeable battery.
However, owing to its high level of brightness, it tends to deplete the non-rechargeable batteries quite fast. So, it might be a good idea to simply invest in a rechargeable battery instead (which means you have to spend more).
Pros
*Portable design
*Comes as a 2-pack
*5 adjustable modes
*Low power consumption
Cons
*Batteries have to be bought separately
*Reduces brightness as batteries weaken
4. Dorcy Waterproof 41-2510 LED Flashlight

Waterproof: IPX4
Material: Plastic
Durability: Low
High-tech flashlights can be a headache to use to some people, this is where this Dorcy flashlight comes in. It has only the simple-to-use On/Off button and requires no toggling through various lighting modes, therefore, good for use even by kids.
On top of that, the torch is equipped with 3 AAA 4 LED bulbs that produce a bright output of 55 lumens, which is enough to illuminate a 100-foot distance. Moreover, this full-packed battery makes a handy partner for your home safety, camping, or night walking.
That said, if you are looking for a bright long-distance flashlight, this one won't do as it has very low lumens. It can light up a small room, though.
Luckily, this cool kid is quite dependable as far as battery life is concerned. In fact, it provides a total runtime of close to 9 hours which is quite decent for such a small device.
At its price point, we feel that this flashlight provides good value for money to entry-level users and hobbyists. It, however, is no match for the like of Streamlight Tactical 88040 Pro.
Pros
*Affordably priced
*Easy to use
*Longer runtime
*Simple design
*Available in different colors
Cons
*Only illuminates over short distances
*Uses non-rechargeable batteries
5. NoCry 18W Rechargeable Waterproof Flashlight

Waterproof: IPX7
Material: ABS Plastic
Durability: Average
Flashlights with non-rechargeable batteries like the above Dorcy or Streamlight may not be the best option for some people. This is why NoCry has designed this flashlight with a rechargeable Lithium-ion battery that can last for up to 20 hours after a 4-hour full charge.
There are 3 modes; low equaling to the 20-hour usage as alluded above, Medium (500 lumens) giving 12 hours, and High offering around 6 hours. Contrariwise to this, there are claims of the charge not lasting to 6 hours on maximum output.
This 18W flashlight's modes are zoomable from 90 yards when used on the lowest mode (200 lumens) and to 300 yards on the highest mode (1000 lumens).
Pros
*3000 mAh power storage
*3 brightness modes
*Rechargeable and durable Lithium-ion battery
*Versatile
Cons
*Quite expensive
*Charge depletes fast on high mode
6. NICRON N7 Waterproof Tactical Flashlight

Waterproof: IPX5
Material: Aluminum
Durability: Above Average
The NICRON tactical flashlight boasts 2 battery options; gives 250 lumens when used with AA battery and 600 lumens with a 14500 rechargeable battery. Unfortunately, neither of the batteries are included in the package so you have to buy them separately.
The torch's low lumen count notwithstanding, it still can light up a path of up to 413 feet and can also brighten up an entire room.
On the flip side, though, we came across multiple complaints that this torch has a below-par runtime. So, if you're after something that can sustain you for a night-long mission, this might not be a good choice.
All is, however, not lost with the Nicron N7 as it's operable in 4 different modes namely high, low, strobe, and SOS. This makes the flashlight ideal for most rescue missions, hiking, or for leisure walks at night as it is easy to use.
Pros
*4 brightness adjustment modes
*Smart switch design
*Swivels through 90 degrees
*Lights a long distance
*Serves multiple functions
Cons
*No batteries
*Drains batteries quickly
7. Brionac LED Waterproof 2-Pack Flashlight

Waterproof: IPX5
Material: Military-Grade Aluminum
Durability: Excellent
Our next product in this review is the Brionac flashlight which is equipped with 5 zoomable modes, namely; High, Low, SOS, Medium, and Strobe. The modes help you to brighten up the way when fishing, camping, dog walking, or night training, among other situations.
Although this flashlight doesn't state the lumen output, it can still be zoomed out to illuminate a large area or be focused on brightening a 1200-feet path. We estimate that it provides nothing short of 1200 lumens.
To sum it up, the torch is conveniently powered by one rechargeable 18650 battery or 3 AAA ones (all are sold separately). After a full charge, the rechargeable battery provides unlimited lighting service and has an estimated lifespan of 100,000 hours.
Pros
*Uses either AAA or rechargeable battery
*Has 5 adjustable modes
*1200-feet long illuminating distance
*Includes 2 flashlights
Cons
*No batteries
*Doesn't allow beam focus adjustment
8. Wsky S1800 LED Tactical Flashlight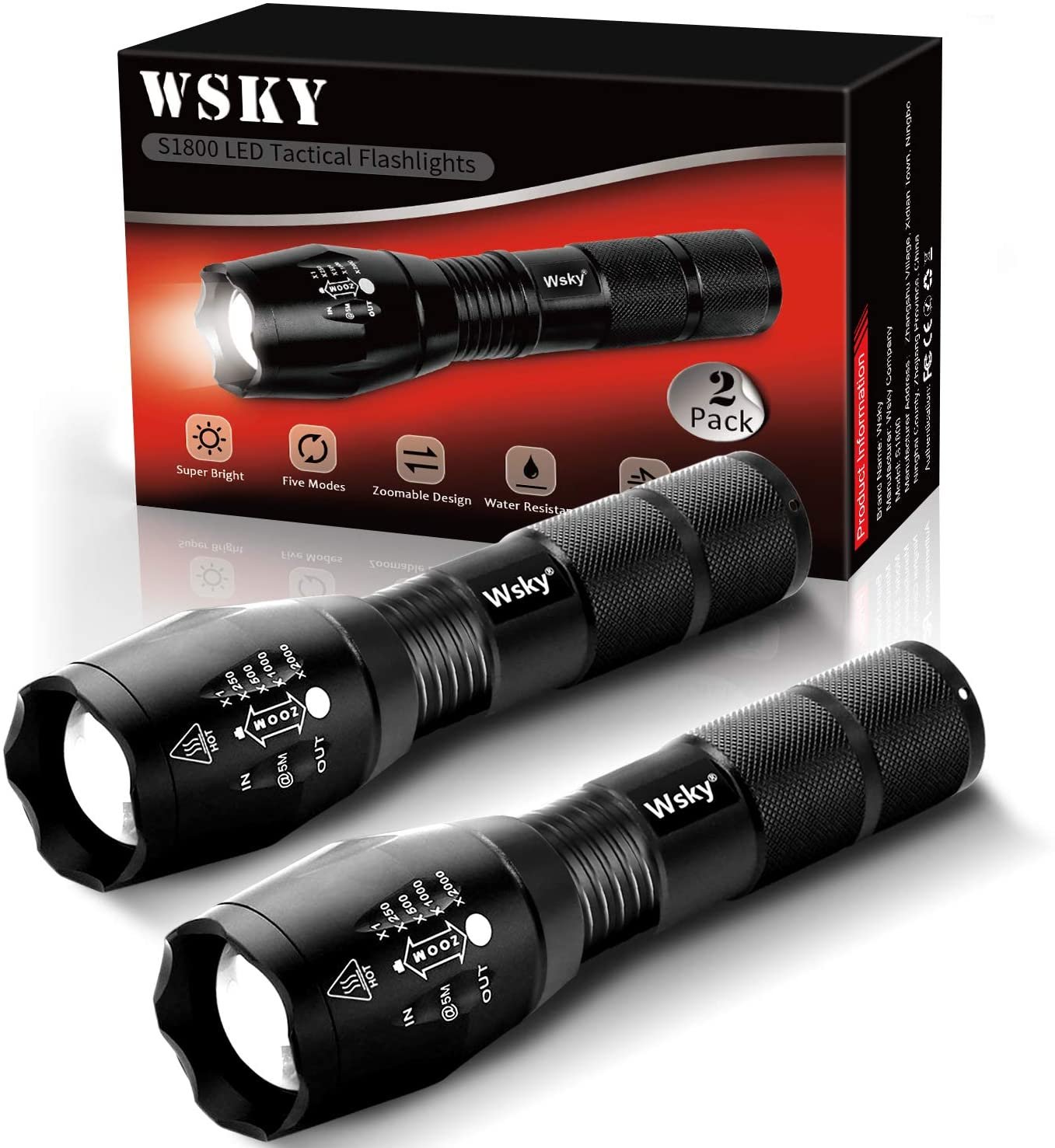 Waterproof: IPX5
Material: Military-Grade Aluminum
Durability: Excellent
With the 5 easily adjustable modes of this Wsky flashlight namely; Low, Strobe, Medium, High, and SOS, the torch is designed to serve multiple functions. The best part is that you can zoom in and out for convenient light focusing when camping, walking, or hiking.
Each of the 2 included LED flashlights comes with 2 battery holders and runs on 3 AAA batteries (sold separately).
The battery life isn't indicated, but how long they last depend on how often you use the flashlight.
Alternately, an 18650 rechargeable battery may be used to save on recurring AAA battery replacement costs.
In the same vein, while this torch has a capacity of illuminating a 600-feet distance, the number of lumens isn't specified on the package. Our estimate is that this flashlight is capable of delivering 1000 lumens at the very list.
Pros
*Portable design
*Easy to switch between the various modes
*Features 5 brightness modes
*Long distance illumination
*Affordable
Cons
*Batteries get depleted quickly
*Made in China
9. Kootek Super Mini LED Flashlights

Waterproof: IPX6
Material: Aluminum
Durability: Above Average
These 5 supermini flashlights are available at a pocket-friendly price to ensure you get enough for your family members. The torches are helpful when you go hiking, night walks, in stormy conditions, or for use as an emergency light in case of power blackouts.
That isn't enough, the flashlights are comfortable and safe for kids to use thanks to their simple mode of operation (no tiring toggling between multiple light modes).
Each torch can be powered by 1 AA battery or a single 14500 rechargeable battery (sold separately). The operating time depends on the battery used and the frequency of torch usage.
Note that, the rechargeable battery is the best option as it offers a more prolonged time output than the AA.
Furthermore, the included XPE-Q5 LED bulb emits an intense beam of about 300 lumens, which can be adjusted easily through the slide action for detailed focusing.
Therefore, this flashlight is capable of illuminating a path of around 165 feet (50 meters) which is bright enough for basic indoor or outdoor activities.
Pros
*Price is inclusive of 5 flashlights
*Offers awesome brightness
*Has 3 easy to adjust modes
*Small and portable
Cons
*Power button poorly positioned on the end
10. BlueFire CREE XM-L2 Scuba Underwater Diving Flashlight

Waterproof: IPX8
Material: Aluminum + ABS Plastic
Durability: Good
Maybe all you want is an entirely waterproof flashlight to satisfy your diving needs. Then this underwater flashlight with a maximum output of 1100 lumens might just be what you're after.
Apparently, it's waterproof for up to 80 feet. Indeed, it's rated at IPX8 which simply means that it's fully submersible in deep water for several hours.
Apart from that, this level of brightness is also great for caving, swimming, fishing among other survival missions.
The LED bulb has a total runtime of 50,000 hours and can be powered by 1 Li-ion 18650 rechargeable battery or 3 AAA batteries (sold separately). However, the rechargeable battery is the best choice as it's easier and maintain in the long-run.
In conclusion, the torch is equipped with 3 operating modes; High, Strobe, and Low which can be adjusted easily by slight twisting of the bottom. It's recommended to adjust to your preferred mode before getting into the water, though.
Pros
*IPX8 waterproof
*2 battery options
*Offers extreme brightness
*3 modes of brightness
Cons
*Turning on/off involves manual twisting
*Batteries sold separately
Related
10 Best Fishing Headlamps with Buyer's Guide
Bilge Pumps? 10 High Flow-Rate Pumps Compared
Fishing Nets [Latest Edition & Buyer's Guide]
Frequently Asked Questions
We know you might be asking yourself some of the below questions concerning waterproof flashlights, this is why we've created some quick answers for them.
What is a LED flashlight?
LED (Light Emitting Diode) generates light to tungsten bulbs. They are usually preferred for their shock resistance and stable light streaming as compared to the traditional incandescent bulbs.
Are all rechargeable flashlights waterproof?
No, as there exist some waterproof non-rechargeable flashlights. Moreover, the water resistance is measured on a scale with numbers like IPX5, IPX7, and so on. That said, the torch with the highest number is the most waterproof e.g. IPX8 is ideal for scuba diving.
How bright should my waterproof flashlight be?
While most flashlights lie between 300 to 900 lumens, any below 100 lumens is considered unfit for night outdoor use. On the contrary, flashlights with more than 900 lumens are much preferred for professional purposes due to their blinding effect.
Which One Is The Best?
Though we highly recommend all the above 10 products, we settled on J5 Tactical V1-PRO Ultra Bright 3-Mode Flashlight to be our best pick. Why? This is because the J5 Tactical flashlight has 3 distinct modes for easy use even by amateurs and delivers long-lasting brightness of almost 2 months even though it's powered by a single battery.
As a final point, the flashlight is secured by a 1-year total gratification or replacement warranty, this assures you of its quality.
Conclusion
This article has just summarized the top-rated waterproof flashlights that have been proven to stand the test of times. All is thanks to the ability of the torches to withstand regular use in misty or water conditions like rain or snow.
The number of lumens, battery run time, and the number of modes are the major characteristics that determine the excellence of a waterproof flashlight. By now, we hope you have gained more insights into the ideal water-repellent flashlight to use in your upcoming outdoor ventures.