One of the biggest names in the kayaking business is the Pelican brand. Over the years, the company has consolidated its reputation as a producer of high-quality vessels that rarely disappoint.
We can speculate that one of the reasons for the brand standing out from the pack is that they've been in the game for close to 5 decades. It's not easy to survive that long in a competitive marketplace unless you're doing something really unique.
So, what makes this brand tick?
In this article, we have compiled detailed Pelican kayak reviews that would help you make an informed choice when it comes to choosing the appropriate Pelican vessel.
In summary, this article entails…
A detailed run-down of the 13 best Pelican kayaks, a detailed buyer's guide, FAQs, and our verdict. Read on.
Top-Rated Pelican Kayaks Reviewed
They come in different shapes, colors, and sizes. But one thing is for sure, they all come from Pelican Sport, a US-based that has been around for more than 5 decades. Let's take a quick look at them.
| Title | Ranking |
| --- | --- |
| Pelican Maxim 100X | Winner |
| Pelican Saber 100X | 1st Runners Up |
| Pelican Pursuit 80X | 2nd Runners Up |
---
1. Maxim 100X Sit-In Recreational Kayak by Pelican Boats
The Maxim 100X Pelican Kayak is a top-rated choice for beginners and experienced kayakers alike. It's relatively stable and easy to maneuver.
First off, this cute watercraft is light in weight. It weighs in at 26 pounds meaning it's light enough for one person (adult) to carry it around with ease.
Moving on swiftly, the yak provides ample storage for the user. No doubt about that. That's all thanks to its built-in storage hatch that comes fully-fitted with a bungee cord.
What's more, its rear storage platform is covered with a mesh deck cover. This makes it ideal for keeping all the accessories you might need to use while on board the kayak (think about your bait, line, reels etc.).
Lastly, the kayak features a V-chine hull design which makes it easy to paddle when speed is needed but without compromising on stability. As such, we think that this is a kayak that ticks all the right boxes especially as far as value and performance go.
Pros
Well-priced
Maneuverable
Impressive load capacity
Well-thought-out storage
Cons
The footrest can be challenging to adjust while you are in the water
---
2. Pelican Saber 100X Sit-On-Top Fishing Kayak
If you are looking forward to a solo fishing trip, the Saber 100X fishing kayak would be an ideal vessel for the job.
To begin with, although it weighs almost twice as heavy as its Maxim 100X sibling, it's quite compact and easy to carry around. Its two retractable handles make it quite easy to handle even for solo kayakers.
One area that the Saber 100X beats the Maxim 100X is stability. As you know, the shape of the hull plays a huge role when stability is of interest.
A wide hull provides more stability but might be too slow for performance sports. And that's exactly what the Saber 100X is all about.
It boasts a multi-chine flat bottom hull which makes it virtually infallible. As such, if you have confidence issues, this is just the kayak you need to go for.
However, if you're a speed junkie and looking for something that cuts through the water easily, you might want to stick to the good ole Maxim 100X.
Pros
Affordable
Camouflaged colored
Lightweight
Highly stable
Cons
Slow due to its wide hull
---
3. Pelican Pursuit 80X Kayak
This cute kid from Pelican is closely related to the Maxim 100X only that it's smaller. According to the manufacturer "it's scaled down to suit small paddlers."
But does its compact size reduce comfort? Not really. If anything, it's quite well-made with just enough leg-room and an adjustable padded backrest.
As if that's not enough, the Pursuit 80X has a molded seat and a bottle holder (both features are ultimately meant to keep you as comfortable as possible when you're on the water).
In general, this watercraft has a height of 14 inches, length of 7ft and width of 28 inch. We believe it's important to keep those dimensions in mind when ordering.
You might want to avoid this kayak if you're well above 6-feet tall and/or weigh 200lbs and above.
That notwithstanding, this is a great kayak for sure. It has a shallow v-chine hull which handles beam wave hits quite well.
That said, a hull of this nature works best when you've built your confidence and are after a kayak that provides great speed and maneuverability.
Otherwise, if you'd rather compromise on speed but get more stability, a flat hull might meet your expectations better than the V-chine hull the Pursuit 80X comes with.
Pros
Lightweight
Well-built
Comfortable
Cons
Not stable in rough water
---
4. Pelican Prime 100 SOT Recreational Kayak
If versatility is your craving, the Pelican Prime 100 should be at the top of your wish list. Why? It may be pricier than most other kayaks but it definitely offers a number of bonus features which justify its heftier price tag.
For instance, it has got lots of storage space for you. At its front-end is a quick lock hatch which provides dry storage when you need it.
At the rear-end of this kayak, just behind its seat that is, you'll find an extra storage platform which is covered with bungee lacing. This is the space in which you can keep all the items you need to access quickly as you paddle around.
Away from that, this sit-on-top kayak provides you with a flat multi-chine hull. As we have mentioned before, this is the type of hull that's best suited for unstable situations or when one is a learner and needs a solid kayak to build their confidence on.
Its loading capacity of 325lbs makes it quite decent for virtually all body types. And let's also not forget to mention its Ergoform seat which is not only good looking but also quite supportive to the back muscles.
Pros
Decent load capacity
Comfortable
Impressive stability
Cons
Bulky
---
5. Pelican Premium Unison 136T Kayak
If you wish to go out paddling with a friend, the Premium Unison 136T kayak would be a reasonable choice. It features two ergolite seats that would ensure you and your companion are comfortable all-through the trip.
The vessel also features adjustable footpegs that would also contribute to your comfort during your trip.
The cockpit is roomy and features a bottle holder that means you can enjoy your cold drink comfortably as you paddle the vessel.
It has a multi-chine flat bottom that is crucial for the kayak's stability. Further, it is designed such that it experiences minimum drag in the water for more speed.
There is also the paddle tie-down that holds the paddles when not in use. Let's not forget the elastic bungee cord in the bow for tying down any luggage that you may have brought for the trip.
The kayak also has a quick lock hatch in the stern with a storage bag for additional storage.
Pros
Comfortable
Ample storage onboard
Fast and stable
Cons
Only for small water bodies
---
6. Pelican Apex 130T Kayak
Another kayak that is suitable for individuals who prefer having some company during their kayaking trips is the Pelican Apex 130T.
It has a Sit-On-Top design plus is highly spacious to fit two people. On top of that, it features padded adjustable backrests that would assure you of maximum comfort during your trip.
When it comes to its construction, the Apex 130T is made of two layers of thermoforming that would ensure you end up with a sturdy and durable vessel.
It may be bulky, but the carrying handles should make things easier for you.
Do not worry about any accessory you may have for your trip since the vessel has sufficient storage on board.
Lastly, this is a maneuverable kayak that would give you an easy time controlling it.
Pros
Well-built
Stable
Roomy and comfortable
Cons
The seats are not that comfy
---
7. Pelican Solo 6ft SOT Youth Kayak
Do you want the kayaking tradition to carry on in your family? If so, the Youth Kayak would be the perfect way to introduce your kids to the art.
First, it is only 6ft long, which is ideal for making it easy to maneuver by the child. Then, it has a sturdy construction comprising of three layers of Ram-X polyethylene.
As a result, you would end up with a durable product that should serve you for a decent period.
You should also appreciate the ergonomic seat which is constructed into the hull. For added comfort, you could always invest in a backrest separately.
The 100lb load capacity is not only sufficient for a child but a young adult as well.
On top of that, the rear end is designed such that the child would climb back on board safely in case he falls into the water.
Pros
Affordable
Wide for stability
Decent load capacity
Cons
The seat is not adjustable
---
8. Pelican River Gorge 130X Tandem Kayak
More information on Pelican.com
You do not always to go kayaking on your own. Instead, you could bring a friend to enjoy the fun. The Pelican 130X kayak is one vessel designed to make this possible.
The kayak features two Ergofoam cushioned seats with adjustable backrests to ensure that you and your partner remain comfortable all through your trip.
On top of that, it has a convenient length of 13ft to accommodate two individuals. Further, the weight capacity of 500lbs makes it possible for the vessel to accommodate a third passenger.
At 73lbs, it is not the lightest vessel around, but since it is designed for two, it is likely that you would always have a helping hand for carrying the vessel.
Lastly, it has a multi-chine twin-arch hull that enhances the vessel's stability.
Pros
Decent load capacity
Stable and easy-to-maneuver
Comfortable
Cons
Pricey
---
9. Pelican Strike 120X Angler Kayak
This is an affordable option of the Pelican premium series. It features a double-layer thermoform Ram-X construction that makes it sturdy and durable.
This kayak has a Sit-on-top design with minimum drag to ensure that it has impressive speed.
What's more, is the cushioned seat with adjustable backrest for ultimate comfort.
Do not worry about the storage since you should have enough of it on board, starting with the stern storage with bungee cords, the dry hatch with storage bag and the quick-lock hatch in the bow.
Lastly, the vessel also features two flush mount holders, a swivel rod holder and a paddle tie-down.
Pros
Impressive speed
Ample storage
Comfortable
Cons
Not very stable
---
10. Pelican Argo 100 Blue Kayak
Another Pelican kayak that you should consider acquiring is the Argo 100 vessel. It has a Ram-X polyethylene construction for durability and sturdiness.
The cushioned seat plus the adjustable footrests aim to ensure that you are comfortable throughout your trip.
It weighs 36lb and comes with carry handles for easy transportation. The weight capacity of 275lbs is also pretty impressive while the storage compartments ensure that you leave nothing that you may need for the trip behind.
The vessel is quite stable due to the twin-arched multi-chine hull.
Pros
Well-made
Comfortable
Stable
Cons
Has no rod holders
---
11. Pelican Strike 100X Angler Kayak
If you are looking for simplicity in a fishing kayak, that is what you should get from the Pelican Strike 100X vessel.
First, it is easily maneuverable plus is easy to enter and exit. On top of that, it is well-suited for use in calmer water bodies, including slow-moving rivers.
You should also be impressed with the storage capacity of the vessel, including the rear storage coupled with the heavy-duty bungees that aim to keep everything in place.
The Ram-X construction should also give you peace of mind in knowing that you have a durable product that would deliver exceptional performance for a long time to come.
Still, on your peace of mind, the vessel comes with a limited lifetime warranty.
Pros
Sufficient storage
Stable and straight tracking
Reasonably priced
Cons
Not for rough water bodies or conditions
---
12. Pelican Castaway 100 Kayak
For the complete package, the Castaway 100 kayak should be on top of your list. From the comfort, the load capacity, stability and tracking, this vessel is designed to offer you all that you may be looking for in a kayak.
It weighs 43lbs plus features carrying handles to enhance its portability. The kayak also features an adjustable padded backrest as well as molded footrests to enhance its comfort.
The paddle tie-down aims to secure the paddles when not in use while the swivel, as well as the vertical rod holders, ensure that your rods to not get lost in the water.
Lastly, the stern storage backed by bungee cords should ensure that your luggage is always secure.
Pros
Comfortable
Easy to maneuver
Very stable
Cons
Not highly durable
---
13. Pelican Pursuit 140T Kayak Paddle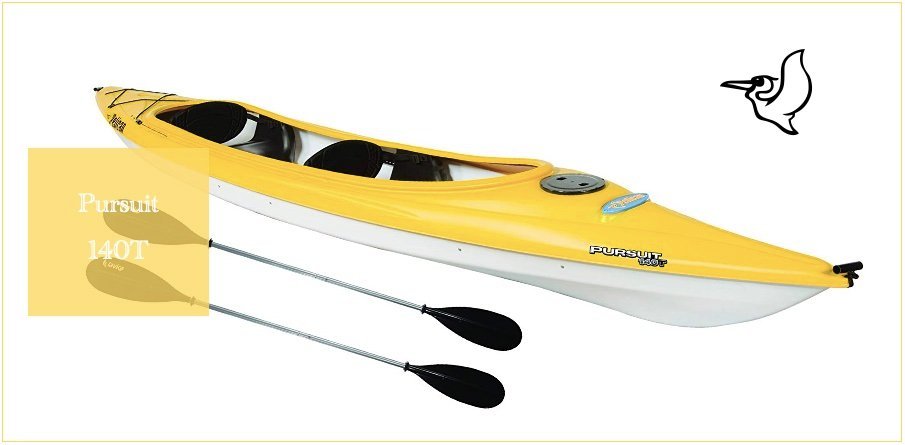 Available on Sportsman's Guide
The last item on our list is the Pursuit 140T which is for you if you like having some company for your kayaking trips.
It is spacious enough for two individuals plus has sufficient storage courtesy of the day hatch with an 8-inch dry bag.
The kayak features adjustable padded backrests as well as footpegs that aim to assure you of maximum comfort during your trip.
Finally, it is a stylish vessel that is available in white and yellow colors.
Pros
Roomy and comfortable
Stylish
Sufficient storage onboard
Cons
Lacks drain plug
---
Brush Up On
The Best of Inflatable Kayaks from Sevylor
Different Kinds of Materials Used to Make Kayaks
Tips for an Overnight Float Trip
The Buying Guide
In your search for the ideal Pelican kayak, there are several aspects that you need to focus on if you want to land a reliable product. These factors should always be at your fingertips.
The Seats
If you are going for a sit-in kayak, then you should ensure that the seats are cushioned as this would be the only assurance of your comfort throughout your trip. Ideally, the backrest, too, should be padded and adjustable.
On top of that, the sitting space should also be adjustable to ensure that you get your ideal sitting position.
Maneuverability
A shorter vessel tends to be more stable and easier to maneuver. However, you would have to sacrifice on speed since longer vessels tend to be faster.
Storage
An ideal kayak should have ample storage compartments onboard that would ensure you can bring with you everything that you may need for the trip.
Bonus Features
These are features that aim to make your trip in the particular vessel to be more comfortable and enjoyable. They include rod holders, cup holders, bungee cords, carrying handles, and so on.
All these features should be easily accessible to add to their convenience.
Price
Your ideal vessel should lie within a particular price range so that you can prepare a budget that you would guide you. This would ensure that you remain organized with how you manage your finances.
Frequently Asked Questions (FAQs)
The following queries aim to boost your knowledge on the best Pelican Kayaks available in the market.
Q: Do all Pelican kayaks come with backrests?
A: Unfortunately, no, although some models give you the option of purchasing the backrest separately from the vessel. Backrests, together with seat cushioning, are crucial in ensuring that you have a comfortable ride in your vessel.
Q: What determines the stability of a Pelican Kayak?
A: The first obvious factor that affects the stability of a kayak is the width whereby a wider vessel is more stable than a narrower model.
Additionally, a vessel that is built on a shallow v chine hull should offer more stability and maneuverability.
Therefore, you need to pay attention to these two factors if you want to end up with a stable vessel.
The Best Overall
After looking at the above options of Pelican kayak, we have concluded that the Pelican Pursuit 80X Kayak is the best of them all. It is ideal for beginners plus is very comfortable to ensure that you have a memorable kayaking experience.
The kayak is also well-built to ensure that you have a sturdy product that would give you remarkable service before you start thinking about replacing it.
Final Verdict
Pelican kayaks are some of the best vessels in the business. However, although they belong to the same brand, they tend to have differences in terms of how they are built as well as purpose.
We hope that this article would be of great help as you search for the ideal Pelican Kayak that would serve your needs.
You could always refer to the brands that we have reviewed, and we believe that you would find the best Pelican kayak somewhere on the list.