Nobody likes the art of playing hide and seek with fish as it's quite tiresome. But no worries as fish finders help you to locate the fish, measure the water depth or temperature and also mark your fishing path.
To make it easier for you, this article has summarized the essential aspects to look in fish finders and some of the best brands on the market.
But hey, these gadgets come at a cost and aren't cheap as you might think. However, all hope isn't lost as you can still get some best fish finder under $400, which offer efficient performance like the pricey ones.
Best Fish Finder Under 400: Detailed Comparisons
Some time back, it was quite difficult to figure out the exact location of fish as all you could rely on is the previous experience or guesswork.
Luckily, fish finder gadgets have stepped in to fill this gap. But how do you differentiate one fish finder from the other? Kindly read on to get a broader view.
Factors that Define Good Fish Finders
While there are many elements to look in fish finders, these are the key features you should base your focus on.
This is where the wave signals from the transducer are displayed. Although you might feel that a screen is the least spec to look for, it's equally important as far as interpretation of results is concerned.
Most fish finders are equipped with screens ranging from 4 inches to 12 inches. While larger screens are easy to use, they tend to increase the overall cost of the fish finder.
A matter of fact is, a smaller screen means more time spend on looking at the results which may strain your eyes out.
GPS (Global Positioning System) is the most commonly used navigation system in fish finders. This is because it gives accurate locations and coordinates of a specified target.
The system allows you to pinpoint hot fishing areas, enable data storage and help in direction tracing in case you are lost.
The purpose of a transducer is to send and receive Sonar signals from the fish or maps then translate them into a picture.
A transducer's power is proportionate to its performance. While most fishermen are content with a 200-watt power fish finder, 500-watt RMS ones provide a good working base.
Most signals are usually conveyed in a cone angle which is the total width of the signal beam. The angles of the cones range from 9 to 60 degrees depending on the transducer model. Needless to say, there are some pricey transducers with the capability of emitting more cones.
A high-frequency fish finder transducer offers a better output even in a moving vessel. However, it doesn't allow you to view to a much deeper level.
Moving on, while low-frequency fish locators are mostly preferred due to their capability to penetrate deeper, they are prone to providing less detailed images.
Frequencies of between 200KHZ to 800KHZ are great for use in shallow water while those ranging from 50KHZ up to 80KHZ are perfect for deep waters.
Other Performance Features
The side scans or down scans allow you to scan structures of fish in the water below your boat. A down scan is the most efficient as its more focused and powerful. However, it's only limited to potential targets passing directly under your vessel.
Side scans, on the other hand, image through a wide area but reduces effectiveness as you move to deep waters.
Fortunately, you can still enjoy the benefits of both worlds by getting a fish finder that's equipped with the combination of the two.
Wi-Fi enabled fish finders are the current trend, as they allow you to connect the fish finder to your phone or tablet. This means having an additional screen which can be handy if you aren't on the water alone.
Summing up on this, keeping a record of your activities on the water for future reference is quite important.
Therefore, a fish finder with space for an SD card is a savior.
Below $400 Fish Finder: Detailed Reviews
Here is a detailed list of the best 7 fish finders comprising the features, the pros and cons of each as compiled by our honest researchers.
1. Garmin Striker 4 Traditional Transducer 3.5″ Fishfinder
Top on the list is the Garmin Striker 4 fish finder. The device is excellent for all your kayaking, ice fishing or canoeing ventures thanks to its easy portability, GPS tracking system, built-in transducer, mapping system and easily readable screen.
Display screen
The 3.5 inch colored screen has a resolution of 480 by 320 pixels for fast interpretation of results. However, some users term the screen small as compared to the Lowrance HOOK2 and Garmin 7CV Striker Plus fish finder.
What's more, you can use the included easy-to-press control buttons to program your fish finder to suit your personal needs.
Navigation
This striker 4 is equipped with a super-sensitive GPS that's incorporated with a Waypoint map. The map allows you to navigate, mark or view different locations and structures like stumps, docks or brush piles.
The GPS is also a handy tool in tracing your way to the shores if you are lost. Additionally, the GPS can navigate to a depth of 1,600 feet in freshwater and to 750 feet when used in saltwater.
Transducer/Frequency
The included CHIRP sonar transducer transmits the power of 1,600 W/ 200 W RMS from peak to peak for efficient use from the rechargeable battery. You can also purchase the GT8 or GT 15 transducers if you need dynamic performance.
Lastly, this 77/200 KHZ transducer picks up frequencies quickly for fast screen display.
Other Performance Features
The built-in flasher is great for ice fishing while the Clear Vu sonar scanning allows for perfect photographic viewing of fish, and other water structures around your boat.
Pros
High-level results display
Built-in flasher
Chirp sonar transducer
Includes a carrying case
Cons
Undetailed usage instructions
Small screen display
2. Lowrance HOOK2 TripleShot Transducer 5-inch Fish Finder

This Hook2 fish locator device features easy to use phone-like menus to offer you plenty of fishing time. All this is thanks to the auto-tuning sonar that limits the time you might use being glued to the screen in search for different setting options.
Display Screen
The colored TFT 5 inches screen has a resolution of 800 by 480 pixels to allow clear viewing of collected results.
Moreover, the bright solarmax display is easy to read in either sunny or misty days and is just a comfortable size for aged users.
Navigation
This beginner-friendly tool has a GPS plotter that allows you to fish like a pro as it comes with a US inland map featuring up to 4,000 lakes.
The plotter also allows you to navigate, follow specific trails and to add different waypoints that work best.
Transducer/Frequency
The all-inclusive tripleShot transducer allows viewing from all directions. To explain further, the DownScan sonar is for straight down viewing, SideScan captures data to about 300 feet while the CHIP sonar is for fish arch views.
That's not all, the wide-angle cone CHIRP sonar offers a broad coverage than the traditional fish finders.
Other Performance Features
Apart from all the above features, the device also includes an SD card slot to give the way for efficient mapping and software upgrades. This can be quite important if you'd like to store information for future reference or adding of third-party maps.
Pros
Easy to set up
Preloaded maps
Large 5 inches display
Wide-angle sonar CHIRP
Easily upgradeable
Cons
Quite expensive
No wireless connection capability
3. Deeper PRO Wi-Fi Smart Portable Fish Finder
Casting this versatile Deeper PRO in water allows you to get instant updates on the temperature, depth or bottom contour features like depressions or humps. What's more, the device also indicates whether the bottom is soft, hard, silted or graveled.
Display Screen
There's no specified screen size for this device as the results are transmitted to any smart Wi-Fi enabled device.
The best part is you get to decide how big the screen should be as per your iPhone or iPad.
Navigation
The device doesn't have an inbuilt GPS as all the information is synced directly to a smartphone that's GPS enabled.
With your smartphone screen, you can easily create bathymetric maps and enjoy free access to the Deeper's Lake book cloud management platform for easy information retrieval.
A point to note, this PRO fish finder under 400 has 330 feet casting range and depth range of 260 feet.
Transducer/Frequency
While there's no specific transducer for mounting to the boat or kayak, the inbuilt sonar provides a dual-beam frequency. The frequencies are; 90 KHZ at a 55-degree angle and at a 15-degree narrow-angle, the beam projects 290 KHZ.
Other Performance Features
Although mentioned earlier, we still need to single out the Wi-Fi factor as this a feature the other devices in this list lack. Still on that, the device also offers the benefit of the cloud data storage system.
Pros
Integrated to a cloud management platform
Versatile
Wireless capability
Allows fast fish finding
Dual sonar beam frequency
Cons
Experiences minor interruptions in the presence of multiple fish finders
Requires a Wi-Fi enabled smartphone
4. Garmin 7CV Striker Plus with Transducer
The Garmin Striker Plus fish finder combines GPS efficiency with a super powerful transducer to deliver outstanding performance. In addition to locating fish and other images below your boat, the device can be connected to your phone's Wi-Fi.
Display Screen
Unlike the above fish finder brands with small-sized display screens that can strain your eyes, this one has a large and bright 7 inches screen.
The user-friendly interface allows easy navigation through the features for quick interpretation of results. This gives you ample time so you can focus on the real fishing.
Navigation
The in-built GPS is handy for the convenient marking of waypoints, viewing the boat's speed or create fishing routes as you cruise around. However, the absence of built-in maps might be a major disadvantage for beginner users.
Transducer/Frequency
This fish finder has a powerful Cv20-TM transducer of 500 W (RMS) that comprises the ClearVu scanner and the traditional sonar CHIRP.
The traditional CHIRP sonar separate targets for a great display of crystal clear images while the ClearVu sonar scanner conveys photographic images of all objects passing underneath the vessel.
Other Performance Features
The in-built Wi-Fi gives you access to the Quickdraw Contours Community's database, connects to the ActiveCaptain App for timely smart notifications and even transfer of waypoints.
Pros
Large sunlight-readable screen
Built-in Wi-Fi
GPS enabled
Built-in transducer
User-friendly interface
Rugged construction for all fishing environments
Cons
Doesn't have preloaded maps
Quite pricey
5. Humminbird GPS G2 Helix 5 CHIRP Fish Finder
The Humminbird Helix 5 has everything from a large screen display, CHIRP sonar imaging, and to GPS mapping to help you make a successful fish finding mission.
Display Screen
The HD 800 by 480 pixels bright colored screen enables straightforward result interpretation even in low light situations. Moreover, the 5 inches screen is quite big so you won't have to strain yourself when toggling through the various settings.
Navigation
The internal GPS boasts of a built-in Anima cartography for added efficiency. You are also able to map your cruising areas and keep the records for future use.
Once your maps come-live through the AutoChart feature, you will view the depth contours, bottom hardness, or vegetation which are a necessity in the location of the fish hiding areas.
Another point is that the GPS of this device is capable of navigating to a depth of 1500 feet for precise transducer imaging.
Transducer/Frequency
The XNT transducer uses a digital sonar dual-beam CHIRP with low frequencies of between 75-95 KHS and 175-225 high frequencies. For perfect viewing of underwater structures, the sensor has a 2.5 inches target separation capacity.
However, this is just a total scan transducer with no side or down scanning capability like in the other more expensive Humminbird.
Finally, the transducer has a maximum power output of 500 watts RMS and a power draw of 615 mA.
Other Performance Features
This HELIX 5 has a memory card slot where you can input your SD card or other navigational cards (sold separately) for efficient storage of fishing information.
Pros
CHIRP sonar technology
Powerful transducer
Colored screen display
Inbuilt GPS
Cons
Doesn't come with the SD card
There's no unit cover
6. ReelSonar iBobber Bluetooth Wireless Fish Finder
Are you looking for a fish finder under 400 that works well in different water conditions? Then this iBobber wireless design fish finder is a great addition for your tackle box thanks to its portable nature.
As if that is not enough, the unit is offered at a pocket-friendly price and works in any water environment.
Display Screen
The device syncs with Android 4.3 and iOS 10.0 or the latest operating systems that use Bluetooth Smart of version 4.0.
In the real perspective, you are to decide the type or size of the screen you would like for the results display.
Navigation
It's difficult for you to navigate to some areas by boat, which is a conventional vessel for most fish finders.
Fortunately, this canoe or raft compatible fish locator is convenient for use in rivers, lakes or ponds and even for ice fishing.
The GPS interactive map allows spot tagging and sends fish or strike alarms to the connected blue tooth device.
Transducer/Frequency
The device delivers accurate sonar readings to a 135-feet depth for efficient capturing of water temperatures, fish and other water objects.
Other Performance Features
The fish finder connects to other devices via blue tooth giving room for sharing of information with buddies in the same place.
You also get to enjoy a connection to the Google Watch and iWatch for proper information storage or sharing.
Pros
Affordable
GPS spot tagging
Portable design
Bluetooth smart sync enabled
Provides raw sonar views
Cons
Sometimes experiences poor connectivity
Drains the smart device battery quickly
7. Lucky LCD Screen Portable Fish Finder
Fishing time is meant to be enjoyed; this is the inspiration behind this Lucky fish finder that's both amateur and beginner-friendly.
Though one of the cheapest in this list, the device's performance can't be underestimated in either rivers, lakes, oceans or seas.
Display Screen
The TFT 2.4 niches 240 by 960 pixels LED colored screen though small, offers an impressive display of water depth, fish size, water temperature and underground contours.
A notable feature is the ability of the device to be switched from simulation to wireless mode; this is done quickly with the aid of the control buttons. Of course, most of the above gadgets lack this feature and all learning is majorly done on the water.
Navigation
The much powerful sonar transducer sensor has a 90-degree beam detection angle. To add on this, the sonar can detect fish and structures from a depth of 2.3 feet all the way to 147 feet. Although this distance can extend to 196 feet when the device is put on the wireless mode.
Transducer/ Frequency
The sonar transducer features a clear replaceable cover for proper viewing even at night. Likewise, the sensitivity of the transducer is adjustable from 1-10; the highest sensitivity allows clear detection at a frequency of about 125 KHZ.
Other Performance Features
Even if the unit transmits the collected results from the sonar to the display screen wirelessly, this doesn't mean it is enabled to sync with other devices.
Pros
Great for various fishing activities
Easy to operate
Multiple sensitivities
Two user modes
Portable
Cons
Small display screen
Lacks Wi-Fi connectivity
Related Reads
Top Ice Fishing Fishfinders List [with Buying Guide]
Quality Portable Fish Finders That Work: Latest Reviews
Garmin GPS Gadgets of 2020: Reviews & Guide
Frequently Asked Questions
By now, you should be having a clear view of the purpose of fish finders and the best brands to look for. We know you might still be having some unanswered questions, this is why we have sampled some of them and given our detailed answers.
What is a fish finder?
Refers to an instrument used by fishermen to locate fish in water based on sonar technology which relies on reflected sound energy or pulses. The collected measurements and images are next displayed on a screen for detailed interpretation.
Which is the ideal screen size for a fish finder under 400?
There's no standard size for a fish finder's screen, all that matters is its effectiveness in result transmission.
Most screen displays measure around 3.5 inches, but there are some with smaller displays while others have large screens of up to 7 inches.
How do I power my fish finder?
The device is powered by either a rechargeable battery or the disposable batteries. But nowadays, people prefer fish finders with rechargeable batteries since they are cost-effective in the long run.
Are all fish finders equipped with GPS monitoring system?
The answer to this is no; not all models have GPS. This is because the installation of the feature increases the price. Some fish finder gadgets have GPS but aren't loaded with maps while others do.
So it's best to decide first whether you'd want to set up your fishing maps or follow the preloaded ones.
Can a fish finder tell what fish species is under water?
The sonar technology that fish finders use is only able to alert you of the presence of fish below the water surface.
But then it's not capable of telling you whether the fish is a carp or bass.
Which One Is The Best Overall?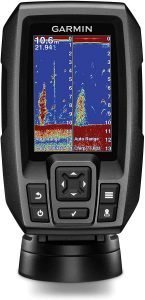 The discussion about the best fish finders hasn't started today and isn't going to end soon. Nevertheless, according to our comprehensive research of the best affordable fish finders, we recommended the Garmin Striker 4 Traditional Transducer 3.5″ Fishfinder.
Why? You may ask. This is because the Garmin Striker 4 has an efficient GPS tracking system, its easily programmable, and uses an advanced CHIRP sonar technology for proper underwater scanning. Also, the gadget performs great in both salt and freshwater environments.
Bottom Line on Under 400 Fish Finder Topic
The efficiency of a fish finder and its transducer can be summarized to these three elements; frequency, depth level and power. Fish finders help you to minimize on time spend looking for fish and fishing spots.
Some fish finders are above the 400-dollar mark while others are below. However, price shouldn't be your major factor as the difference lies in their features and efficiency. Happy fishing!