Are you looking for an inflatable kayak? Chances are that you have already zeroed-in on the Sevylor brand.
Well, as we all know, this is a major company that produces many different types of kayaks.
And so, in this write-up, we'll focus on helping you make an informed choice. Besides compiling the latest Sevylor inflatable kayaks reviews, we'll also provide you with an informative buyer's guide.
Hopefully, you'll find this read highly informative and worthy of your time.
Top-Rated Inflatable Yaks from Sevylor: Comparison List
Before we proceed, here's a brief list comprising our list of top inflatable kayaks from this company. Keep scrolling for further details on each one of them.
High Quality Inflatable Kayaks from the Sevylor Brand
They come in different shapes, colors and sizes – and obviously, they're meant to serve different purposes.
Read on to see which suits your needs best.
1. Sevylor Quikpak K1 One Person Kayak
Equipped with a seat that you can easily fold in, the Quikpak K1-A kayak is not only nimble but also highly practical.
The bottom part of this kayak makes it easy to conquer the lake's stiffness and consequently makes it comfortable to use.
Pros
Durable
Easy to inflate 
Well explained instructions
Outstanding bag pack features
Cons
Quite heavy
A flimsy paddle
2. Sevylor Tahiti Plus 2+1 Man Canadian Canoe Inflatable Sea Kayak
The next kayak on our list is the Tahiti Plus which is designed to accommodate two adults and one child. As you know, the more the people, the merrier the adventure.
And just in case you're embarking on a solo trip, you don't need to worry as you can easily fold up two of the inflatable seats. That way, you can free up more space for storage and added comfort.
Pros
Stability
It is affordable
Easy inflation
Easy packing
Cons
Seams come apart constantly
Poor direction
3. Sevylor Coleman Colorado Two-Person Fishing Kayak
The availability of the numerous air chambers in this yak makes it a perfect choice in case of a puncture.
The system remains airtight, which ensures that no leaking takes place, which is an assurance of comfort.
What's more, this particular kayak comes with a set of rod holders which come in handy when you need to engage in hands-free fishing.
Pros
Great catch in fishing
Has a great appearance
Portable and not heavy
Stability
Cons
Not efficient tracking
Instructions are too general
4. Sevylor Quikpak K5 1 Person Kayak
Afraid of heavy kayaks? The Quikpak K5 is easy to carry as the bag pack becomes the seat, making it easier to enjoy more time in the water.
In addition, the K5 comes with spray covers that come in handy as they prevent water from splashing. Who wants to get wet? No one of course!
Pros
Good quality material
Easy to dry
Easy to pack
It is durable 
Cons
5. Sevylor Big Basin 3 Person Kayak
Made from a bottom that is tarpaulin, the Sevylor Big Basin 3-person yak is meant to be tough and resilient.
And for added convenience, its Boston valve has undergone double threading making it easier to inflate. Nice, right?
Of course, this is the kind of watercraft to go for if you're looking to accommodate 3 people. As you'd expect, it's a bit bulky but still highly functional.
Pros
Good quality
Stability
Can be deflated and transported
Punctures are a rare sight
Cons
6. Sevylor Fiji 2 Person Kayak
Do you need a kayak with a ninety-day warranty, then this may be your to go to kayak.
This kayak can fit two adults, and apparently, one seat is not permanent. That means more space when you need it for individual usage.
The Fiji from Sevylor comes with a paddle and a bag and is additionally equipped with features that make it ideal for lake use.
Pros
Easy to set up
Adequate room
Good quality
Lasts long without losing air
Cons
7. Sevylor Colossus 3 Person Boat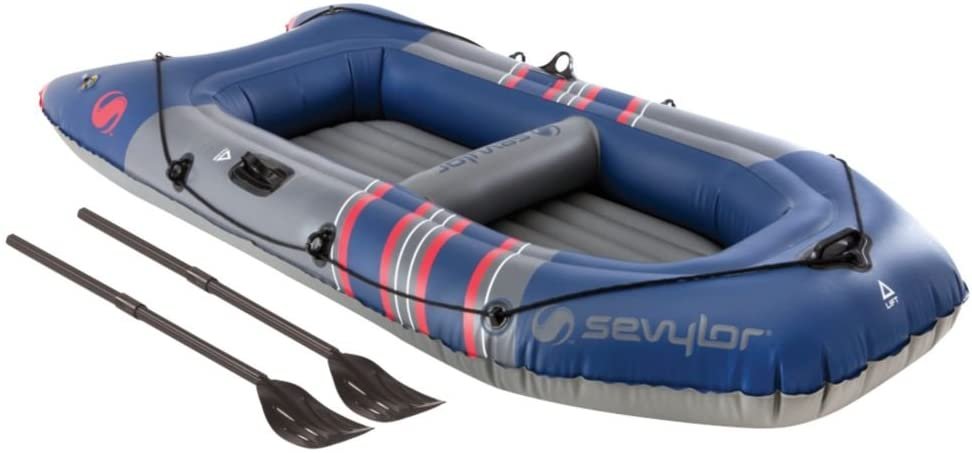 Its build-quality makes it suitable for use in lakes. In addition, its floor is perfect for seating as well as kneeling purposes.
If you asked us, this would be a good kayak for anyone embarking on long hours of kayaking.
And of course, if you need a kayak that can accommodate 3 people, this would be a perfect choice. In fact, it provides two additional oars for this particular reason.
How cool is that?
Pros
Stability
Good quality
Adequate space for two people
Comes with patches
Cons
Buyer's Guide for Sevylor Inflatable Fishing Kayak
At this point, if you're yet to make up your mind on the type of yak that's best for you, we have a buyer's guide to help you narrow down your choices. With so many inflatable kayaks available out there, the following are the key things to keep in mind.
Single Layer Vinyl Inflatable Kayaks
Generally, single layer vinyl inflatable kayaks are affordable and can easily be accessed in the market.
They are the ideal choice for recreational purposes ranging from an hour to two hours of use.
If you are uncertain of the duration, you would need to use a kayak; then this is your ultimate choice.
Multi-Layer Vinyl Inflatable Kayaks
Do you need extra protection from punctures and UV light, then this should be your top choice.
If you intend to paddle for a couple of hours, then the multi-layer vinyl inflatable kayaks are you to go to kayaks. And particularly so, if you frequent choppy waters.
Heavy Duty Inflatable Kayaks
They are made of heavy material that is not vinyl, making them one of the most durable inflatable kayaks.
They are the perfect choice for an individual looking for a kayak that can be used for more than just recreational tasks.
Storage
Single and multi-layer inflatable kayaks occupy minimal space when not in use, making them great choices if you short of space.
Note, it is important to consider the frequency you are to use a kayak, this helps weigh the storage options better.
Cleaning
Cleaning has to be one of the most crucial things to look out for when purchasing a kayak.
Ensure that you understand the time it takes to clean, dry and pack away a particular kayak before purchase.
Single-layer and heavy-duty inflatable kayaks take a shorter duration when cleaning as compared to multi-layer.
Related Write-ups
Best Kayaks Under 600 Compared
High Quality Kayaks from the 'Old Town' Brand
The Best of Kayaks from the Perception Brand
Frequently Asked Questions When It Comes to Sevylor Inflatable Watercraft Purchases
And now, we'd like to respond to some of the most commonly asked questions about inflatable kayaks in general. Here are our two cents.
Are inflatable kayaks worth purchasing?
Technology regarding inflatable kayaks keeps improving daily and makes them safe, durable, and reliable.
Can you carry out fishing from an inflatable kayak?
Inflatable kayaks serve as one of the best grounds for practicing fishing as they are also versatile to be used in different volumes of water.
How safe are inflatable kayaks safe for beginners?
Inflatable kayaks are stable in water, and as a result of this, they are a perfect choice for beginners.
Which position should a heavy person sit in an inflatable kayak?
A heavy person should seat at the backside of a kayak as this ensures that the weight is equally distributed in the kayak.
Our Top Pick – Verdict
After extensive analysis, we picked the Sevylor Quikpak K1 person kayak as our winning choice. We particularly like the fact that it's comfortable to use and that it's highly versatile yet reasonably priced.
Concluding Remarks
So, there you have them – detailed reviews of the Sevylor line-up of inflatable kayaks. The best way to make a choice is by looking at your unique needs and deciding which watercraft would perfectly suit your needs. Hopefully, you'll find the insights given here useful in your decision-making process.