Wouldn't you agree that every outdoor activity could be enhanced just by adding a cooler? You want somewhere to keep your food and drinks cold especially when you are out kayaking in the summer.
In that regard, the best thing to do is to invest in the best kayak cooler.
If you have no idea where to start, you may want to read on because our aim here is to help you make the right choice.
High-Quality Kayak Coolers Reviewed: Comparison List
Lined up below are some of the awesome coolers we could find out there. We hope you'll find one that meets or even exceeds your expectations.
1. Arctic Zone Deep Freeze Titan Zipperless Cooler
You won't believe it, but this cooler from Artic Zone is capable of freezing ice for up to 3 days. That's made possible all thanks to its high-performance insulation along with a patented zipperless lid.
What's more, the cooler comprises an insulated front pocket for extra storage which is easily accessible.
And to top it all up, its exterior is made from Rhino-Tech material which provides excellent resistance to stains and accidental water splashes.
Small qualms with this otherwise perfect cooler would be that its interior plastic lining feels quite cheap. It doesn't seem like it would last long unless it's really taken care of.
Pros
Zipperless Lid
Leak-proof
Adjustable shoulder strap with support pad
Easy to clean
High-performance insulation
Cons
Finnicky plastic interior
2. Coleman Removable Liner 16-Can Soft Cooler
If you're looking for something tiny, compact and yet functional, you might want to give this one a shot.
Indeed, the Coleman 16-Can cooler is quite well-made although it seems a bit too tight for 16 cans of soda.
Other than that, its workmanship is quite decent. Plus we also like the fact that it provides 5 extra storage pocket.
And to top it all up, the cooler boasts a top bungee cord which once again provides lots of creative extra storage for an extra bottled drink.
So, although not as large as we'd expect, this cooler is quite functional and practical.
Pros
Affordable
Portable
Compact design
Removable inner liner
Cons
Not as spacious
No hand strap
3. AO Coolers High-Density Insulation Soft Cooler
If you're looking for a bit more storage but without ending up with a bulky cooler, this cooler from AO Coolers might be worthy of your attention.
It measures 17 by 10 by 12 inches, holds 24 cans, and takes up 14 pounds of ice to ensure efficient cooling.
Similarly, the 3/4-inch thick insulation comprising a closed-cell foam creates a chilled environment even in scorching temperatures of up to 120 degrees.
The TPU liner is leak-proofed while the outer cover is made from soft yet durable canvas for convenient outdoor use.
Pros
Removable and adjustable shoulder strap
Padded hand strap
Available in different styles and colors
*Keeps items warm or cold
Cons
Little padding on the shoulder strap
4. ENGEL 19 Qt Dry Box/Cooler

This multipurpose cooler will not only keep your foods or drinks cold but also doubles up as a dry box. Simply put, it also keeps your valuable items free from moisture and dirt.
Apart from this 19 Qt box, there are 3 other sizes; 7.5, 13, or 30 qt available in 6 different colors to satisfy different customer preferences.
The cooler box features a hanging accessory tray and a shoulder strap for easy portability.
On top of that, this cooler's insulation is made from premium-quality molded polystyrene foam which resists stains.
Pros
Offered in different sizes
5-year warranty
Durable ABS handles
Fitted with sturdy stainless steel hinges and screws
Cons
5. Stanley Adventure Cooler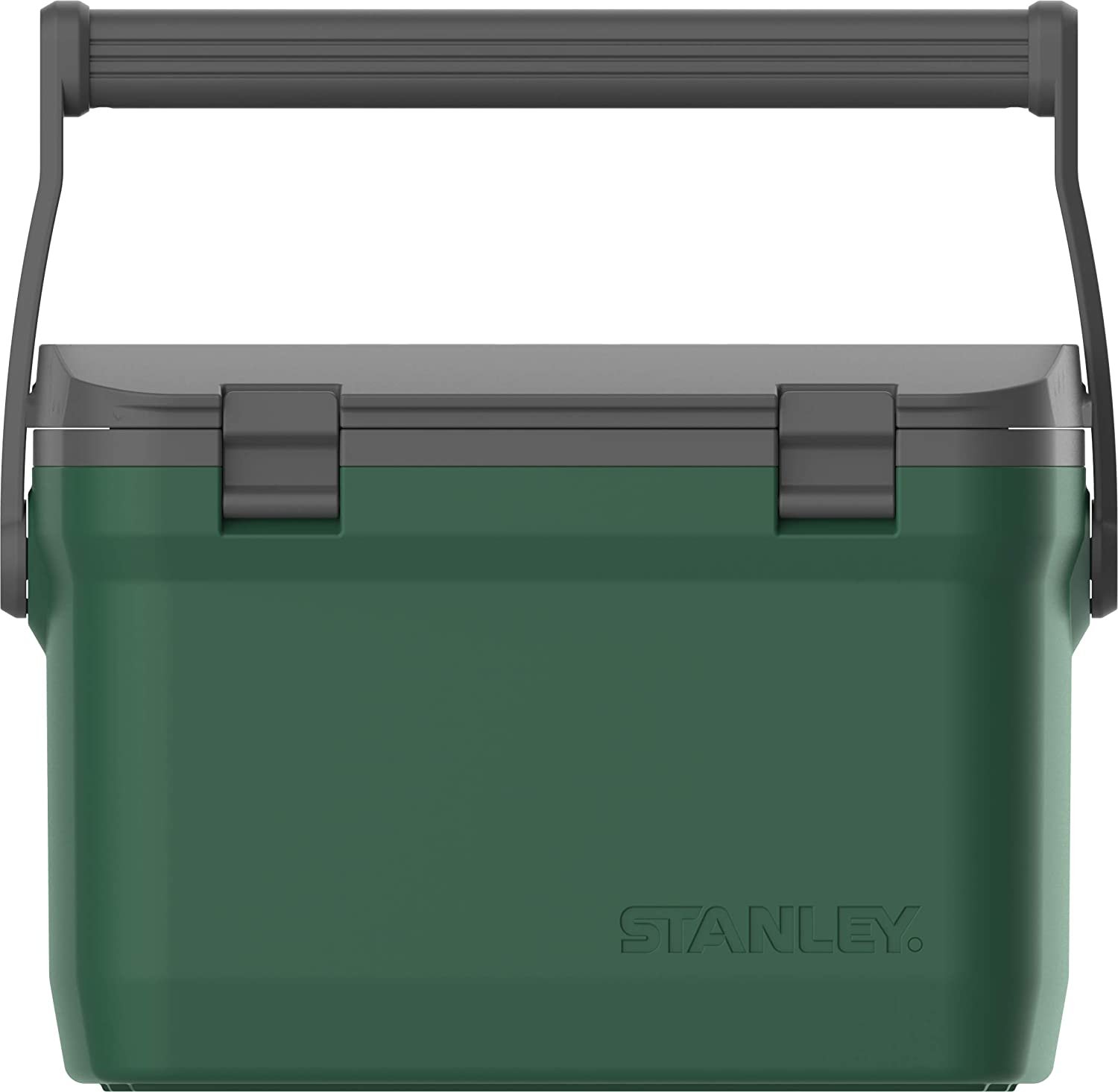 Remember that old thermos your grandpa took fishing? Well, it was made by Stanley and the good news is that the same company has produced this great cooler for you.
One thing we absolutely like about this beefy boy is that it's quite rugged. We're talking about rugged latches and handle.
On top of that, we're referring to a leak-resistant gasket, adjustable tie down and foam insulated lid.
In regards to effectiveness, this Adventure Cooler is rated as being capable of keeping drinks cold for up to 27 hours.
On the flipside, though, while the lid seals quite tightly, it's such a pain to open. You need 2 hands to open it.
Pros
Easy to carry
Leak-proof
Multipurpose
Ergonomic carrying handle
Cons
The lid is a pain to unlock
6. RTIC 28 Can Day Cooler

A good drink or food cooler should be easily portable like this RTIC cooler which comes equipped with a shoulder strap that adjusts easily to suit any person's height.
There's plenty of space for storing your goodies; 2 meshed pockets, a zippered main compartment, and a front pocket.
The exterior cover is made from durable polyester while the high density insulated interior lining is made from FDA approved food-safe material.
One downside of this cooler is that its inner liner is quite difficult to remove. So, cleaning it isn't quite as easy.
Pros
Keeps food and drinks cold for 24 hours
Adjustable shoulder strap
Durable construction
Has a lot of storage space
Cons
The inner liner isn't removable making cleaning difficult
7. Ice Mule Collapsible Insulated Backpack Cooler
Hands-free it is! This pack secures to your back, bike, or boat through the adjustable strap for tireless portability.
This cooler is obtainable in various sizes, rolls up for secure storage, and has no welded seams or zippers that lead to leaks. The small pack measures 8 by 8 by 16 inches and holds up to 6 cans or 10 liters of water.
Surprisingly, this cooler does floats on water, thus great for all your kayaking activities.
But even the best-made kayak cooler has a weakness – it has no side pockets. As mentioned earlier, these pockets can be quite useful when you need to access some of your things without having to lift the main lid.
Pros
Waterproof
Portable
Collapsible to save on space
Leak-free
Cons
8. YETI Hopper Portable Flip Cooler
This hopper flip cooler fits 12 cans. And thanks to its easily portable nature, you simply need to grab it and go when adventure calls.
What's more, the cooler has a leak-proof HydroLock Zipper that grants full access to the main storage area. To enhance durability, the DryHide outer shell is waterproof, puncture-proof, and holds up to the harsh wild environment.
In conclusion, the cooler has dimensions of 12 5/8 by 10 by 11 ½ inches and offers cold cell insulation for superior cold-holding.
Pros
Easily portable
Made with durable material
Waterproof
Cold-cell insulation
Cons
No external pockets
Holds only a handful of cans
9. BISON COOLERS 12 Can Soft Sided Insulated Cooler

This soft-sided USA made BISON cooler features a tear-proof 1000D vinyl shell that is UV protected to prevent fading.
The fact is your ice will stay intact for up to 24 hours even if the temperatures rise to 120 degrees thanks to its thick insulation.
Also, the cooler measures 13 by 8 by 11 inches, holds almost 5 pounds of ice, and up to 12 cans.
We have, however, come across multiple complaints that it may leak when turned upside. Other than that, this is a good product.
Pros
Waterproof inner liner
Tough outer shell
2-year warranty
Keeps contents cool in hot temperatures
Cons
Some water leaks from the zipper if the cooler is turned upside down
10. K2 Coolers 20 Summit Cooler
The 7-year warranty backed on this K2 cooler guarantees you of its quality plus efficiency.
Additionally, the seamless professional-grade polyethylene construction ensures long-term use, while the thick insulation allows maximum retention of ice.
The other notable features include; non-slip rubber feet, padded shoulder strap, Positrac lid latches, and an Ice vault cover gasket.
But given the fact that it lacks an inner-lining, we feel that it's a bit overpriced at its current price-tag.
Pros
Endura assimilated hinge system
Extra thick insulation
Zipperless
Adjustable shoulder strap
Well made
Cons
No inner lining
Seem overpriced to us
Related Articles
Our Detailed Sea Eagle SE370 Review
Intex Explorer 2-Person K2 Kayak Inflatable Kayak Review
The 10 Best Teepee Tents for All-Weather Use
Buying Guide for A Good Kayak Cooler
It is vital to consider a few factors before purchasing a kayak cooler. Some of these factors include:
Size
Your cooler of choice should be large enough to accommodate all the food and drinks you want to carry on your kayaking trip.
The cooler should also be able to fit in your kayak's storage compartment for easier handling.
Cooler Durability
Coolers can be either hard-sided or soft-sided. Both have their own advantages and disadvantages. For instance, soft-sided coolers are flexible to both external and internal pressures.
However, they are less durable and do not come with much thermal mass. At the end of the day, you want a cooler that will be able to keep your food and drinks fresh and cold for longer and last for longer at the same time.
Versatility
Although most kayakers get coolers to keep their sodas and beers cold, these cold boxes could be used for other purposes.
For instance, a cooler can help you keep your catch fresh until you get out of the water. You want to determine what you want your cooler for, but it would be wise to get one that serves multiple purposes.
Cooler Closure
Closures can make or break any bag type. Zippers are a great option unless of course they are of substandard quality.
On the other hand, latches are quite resilient and secure. You want to pick a cooler with a secure closure that will be easy to open and close throughout your kayaking trip.
Frequently Asked Questions
You may have a few questions about kayak coolers and that is why we have taken it upon ourselves to answer a few commonly asked ones below.
Can I use a dry bag as a cooler?
You can get the most out of your outdoor escapades by combining the insulation of a soft cooler and a dry bag.
You can use the dry bag by itself or use it as a cooler with the insert. The dry bag's thermally heated seams and easy roll-top closure provide full waterproof protection.
Can you put a cooler on a kayak?
Sit-on-top and recreational boats are perfect for carrying kayaks. Their ample deck space and wide bodies allow you to carry cooler bags of almost any design.
If you require more space because you will be kayaking all day, you may want to go for a bigger boat that will be able to accommodate a bigger cooler.
Best Choice
Having conducted a detailed analysis of all these kayak coolers, we chose the Arctic Zone Deep Freeze Titan Zipperless Cooler as our best pick.
Why? This is because it has the longest freezing time of 3 days, has enough storage pockets for easy separation of items, and is zipperless.
Despite all these unique features, the cooler is offered at an affordable price.
Final Thoughts
Only a few things can compare to a cold drink on a hot day while you are out kayaking. You can make that possible by getting yourself a cooler.
We have put this guide together and it is now up to you to pick the best kayak cooler for the money.