Kayaks are good sports equipment in the water since they're versatile and can maneuver in challenging conditions. We all love having some good time on the water, right?
Settling on the perfect kayak rack can be a cumbersome undertaking due to the availability of diverse types, brands, and models in the market place.
However, if you want to enjoy kayaking in different locations, it's important to acquire a functional high-quality kayak carrier.
Besides that, you need to choose the best model that is protective of your equipment with an easy way of loading and off-loading swiftly.
Here's our guide to finding the best J Bar Kayak rack suited for your personal needs and expectations.
High Quality Kayak J Bars: Comparison List
Here's a simple comparison table for our top 3 most preferred J bars. Keep scrolling for the detailed tables.
1. IKURAM 4-in-1 Kayak Rack
This carrier comes with a J-cradle that's capable of handling kayaks weighing up to 158 pounds and 42″ wide.
It can transport two kayaks vertically on the car rooftop. The oversized thick upright padded rubber saddles provide maximum protection when driving over unpaved surfaces.
What's more, the high-quality anodized aluminum alloys that make up the rack ensures it is highly durable and can be used for a really long time.
Moreover, the metal bars are resistant to rust and corrosion, therefore, making them ideal for use even in saltwater kayaking or fishing.
This rack prides itself on being the easiest rack to mount on a car rooftop in the least time possible. We'd agree!
Besides, the IKURAM racks fold designs and their quick-raise ability enables the carrier to fit different shapes and sizes of kayaks without much hassle.
Lastly, its multiple position design and the acrylic fabric sleeves enable you to maximize the usage of the vehicle rooftop.
Pros
Maximum protection
Multicarrier
Easy to use
Maximizes car rooftop space use
Cons
Complicated initial installation
2. ECOTRIC J-bar Kayak Rack
This 15.52 pounds' carrier has an 8′ strap that can handle a 36" wide Kayak weighing up to 165 pounds. It has its own set of mounting hardware with 4 racks that enable it to carry up to 2 kayaks at a particular time.
Apart from this, it comes with a heavy steel frame to ensure maximum protection and the ability to carry the Kayaks stably. Also, flexibility ensures it can fit the majority of flat and square crossbars efficiently.
This kayak rack prides itself on being the most secure in protecting kayaks from deformation through scratching and transport accidents.
It weighs 15 pounds and comes with easy installation instructions for fast assembly. What's more, it has a universal fit for most crossbars
This Kayak rack is best suited for passenger vans, cars, and SUVs.
Pros
Durable
Easy installation
Has multiple racks
Quick assembly
Cons
Not suitable for large Kayak users
3. TMS J- Bar Kayak Rack

This Kayak holder for roof rack comes with a steel design to ensure maximum protection and carrying strength for the kayak. The carrier handles kayaks that are as much as 36 inches wide and 75lbs heavy.
TMS kayak racks are especially suited for small to medium cars that don't have huge roof spaces. Think of sedans and small SUVs.
You also need to know that these products come with vacuum-sealed hardware installation. In fact, the boxes are labeled appropriately to avoid counterfeit imitations.
Its big mouth J bar makes it an easy product to load and unload a kayak effortlessly.
Indeed, this 8-pound kayak carrier is a stable lightweight device most suitable for SUVs. Its 17.5″ (L) × 12.5″ (W) × 6.5″ (H) dimension optimized j bar ensures maximum space on the roof space.
Pros
Affordable
Easy assembly
Very stable
High compatibility
Cons
No folding functionality
4. Leader Accessories J Bar Kayak Rack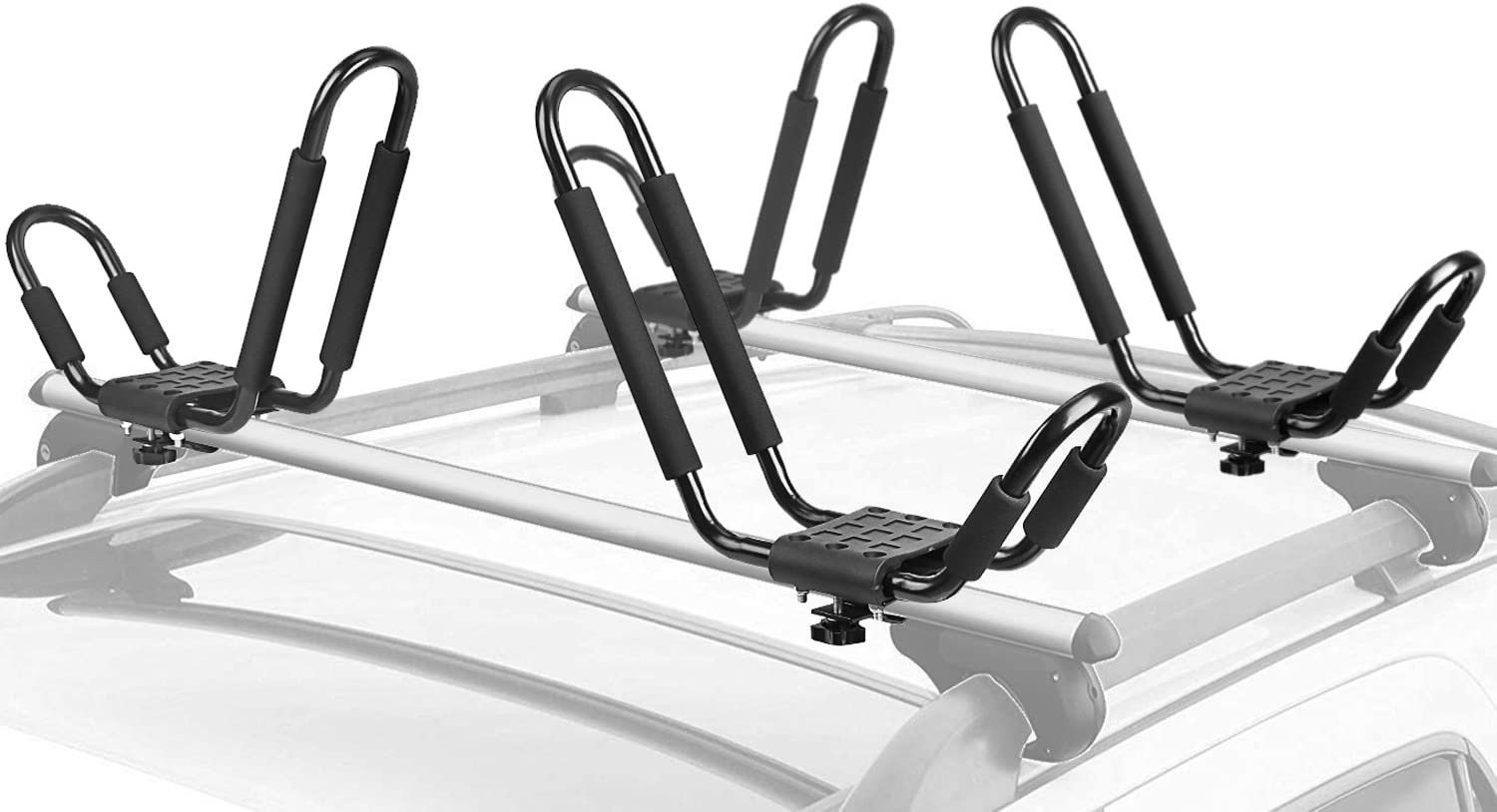 This Kayak carrier consists of a 2 pair j bar with 4 pieces of tie-down straps. It is one of the most dynamic racks that you will find in the market.
Besides that, it has a double rack which saves on space for more cargo and keeps kayaks safe during transport.
Plus, it's built for heavy-duty works. It's been tested to carry a maximum of 150lbs that are 8Ft long. This rack is steel coated to ensure you don't have to replace it due to corrosion.
Moreover, the extra foam padded design reduces scratches while preventing kayaks from any form of rubbing.
Pros
Easy setup
Multipurpose
Rust resistant
Fast installation
Cons
Single assembly instruction
5. Dr. Sports USA 2 Pairs Universal J-Bar Kayak Rack

The Dr. Sports USA Kayak rack is a tough carrier made up of 1.9mm thick steel tubes capable of holding a 150lbs and 36" kayak. The majority of its surface area contains paint that can resist most weather conditions.
In addition to that, it has four ratchet straps and bow and stern down straps for easy, safe, and convenient transport.
The foam padding feature and a cover base made of rubber make it protect your kayak from scratch.
It also enables your kayak to become water and sun resistant thus enhancing durability.
More to that, it has a universal design that enables it to be compatible with most vehicles with flat, square, round, and oval roof racks.
Pros
Easy to install
Value for money
Sun and water-resistant
High compatibility
Cons
Not steady
6. IKURAM Kayak 3-in-1 Kayak J Bar Rack

If you're looking for a carrier that's safest for your kayak, then this product is the best in class top guard padding. In addition to that, it's the best recommendation if you want to transport one kayak vertically on the car roof.
This j bar kayak rack shall serve you for a long time since its made of aluminum alloys resistant to rust. More to that, it comes with a folding design that's convenient to ensure maximum space when not in use.
Its unique feature is the native paddle holders that help in positioning kayaks correctly during transportation.
Pros
Contains extra paddle holders
Easy to use
Easy to assemble
Durable
Cons
Reduced compatibility
7. HTTMT Kayak-1(1P)- J-Bar Rack
This Kayak J bar rack consists of one pair that contains universal mounting hardware to complement different rooftops on automobiles.
Also, it is rubberized to increase grip and has a foam cushion to protect your kayak from destruction.
Besides, it's important to note that it weighs 7.98pounds that makes it easy to transport. More to that, it's recommended for kayak owners with small automobiles.
It can secure your kayak with bungee cords and straps if needed.
Pros
Maximum protection
Easily mobile
High compatibility
Affordable
Cons
Single pair of universal mounting hardware
Buyers Guide for The Best J- Bar Kayak Rack
When deciding to buy a J-Bar Kayak carrier, there are certain important factors that you should keep in mind. This shall help you get the best option that fits your requirements and expectations.
Features
Different J-Bar Kayak racks come with their unique features that fit a certain kayak holding position. Therefore, as a buyer, it's important to ensure you get the best rack for your personal goal.
Some racks come with the capability to support more kayak weight than others. Also, there are special racks that have additional functionality for the best performance.
Price
If you are a sensitive buyer to pricing, it's important to compare the prices of each type of rack to find the best deal you can get.
However, it's important to ensure that you don't buy a cheap product that can't handle your travel need.
Moreover, it's important to compare the shipping costs of each j bar rack so that you can maximize the best deal in the market.
Stability
Different racks are designed to accommodate a specific amount of weight for it to function optimally. Some racks can hold up to 150lbs of weight whereas others hold 75lbs maximum.
In addition to that, single-use j bar kayak racks are only stable when used once. In case you decide to reuse, its stability can be compromised.
Also, buying a rack that can be easily mounted on different kinds of car rooftops is recommendable.
Durability
We all want value for our money, right? It's important to buy a j bar kayak rack that contains features that enable it last for a longer time.
Also, buying a good product that is not scratching or wearing out the kayak is very important.
Some brands have been built with rust, water, and sun resistant technology to increase the life of the product.
However, if you are a one-time buyer of these racks, it's often best to go for the cheapest since it shall cost you less.
Use
Kayak holders for roof racks come in different types. You need to decide on the main reason you're buying the carrier before committing funds to it.
You need to understand some types of racks have been specially designed to carry kayaks only.
For this reason, these j bar racks are not suitable for a person who has other equipment they like to transport from one place to another.
Some types such as the Leader Accessories Kayak carrier have the ability to not only carry kayaks but also snowboards, canoes, and ski boards.
Also Related
3 Types of Plastics Used to Make Kayaks
Planning An Overnight Float Trip? Things To Keep In Mind
Kayak Fishing Must-Have Accessories for Fall
Frequently Asked Questions
And now, we'd like to respond to some of the commonly raised questions on this topic. Hopefully, you'll find this section of the article highly informative.
What is the best kayak rack?
The most appropriate answer to this question depends on the functionality that you are looking to achieve with the particular rack.
Without a doubt, we highly recommend the Lead Accessories Kayak rack since it's convenient multi-purpose use.
Do you need crossbars for a kayak rack?
No, crossbars are not very important in the transport of kayak rack. However, if your vehicle has factory crossbars, we recommend buying gear mounts designed specifically for loading kayaks.
Should a kayak be transported upside down?
It's recommendable to transport your kayak upside down to prevent deformation during the transport trip. It also provides a larger surface area to prevent it from getting scratches.
More to that, the upside-down transport enables the kayak to be transported with more stability on the road.
Can I fit a kayak in my SUV?
Yes, the majority of the J bar kayak racks are made to be mountable on an SUV's rooftop.
It's important to seek a second opinion from your seller on the compatibility of your car with the rack chosen.
Also, if the racks are not fitting on an SUV's rooftop, then it's important to find a rack that can complement different rooftop designs.
How far apart should roof rack cross bars be?
It highly depends on the manufacturer's customizations. If there are no space recommendations, then the standard distance is between 24 to 36 inches apart.
What is the difference between roof rails and roof racks?
In most cases, roof rails are attached by mounts across a car's length whereas roof racks are placed cross rooftops of a car.
Our Top Rated J Bar Rack for Kayaks
Having compiled this extensive review article, we're of the opinion that IKURAM 4-in-1 kayak rack is the winner. We particularly like the fact that it is heavy-duty and wide enough to accommodate different kinds of kayaks. Plus, it's reasonably priced.
Final Thought
If you're looking for a durable kayak carrier, J bar kayak racks provide the best value for your money. The majority of the racks are multiple-use therefore saving you money.
These racks are mostly able to blend in with most automobile rooftops and therefore helpful to a person having different care models.
Besides that, they are manufactured with the highest precision to ensure they don't scratch or spoil your kayak.
More to that, the racks are relatively cheap compared to their alternatives.
In addition to that, the majority of the carriers have easy assembly instructions that allow you to fix with minimal challenges.
We would highly recommend J bar kayak racks any day since you are guaranteed to get value for your money.
In conclusion, buying the best j bar kayak rack is not as complicated as it seems. You only have to find out what type of rack your vehicle can mount our kayak perfectly.