As an angler, you should know that nothing could ruin your fishing trip more easily than getting to your fishing spot only to realize that you have left a vital accessory behind.
To avoid such a scenario, you ought to invest in the best fishing backpack as this is a unit that is specially designed to ensure that you carry all you need for your fishing expedition.
Note that this is not an ordinary backpack as most fishing bags have extra pockets and compartments to ensure that everything you need has its storage section.
The Issue at Hand…
Now here comes another problem; there are several brands of fishing backpacks that have come up over the years, and some of them are, disappointingly, not up to the task. This makes your search more confusing than it should be.
Lucky for you, we are here to make things easy. We are going to show you a smart way of boosting your chances of landing the ideal fishing backpack.
This involves looking out for the specific aspects that ensure the product you end up with serves its purpose effectively. These factors include:
The storage capacity
Water-resistance
The construction
Comfort
The organization, and so on
Let's check out these factors in detail.
Factors to Consider in Buying a Fishing Backpack
Besides helping you pick the best fishing backpack, paying attention to specific factors also helps you save time and energy as you would have narrowed down your search by a great extent.
(1) The Storage Capacity
When it comes to the storage capacity, you have to consider the fish you intend to catch plus all the accessories that you would need for the trip. This would ensure that you do not get an under or over-sized bag.
On top of being spacious enough for the fishing gear, the ideal backpack should also have extra compartments and side-pockets to give you easy access to the tools during the trip.
Note that a bigger bag is likely to be bulkier and it may drag you down when you add your stuff in it.
(2) Water-resistance
A water-resistant or waterproof bag is crucial in helping you protect your fishing gear and other items in the bag such as phones, cameras and snacks, from external elements such as water, mud and other forms of dirt.
Check out for materials that would offer water-resistance both in the interior and the exterior of the backpack. You should also know that there are materials which can be treated so that they become fully waterproof.
You may note that most fishing backpacks are made of nylon fabrics and polyester which offer some water-resistance.
(3) The Construction
In this instance, we are talking about the materials used in crafting the bag to determine how durable and strong it is. After all, who wants an item that would break apart before you even get to your destination?
The stitching would be important as it dictates whether the seams would burst open the moment you place gear in the bag. We suggest that you go for backpack with double or triple stitching as it is likely to be sturdier.
A strong internal lining is also important to protect the bag from being damaged by fishing gear, some of which may be sharp.
(4) Comfort
You need a bag that would not give you a hard time as you carry it. Therefore, padded shoulder straps and a breathable rear should be the first steps to assure you of your comfort.
Another thing is that an even weight distribution would ensure that you do not experience back and neck issue due to pressure being applied un-proportionately.
The zippers also play a part in your comfort and they should be easy to open. Double-zippered designs would be ideal for this case.
(5) Organization
It is also important that the best fishing backpack offers organized storage so that you can divide the items in the back appropriately for easy access when needed.
We recommend that you go for a bag with different compartments for smaller and larger stuff to avoid a mix-up of the two categories.
An organized bag also helps in keeping away bacteria and pests.
Top Backpacks for Fishing: Comparison Guide
Are you wondering where you can get the best fishing backpack? Well, we have gone an extra mile and done the research for you so that you do not waste time researching one product after the other.
All the items on our list are high-quality and we hope your ideal pick lies somewhere among them.
1. Piscifun Fishing Tackle Storage Shoulder Backpack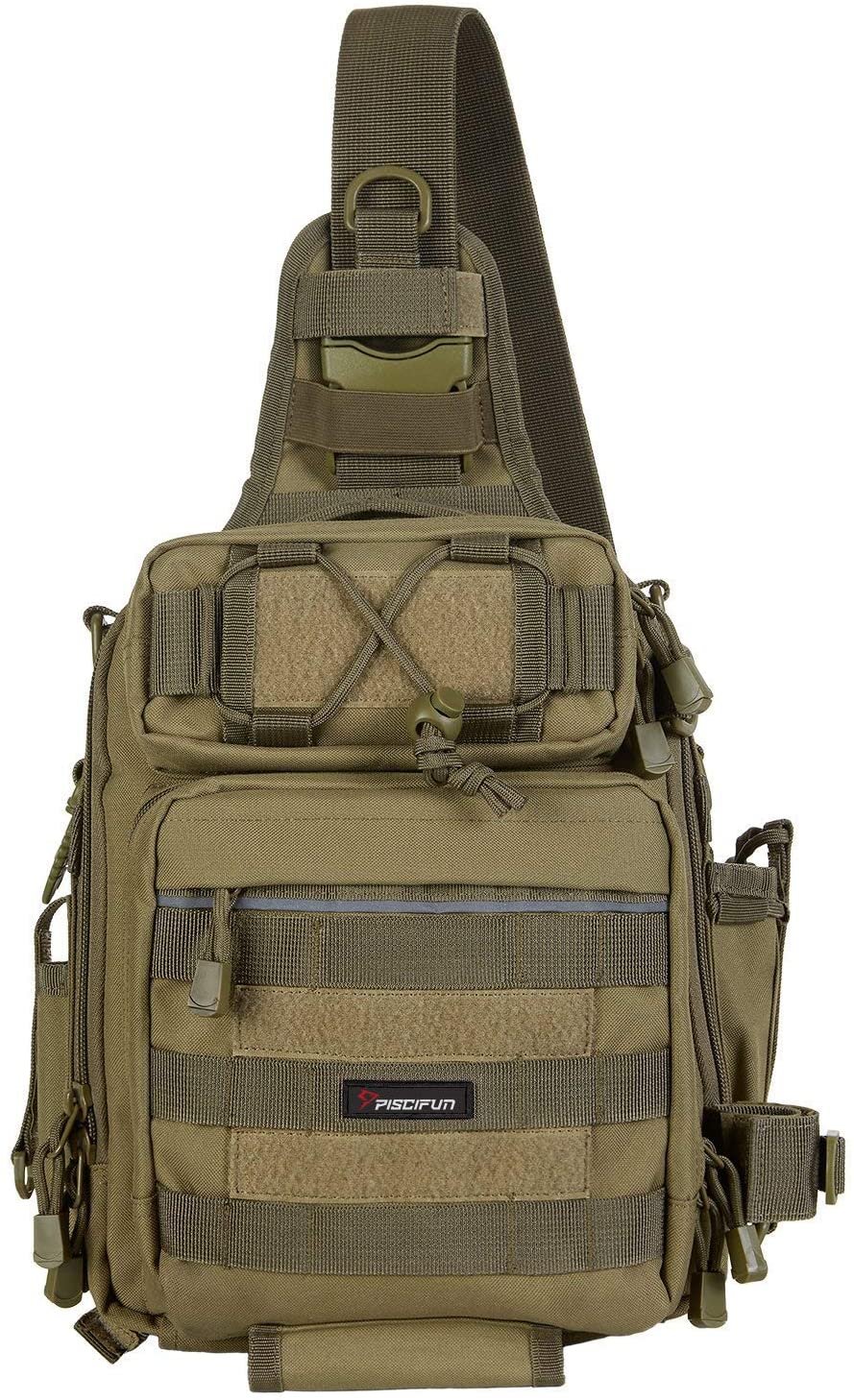 To open our list is the Piscifun Backpack which may be one of the most water-resistant fishing backpacks you may ever come across. After all, what more could you ask for in a bag which will spend most of its time in wet conditions?
We have analyzed other notable features of this unit in detail.
What We Liked About It
Let's start by explaining the source of this bag's water-resistance and we could attribute this to the high-quality nylon fabric construction. As a result, all that is in the bad would be protected from heavy rain or any other splashes of water.
Another benefit lies with the straps which are not only adjustable but are padded to ensure that you do not experience any discomfort as you carry the bag.
We also liked the flexibility of this backpack in that besides a backpack, you could use the Piscifun Tackle Bag as a chest bag, hand bag, or travelling bag.
Other Features and Benefits
Do not worry about the storage capacity since this tackle bag has up to 18 storage compartments to enable you carry all you need for your adventure.
We should also mention the bonus features such as the retractable bottle pocket, reflective safety strips, and the sunglasses pouch. All the extras are meant to enhance the overall efficiency of this backpack.
What Could Have Been Better
In as much as the tackle bag is highly water-resistant, it is not entirely waterproof. Therefore, you can expect some leakages into the bag.
Pros
Built to last
Versatile
Comfortable and adjustable straps
Cons
Some users found it to be smaller than expected
2. Wild River Backpack by Custom Leathercraft

To the ordinary eye, the Wild River backpack may seem like any other tackle bag. However, closer observation would tell you that this unit is a combination of a tackle bag and a soft backpack, to leave you with an impressively durable item.
Interested in learn more? Walk with us through our review of the product.
What We Liked About It
The first interesting aspect of this backpack is the storage whereby you have several options at hand. First, the bag is very spacious and can accommodate up to four medium-sized tackle boxes.
There are also several zippered pockets at the front, right and left for securely holding your accessories and also giving you easy access to them.
Let's not forget the rod holders, pole holders and accessory loops that provide you with more options for attaching your accessories.
Another notable feature is the integrated LED system that enhances your visibility should you decide to fish in the dark.
Other Features and Benefits
For your comfort, the padding in the shoulder straps, back compartment and the sternum strap so that you have an easy time carrying your gear.
There is also the protective rain cover that is easy to deploy to protect the backpack contents in case it starts pouring all of a sudden.
Lastly, you have the molded sunglass holder for keeping your sunglasses safe.
What Could Have Been Better
If only this backpack had been more affordable, many more individuals would be able to acquire it without having to dig too much into their pockets.
Pros
Attractive design
Well-made
LED system allows you to fish in poorly lit conditions
Cons
Too bulky
3. Piscifun Fishing Tackle Backpack with 4 Trays

Once again, the Piscifun brand makes it to our list and you should take this as a sign that you are dealing with a high-quality product that would not disappoint.
This fishing tackle backpack comes with four trays whose aim is to keep things more organized in your bag.
What We Liked About It
First, all the materials used in making this backpack point to a durable product that is meant to serve you for a long time to come. The high-density 1200D nylon not only makes the backpack sturdy but it also enhances its water-resistance.
The capacity too is impressive and you have up to 18 compartments to store all the accessories that you need for your trip.
And should you need to store a larger item, the movable divider of the main bag is going to make the storage possible.
Other Features and Benefits
The manufacturer understands the importance of your comfort and this explains the padded and breathable shoulder straps that make life easier for you as you carry the bag.
You may also be attracted to the sunglass holder at the top, and the protective rain cover for keeping your items dry from the rain.
Lastly, there are reflective strips on the bag to enhance your visibility in the dark.
What Could Have Been Better
Although the bag is well-made, the bag lining is a bit flimsy and this becomes a weak point from where the backpack may fall apart.
Pros
Comfortable
Comes in 3 color options
Has reflective strips for visibility
Cons
Not that big
4. Fiblink Sports Shoulder Fishing Tackle Backpack

Another high-quality fishing backpack that you should think about is the Fiblink Single Shoulder Sports bag which we consider to be one of the best waterproof backpacks in the market.
As you shall see, the manufacturer got most of the things right with this bag and for the price, this is one of the best bargains you may ever land.
What We Liked About It
This bag is constructed out of 1000D heavy-duty nylon fabric which has a fantastic lifespan plus features waterproof coating to enhance its water-resistance.
Further, the bag features a high-density ribbon which is both wear and abrasion-resistant. This combination contributes to enhanced durability of the bag.
Also worth mentioning is the humanized design of the bag which includes widened shoulder straps to reduce the pressure on your shoulders.
There is also the back that is lined with breathable mesh with the aim of keeping you comfortable as you carry the bag.
Other Features and Benefits
With this bag, you never have to worry about how you will carry your accessories since there are sufficient storage options available. There are interior compartments as well as several exterior pockets.
You even have an additional space for holding your water bottle.
Lastly, this bag is versatile and you can use it in numerous styles such as a hand bag, sling bag, chest bag and cross body bag.
What Could Have Been Better
If only this bag could have been a little bigger, it would have been more useful since this size limits the accessories that you take with you to the trip.
Pros
Built to last
Beautiful military design
Affordable
Cons
Too small
5. KastKing Fishing Tackle Backpack

If you have done extensive reading on fishing gear, the brand KastKing must have come up several times. This is because it is a global leader of producing high-quality fishing including fishing rods, gloves and, our area of interest, backpacks.
This is a bag that has been built to survive in different environments, however hostile it may seem.
What We Liked About It
The first thing that we noted with this bag is the top-notch construction from reliable materials. Let's start with the sturdy 420D nylon material that enhances the durability and water-resistance of the backpack.
And to boost its water-resistance, the outside of the bag has hydrophobic coating that will help in repelling moisture.
As for the interior, there is a PVC layer that provides further protection for the bag against any potential damage.
We also liked the firm grip that the bag has on any surface you place it on and we can attribute this to the tacky materials used in the construction.
Other Features and Benefits
One thing we believe you are going to appreciate with this bag is the comfort that it offers. The back pad, the shoulder strap and waist strap are all padded to keep you comfortable with less fatigue during your trip.
Other features worth mentioning include the various pockets on the bag, the reel handle and rod tie-down bungee, the rod pocket and the sunglasses compartment. All these enhance the efficiency that this bag offers.
What Could Have Been Better
The stitching of this bag is a bit disappointing and this may make the bag break apart easily. If this is checked upon, then the bag may last longer than it does.
Pros
Comfortable
Does not slide when placed on a surface
Pleasant to the eye
Cons
Flimsy zippers
6. Spiderwire Fishing Tackle Backpack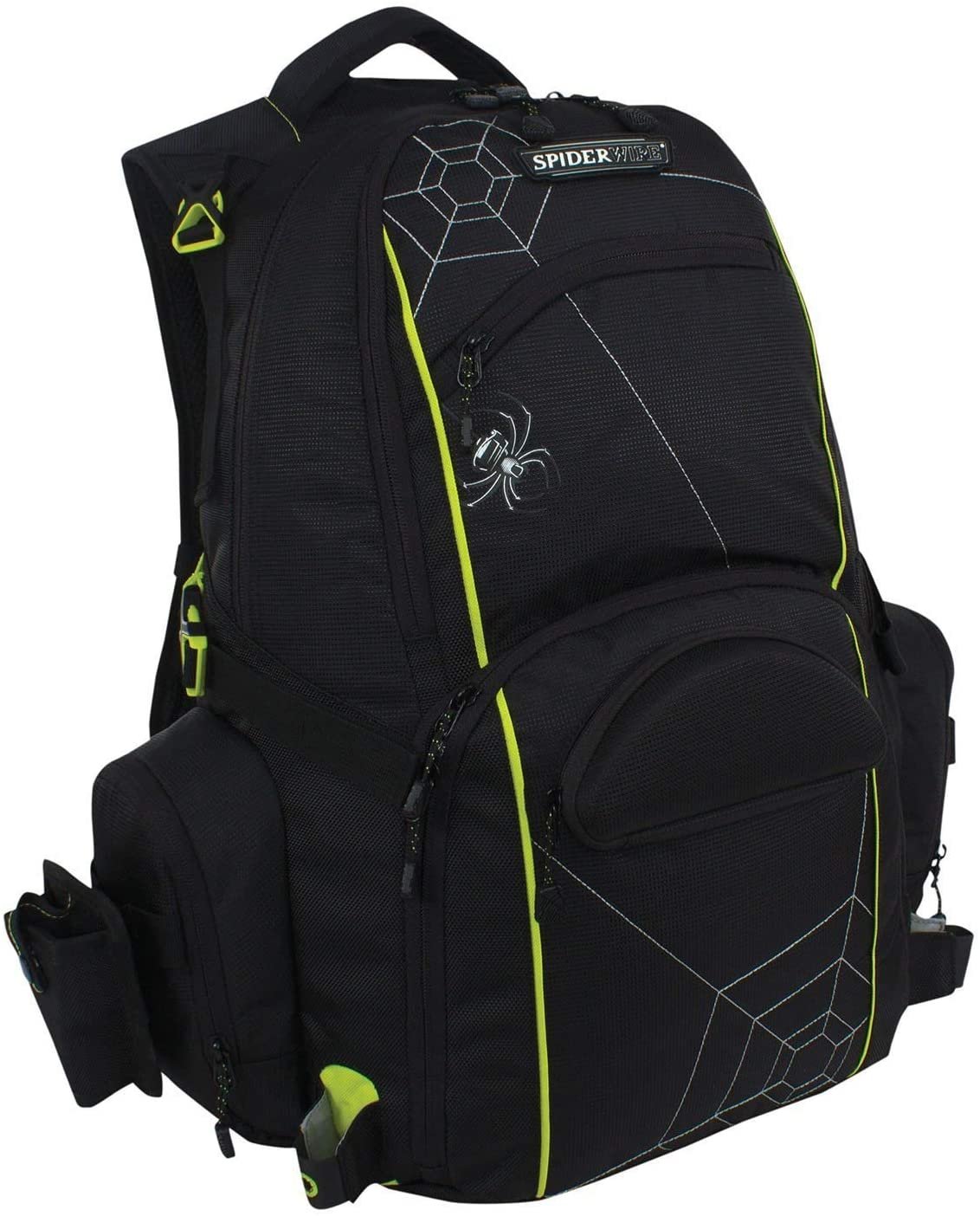 If you are an angler who is always on the move whether it is just walking long distances or searching for the ideal fishing spot, the Spiderware Tackle Backpack is here for you.
This is due to the comfort that it offers plus all the storage spaces, all designed to make life easier for you.
What We Liked About It
When it comes to storage, the Spiderwire fishing tackle backpack is a winner. You get the main storage compartment which is divided into three sections, all with different purposes.
In the end, you are likely to end up being a more organized individual.
Other storage features of this backpack include zippered pockets, fishing tool holders, rod holders as well as a molded sunglasses case with soft lining.
While the shoulder straps are thick and therefore more comfortable for you, the checks and waist straps help in even weight distribution so that you do not get fatigued as you use the bag.
Other Features and Benefits
This bag is very good-looking and anyone would enjoy carrying it around to show off.
There is also the lifetime guarantee that should give you some peace of mind since it would be a risk-free investment.
What Could Have Been Better
Some anglers felt that this bag gets molded too easily and this lowers the quality and lifespan of the product.
Pros
Attractive design
Has a flat bottom to stick upright
Ample storage
Cons
The zippers are flimsy and get damaged easily
7. Ghosthorn Fishing Tackle Backpack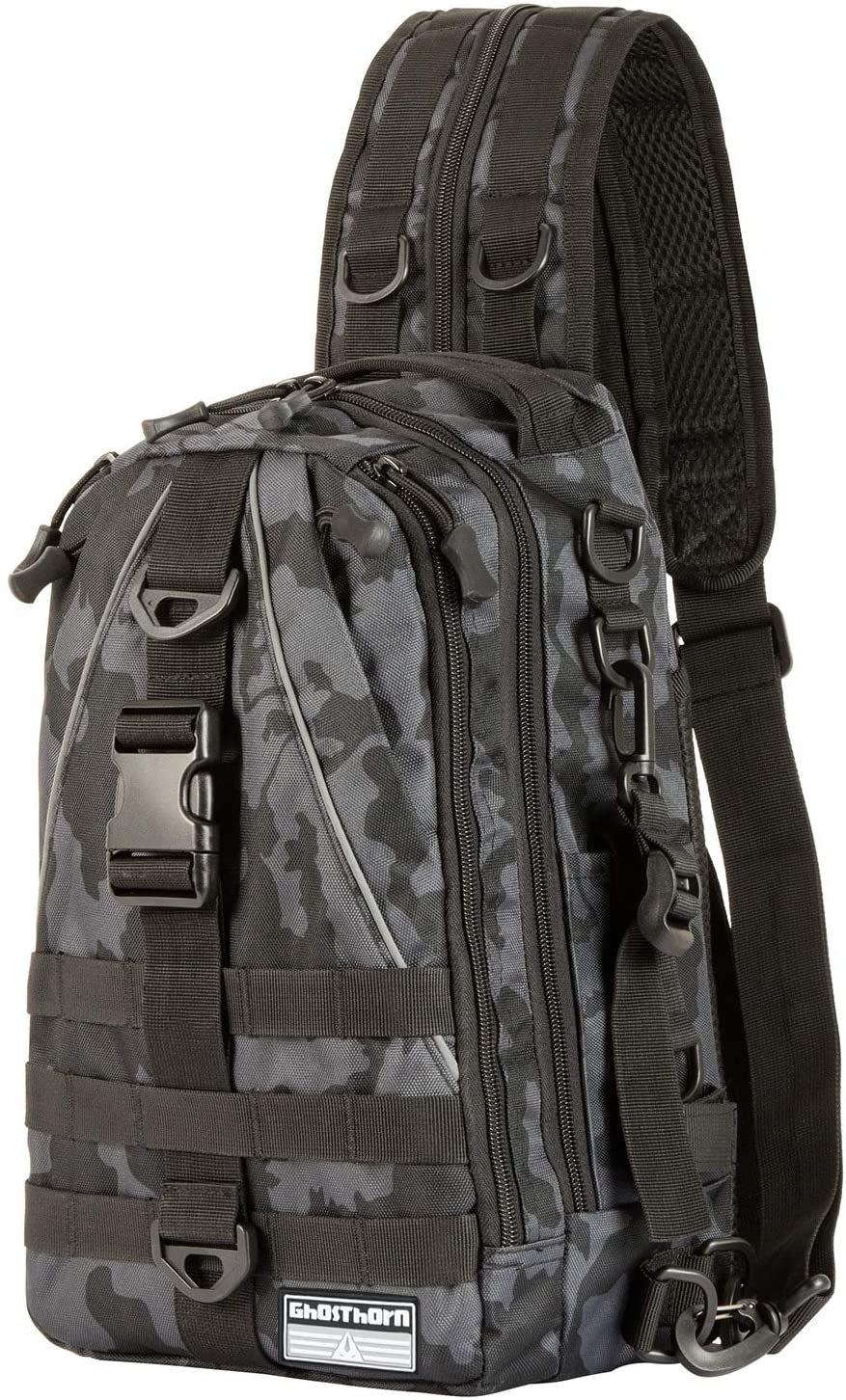 This is an outdoor shoulder backpack that is available in eight different colors so that you can easily find the one that suits your style best.
Other than that, there are other notable features in this tackle bag and we shall analyze them in detail.
What We Liked About It
We shall begin with the shoulder straps which are padded to enhance your comfort as you carry the bag. On top of that, you can adjust the straps so that you can use the bag in different forms such as hand bag, chest bank and traveling bag.
Then, there is the construction involving high-density nylon and is reinforced with stitches to enhance its lifespan.
Let's not leave out the abrasion-resistant materials that make this bag ideal for use in fresh and salty water too.
Other Features and Benefits
First, there is the breathable fabric mesh that aims to make you comfortable by allowing air to circulate so that you do not overheat with the bag on your back.
Also worth mentioning are the two rod belts for holding rods and this saves on the space that you would have used on the boat.
As for the clip buckles, you could use them for holding items such as jackets, shirts or even rain cots in case of unpredictable weather.
Lastly, you can store you favorite drink in the expandable water bottle pocket.
What Could Have Been Better
Some users found the backpack to be too small and this means leaving behind some accessories which may turn out useful in the end.
Pros
Well-made
Humane design
Has versatile clip buckles
Cons
Too small
8. Blisswill Outdoor Tackle Fishing Backpack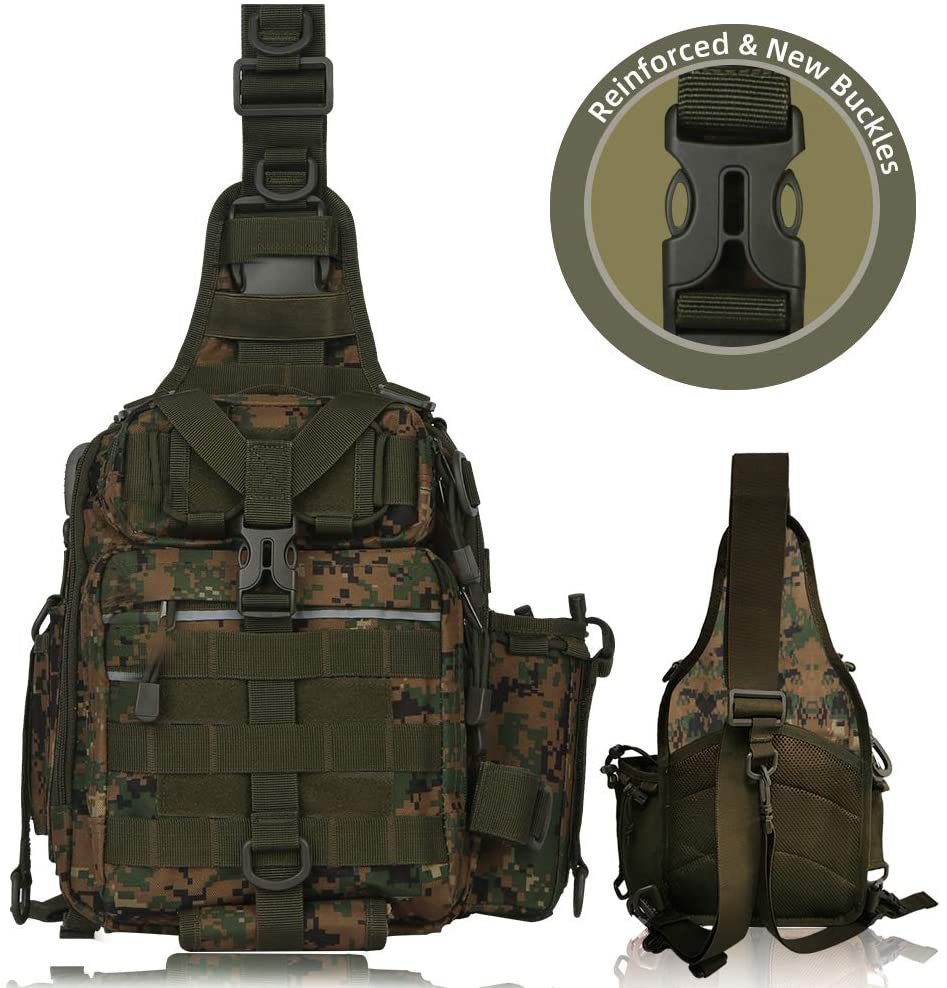 Another backpack that offers you versatility is the Blisswill tackle bag which features detachable and adjustable straps that make it possible for you to wear it on your back, around the shoulders or carry it as a handbag.
But that is not the only impressive feature of this bag as you shall see in our review below.
What We Liked About It
This backpack is well-made from top-notch nylon fabrics that are water-resistance. This material is also sturdy and this implies that your bag should remain intact for the foreseeable future.
Still on the construction, the materials are non-toxic and environmentally-friendly which is a quality that is not always easy to find in most modern products.
The triangle shoulder strap is padded to ensure that you are always comfortable as you carry the bag.
Another thing we liked is that the interior of the bag offers you multiple storage options for holding all your fishing accessories such as lures, fishing boxes, pliers and poles.
Other Features and Benefits
This bag is available in four designs which include khaki, army green, black and camouflage so you can find the one that suits your style best.
We also liked its moderate size which adds to its portability for you to move more easily with it.
What Could Have Been Better
If you encounter any problem with the bag and you wish to return it, you incur a shipping cost and this discourages many buyers from making use of the warranty service.
Pros
Durable
Numerous storage options
Comes in four different designs
Cons
The front pocket is a bit hard to access
9. Yvleen Fishing Tackle Backpack

Are you looking for a multifunctional backpack that you could put to different uses? Well, the Yvleen backpack is what you need for such a scenario as it is well-built and you besides fishing, you can use it in cycling, camping and mountain climbing expeditions.
Let's see what makes this bag such an appealing product.
What We Liked About it
The first thing with this bag is that it is bigger than other bags in the market. This means that it can accommodate most of your fishing accessories as well as other necessities such as wallet, keys, cell phone and camera.
Further, the backpack features numerous storage compartments that enable you store your items in a more organized manner.
As for the construction, heavy-duty 1000D nylon fabric is used to make the bag water-resistant so as to protect the contents in the backpack.
The full-length double SBS zippers used are also durable and smooth too so that accessing the inside of the bag becomes easier.
Other Features and Benefits
We should also note the KAM buckle on this bag which is sturdy and can withstand a lot of pressure without breaking apart.
There is also the humanized design of the bag whereby the rear breathable mesh aims to keep you comfortable all-through as you carry the bag.
What Could Have Been Better
This bag has an edge over the competitors when it comes to storage. However, if the pockets had been bigger, we would have no complaints about it.
Pros
Can take a lot of abuse
Spacious
Humanized design
Cons
The pockets are too small
10. SeaKnight Outdoor Tackle Bag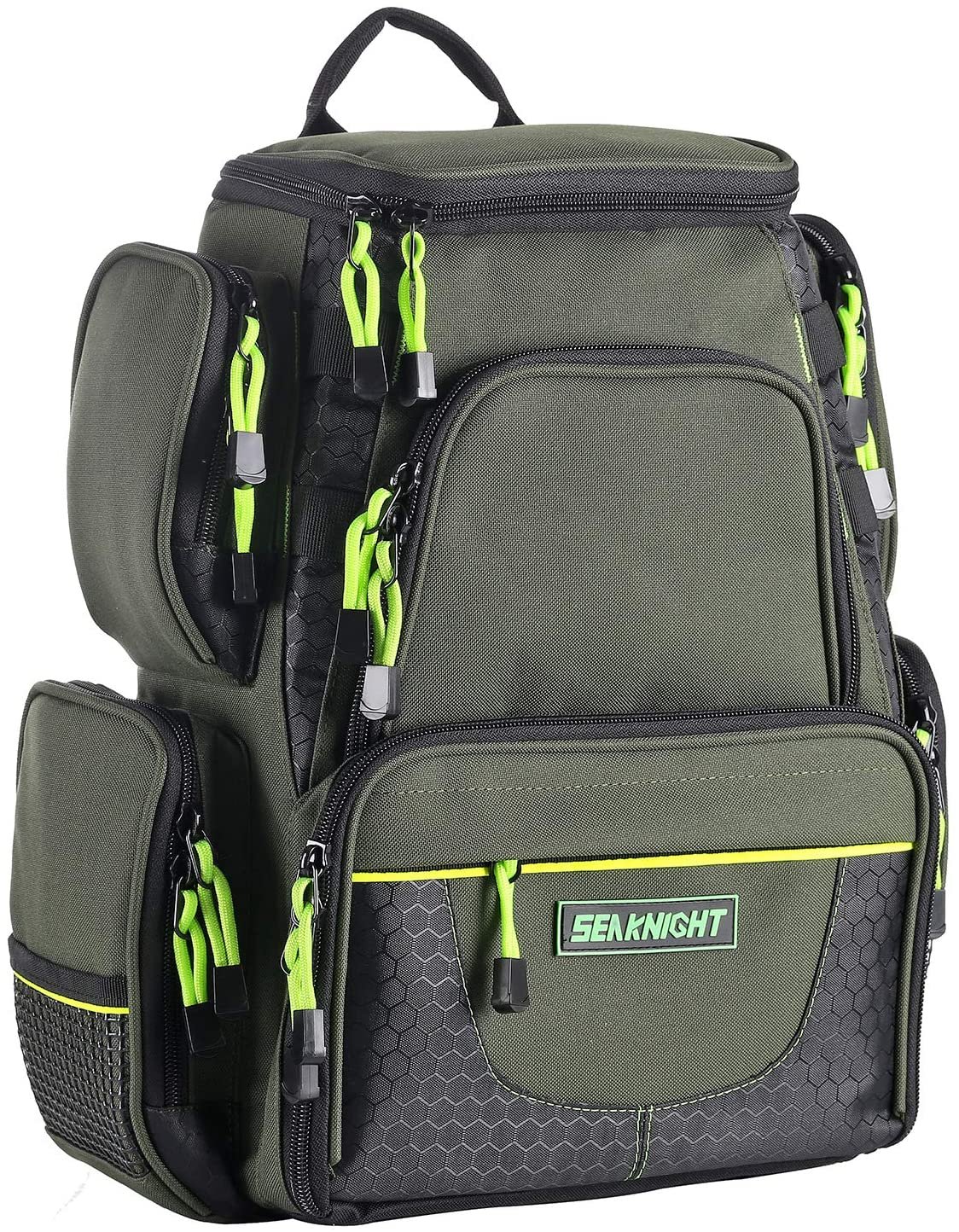 The final item on our list is the SeaKnight tackle bag, which is an outdoor multifunctional bag that would serve you well in fishing, camping, hiking, and at the gym. The high-quality build is the main reason behind the versatility of this bag, as it can take a considerable amount of abuse.
Is it worth it? Let's see.
What We Liked About It
As hinted earlier, this bag is well-made from high-quality 1000D nylon, which is water-resistant and tough so that this bag lasts for a decent period into the future.
There is also the anti-scratch bottom that keeps the bag intact even when placed on rocky ground.
We liked how spacious the bag is, and the removable divider allows for storage of larger items in the backpack.
Further, the backpack also features zippered side pockets and two mesh pouches for holding smaller items.
Other Features and Benefits
The manufacturer considers your comfort to be a top priority. This explains the adjustable padded shoulder straps and the breathable back mesh panels, all designed to keep you comfortable as you carry the bag.
Let's also touch on the two-way zipper that gives you easier access to the contents in the bag.
Lastly, the bag has a clear zippered interior pocket just under the lid that you can use for holding your IDs, licenses, and similar items.
What Could Have Been Better
We appreciate all the pockets that the bag has. However, they are too shallow, and this limits the number of items they can hold.
Pros
Impressively large capacity
Organized storage compartments
Has padded shoulder straps for comfort
Cons
The pockets are too small
Related
Best Waterproof Sprays Reviewed [w/ Buyer's Guide]
Best Fishing Shoes for Men, Women & Unisex Reviewed
Fishing Boots: Latest Unbiased Rankings & Guide
Reasons to Invest in an Angler's Backpack
If you consider yourself to be a serious angler, you ought to know the importance of owning a fishing backpack. And if you don't, we are going to spell it out for you.
First, if you are going to have an extended fishing trip that may take several days, a backpack would provide you with a central point for holding the vital accessories.
Also, a backpack would hold your items without interfering with your mobility, and you can make several maneuvers with the bag on your back.
Another reason is that you no longer have to carry your tackle boxes by hand since most fishing backpacks are spacious enough to accommodate the boxes.
And, since the best fishing backpack ought to be waterproof, it would provide you with a secure place for putting away your items without coming into contact with water.
Common Features of Backpacks Used For Water Activities
There are some components that hardly miss from a fishing backpack. These include:
A flip-out pocket with a transparent film
Normally waterproof, this part offers you a convenient place where you could put your cell phone, fishing license, and any other permit that you need for the trip.
Retractable Workplace
This provides you with a convenient fold-out surface area that you could work on.
LED light
If you ever find yourself fishing in the dark or poorly lit conditions, this light would enhance your visibility.
Sunglasses' Pocket
This pocket is usually hardened and located at the top of the bag. The purpose is to provide you with a safe area for storing your sunglasses without breaking them apart.
Fishing Rod Holders
These two side pockets hold your fishing rods as you head over to your favorite fishing spot.
Frequently Asked Questions
The following are some of the queries that we faced a lot during our research on the best fishing backpack. The Q&A session generated should give you a better understanding of the topic.
Q: What can I put in my fishing backpack?
A: In general, you can put everything you need for your fishing trip. However, just for clarity, these items include the rods, baits, reels, tackle box, documents (ID, Fishing permit, license), sunglasses, sunscreen, drinks, snacks, and so on.
As you can see, you can fit every necessary item for your trip into the bag.
Q: Who needs a fishing backpack?
A: Any angler would find it beneficial to own a fishing backpack as it ensures all your fishing gear and accessories are always close by. The various types of anglers mentioned here are Shore fishermen, Fly fishermen, Backcountry anglers, and Co-anglers.
Q: Is the brand an important factor to consider?
A: Yes, it is. When you acquire a product from a reputable name, then chances are you would be getting full, if not more, value for your money.
The Best Overall
Even if all the fishing backpack models on our list are high-quality and durable, there is one that stood out from the rest. This is the Piscifun Fishing Tackle Outdoor Shoulder Backpack.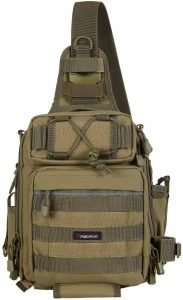 It is one of the most water-resistant fishing backpacks around plus has all the features to ensure you remain comfortable as you carry it.
Most of all, the bag is versatile, and you could use it as a handbag, chest bag, and traveling bag.
Wrapping It Up
With all that information, we believe that you now have what it takes to get the best fishing backpack. Even better is that you do not have to look anywhere else for the ideal item since the best of them all are featured on our list.
Most of all, stick to your budget, and it is always possible to find your match in every price range.