If you are an outdoor enthusiast, one of the essential tools you need in your arsenal is a waterproof spray. Such a spray can help in keeping the fabric of your outdoor gear dry and also make the fabrics easier to maintain.
Some of the items that can benefit from regular waterproofing include coats, boots, tents, and bags. Even when some of these items are initially made of waterproof material, the spray serves to enhance their water-resistance properties.
In this article, we have done brief reviews on the best waterproof sprays to boost your chances of getting the perfect product the next time you go shopping.
This is meant to help you cut down on the time you'd otherwise spend manually examining the different brands available on the markets currently.
On top of that, we have included a buying guide so that you can know the features to look out for in a waterproofing spray.
High-Quality Waterproof Sprays: Detailed Reviews
Discussed below are some of the best waterproofing sprays available out there currently.
1. 303 (30606) Fabric Guard Water and Stain Repellent
Are you looking for a waterproof spray to protect your natural and synthetic fibers? 303 Fabric Spray might just be the ideal choice.
This spray does not interfere with the original color of the surface it is applied on. As such, there is minimal chance of damage to what you spray it on.
What We Liked About It
The spray is safe to use on different kinds of fibers. What's more, it does not alter the texture of your fabric or make it flammable after application.
You may use it on outdoor fabrics to restore the lost water repellency. This enables the fabric to be water-resistant so it remains dry even when it rains.
Stains of any kind are also kept away from your fabric when you use this. Therefore, cleaning becomes a simpler task as you just need to wipe off with a cloth.
Also, the container this spray comes in is easy to use. With a little squeeze on the lid, you have the spray out and it does not leak when not in use.
On top of that, your fabrics' breathability remains largely unaffected by the spray. That way, moisture is unlikely to collect or create an environment for bacteria growth.
What Could Have Been Better
The drying period is 6 to 12 hours before you can use whatever you sprayed it on. This duration seems quite long and it would be better if the spray dried faster.
Pros
Easy to use
Safe on fibers
Restores repellency
Retains fabric color
Cons
Strong odor
2. Nikwax TX. Waterproofing Direct Spray-On
Trying to revive your fabric's breathability? Well, look no further as Nikwax TX Direct Spray-On seems like the right solution.
One thing we like about this product is that it's water-based and biodegradable. It, therefore, is quite convenient and safe to use. That's particularly so because the product is certified as being free from VOCs, PFCs, and optical brighteners.
What We Liked About It
As we've mentioned, this is a water-based spray. Not only is it safe to use but it also dries quickly. As such, it leaves no residue on the sprayed area and does not cause staining.
No volatile organic compounds or harmful perfluorinated compounds are included in the formulation of this spray. This means it is safe for use on fabrics that you wear.
The components used to make the spray are also bio-degradable. As such, there is no danger to the environment in case some of it goes to the ground.
You can restore the lost water repellency on your fabrics with Nikwax TX. This includes natural and synthetic fibers.
Using the spray is quite easy and straightforward. You simply have to squeeze the lead while directing the spray nozzle to the fabric then wait for the spray to dry.
What Could Have Been Better
The smell is somehow pungent immediately after spraying and it is advisable to work in a well-ventilated area. Otherwise, this seems like a well-made product to us.
Pros
Dries faster
Non-toxic
Water-based
Easy to use
Cons
Pungent when spraying
3. Rust-Oleum 280886 Clear Boot and Shoe Spray
Thinking about going for a fishing adventure and are wondering how to keep your boots dry? Try out Rust-Oleum 280886 Clear Boot and Shoe Spray.
It is a crystal clear spray meant to coat any shoe material and keep water away. As such, your feet remain dry and comfortable for long hours.
What We Liked About It
The formulation of the spray if free from silicone. This means there is minimal chance of discoloration of the shoe material.
Also, this spray repels stains too that may otherwise damage your shoes. As a result, cleaning your boots is likely to be easier.
The trigger spray application is fast and quite easy to use. This enables you can apply an even layer to achieve better results.
Moving on swiftly, the Rust-Oleum spray can also protect your footwear from ice and mud. Therefore, it comes out like a good bet for a rugged outdoorsy lifestyle.
Above all, we like the fact that this spray doesn't interfere with the breathability of the material it's applied on.
This is a good thing as it prevents moisture from accumulating and bacteria from building up.
What Could Have Been Better
You have to wait for 24 hours for your shoes to dry. It would be better if the manufacturer made a spray that dries faster to save on time as one may not have a whole day to wait.
Pros
Safe on shoes
Easy to apply
Silicone free
Restores water repellency
Cons
Dries slowly
4. Grangers Performance Water-Proofing Spray

Another one of the best waterproof sprays to make it into our list is the Grangers Performance Spray. It's made in England and has so far earned itself a good reputation here in the US of A.
One thing we admire about it is that it combines waterproofing and windproofing features. As such, it's a popular choice even for tent owners.
What We Liked About It
The spray is water-based meaning it does not leave any residue on your fabric likely to cause staining. Instead, it makes the fabric resistant to stains.
Other than that, this spray comes with an easy to use bottle. All you need to do is squeeze the trigger on the lid with the nozzle pointing to the fabric. Of course, you have to be careful and do this in a way that enables you to achieve an even layer.
Moving on swiftly, this spray from Grangers is environmentally friendly all thanks to the fact that it's free from fluorocarbons and volatile inorganic substances. It's, therefore, quite safe to use.
It's no wonder this product is odorless. As such, you can comfortably wear your clothes after waterproofing them without having to deal with an unpleasant scent.
What Could Have Been Better
For you to achieve maximum protection on your fabrics you have to use a dryer to heat-activate this spray. We find this to be a bit cumbersome and it would be better if the heat activation was done away with.
Pros
Water-based
Odorless
Environmental friendly
Easy application
Cons
Requires heat activation
5. KIWI 12oz Boot Protector
This boot protector from Kiwi is probably one of the best sprays you can go for if you own hunting shoes. That's because its silicone formulation does a pretty decent job of forming a resilient layer that keeps water and dirt at bay.
And the best part is, despite the spray providing a strong and protective layer, it doesn't affect the breathability of the material.
As such, you can still wear your lovely boot all day long without worrying about your toes feeling like they're getting "fried" inside there.
What We Liked About It
The spray leaves no residue on the area it is applied on. As such, staining is unlikely to occur on your boots.
You can easily apply it on your footwear because of how the bottle is designed. In addition, it forms an even layer easily.
Also, there is no odor once the spray is dry. However, it is still recommended that you apply it in a well-ventilated area.
This spray remains on the shoes for a long time before having to be reapplied. As such, your footwear's lifespan is prolonged.
Lastly, there is no alteration on the texture of the boots. Instead, cleaning is simplified to wiping with a cloth.
What Could Have Been Better
We wish that the bottle could have been a little larger. Otherwise, when you have to apply a double coat, you may need to use more than one bottle.
Pros
Stain-free
Easy to use
Water repellent
Odorless once dry
Cons
Requires double coat
6. Sof Sole Waterproofer Silicone Spray
Do you need to waterproof your tent, footwear or outdoor gear? Sof Sole Silicone Spray might fit the bill.
This silicone spray seems to have all it takes to protect all your precious items from rain, water splashes, and even spills. But is there more than meets the eye?
What We Liked About It
We found the spray favorable because it is easy to apply. So, if you're always short on time and want to get the most done in a few quick minutes, this might be the spray for you.
We absolutely love the fact that this spray runs clean. There is no residue that remains on the sprayed surface.
Therefore, you won't need to worry about the possibility of residual staining.
Stains from oil and dirt are also kept at bay. Moreover, cleaning the sprayed objects is effortless as no dirt gets stuck on them.
Once the spray is dry, it is odorless. You do not have to deal with unpleasant scents on your clothing or shoes.
Re-application is less frequent as the spray remains on the applied surface for longer. But when the contact with water is more, reapplication may have to be after shorter durations.
What Could Have Been Better
The manufacturer could have a formula that works with breathable technical fibers as air circulation is important.
Otherwise, this seems like a good spray when you want to waterproof anything.
Pros
Easy application
Stain protection
Repels water
Safe on materials used
Cons
Stops breathability
7. Scotchgard Water Shield for Patio and Grilling
Dubbed a heavy-duty water shield, the Scotchgard spray seems to tick all the right boxes as far as quality goes. First off, it's optimized for polypropylene, nylon, suede, leather, and polyester materials.
So, whether you're dealing with hiking boots, tents, boat covers, hiking bags or whatever, this is a product you can fully bank on.
There are some good features that make this spray stand out and we shall discuss them below.
What We Liked About It
The spray dries within 2 to 4 hours. Compared to others in the market, this is a reasonable time frame and it makes a lot of sense to work with it.
Once dry, this spray is almost unnoticeable as it leaves you with nothing but clear, odorless surfaces.
What's more? You only need to apply a single layer of it for most surfaces. That explains why just one can of this provides coverage for up to 60 sq. ft on light nylon materials.
However, you may still need to spray several coats of it when dealing with heavier fabrics. And in such scenarios, one can would provide you with 20 sq. ft. of coverage or thereabouts.
Above all, this waterproof has the remarkable ability to maintain the original colors and texture of your items. So, we think that it provides nothing but good value for money.
What Could Have Been Better
Although this product is generally well-made, a few people have complained of its nozzle dripping like crazy during application. The company needs to check on that issue and improve on it.
Pros
Quick-drying
Repels water
Maintains breathability
Simple to use
Cons
Poor nozzle quality
8. Texsport Polyurethane Seam Sealer Waterproof
How about getting double value from one spray? Yes, Texsport Polyurethane is a seam sealer and UV-protects your materials too.
The product boasts the ability to minimize the fading effects of the sun from all fabrics. So, if you'd like to retain the original color of your valuable this would probably be the best waterproof spray to work with.
What We Liked About It
The dirt-repelling properties of this spray go a long way in making the process of cleaning the fabric or shoes much easier. A simple wipe is typically what it takes to restore the shine on your shoes, tents, jackets, etc. when you get to use Texsport.
Moving on swiftly, this water shield doesn't compromise on the flexibility of the material it's sprayed on. Likewise, it doesn't alter the texture in any way.
Also, the fact that it covers seams (which tend to be weak points in most backpacks) makes it a fantastic choice for anyone who spends most of their time on water e.g. duck hunting or wading through water-logged terrain.
And to sum it all up, once dry, this spray remains non-toxic and safe. That's why we think it's a highly practical item to own if you're outdoorsy.
What Could Have Been Better
Over-application may result in staining. That means you have to be careful to apply it evenly and in the right quantities.
Pros
Non-toxic
Reduces fading
Colorless
Protects from water
Cons
Unsuitable for natural fibers
9. Simple Shine Premium Water Repellent Spray & Stain Protector
Leather is a good material but water and dirt can interfere with its aesthetic value. But not to worry as the Simple Shine Premium Water Repellent and Stain Protector has your leather items covered.
Designed for use on all leather goods, we think there's a lot in it for you to benefit from.
What We Liked About It
One thing we absolutely love about this spray is that it dries up quite fast and typically within 30 minutes your leather item is ready to use. As such, this is a handy on-the-go spray.
What's more, the spray's convenient trigger makes it quite easy to use. A gentle squeeze of it is all it takes to get your material protected.
On top of that, while this stuff is protective, it doesn't compromise on the breathability of your fiber.
At the same time, it doesn't affect the original color of your material. As such, you can count on it to keep your bags and boots looking as good as new (it doesn't leave any visible residue behind).
What Could Have Been Better
We've so far come across a significant number of complaints that the lid of this spray tends to leak over time. The manufacturer clearly has a job to do in upgrading the quality of the lid.
Pros
Repels stains
Simple application
Retains color
Quick-drying
Cons
Low lid quality
10. Atsko Silicone 10.5oz Water Guard
Atsko is among the best waterproof sprays available in the market. The reason is you can use it on most fabrics, footwear, and objects.
A single coat can last a long time while protecting the sprayed surface. So, why don't we look at some characteristics that make Atsko an ideal water guard?
What We Liked About It
It forms a barrier once applied on the material it's applied on. This barrier repels water preventing it from soaking in to cause wetness.
At the same time, this guard protects the integrity of your fabric keeping it in top shape and for long. Plus, it doesn't alter the original color of the fabric.
Besides that, you won't need to struggle to clean the sprayed-on surface. A simple wipe with a cloth is all it typically takes to get the job done.
As far as breathability goes, the spray leaves the pores open to allow the free flow of air. This keeps out excessive moisture that can lead to bad odors.
What Could Have Been Better
On the flip side, though, this spray takes quite long to completely dry off. Yup, you'd need to give it at least 72 hours to settle in. That's quite a long time indeed.
Pros
Durable coating
Repels water
Resists stains
Easy to use
Cons
Yellowing when over applied
11. Dry Guy Outdoor Clothing Fabrics Waterproofing
In case spraying is not what you would like to do to protect your fabrics, this concentrate might be the solution.
Dry Guy is a concentrate that once diluted can be used to waterproof most fibers for outdoor use.
What We Liked About It
This is a water-based formulation. It leaves no residue on the fabric that may end up as stains instead it makes the material repel stains easily.
It is eco-friendly, so, not only is it convenient to use but also safe for your surroundings. Moreover, it is safe for your skin and unlikely to cause irritation.
Molds are kept at bay when you use this concentrate. That's because it supports material breathability effectively preventing the growth of mold.
To top it all up, the Dry Guy concentrate lasts long once applied. That, however, may vary depending on the prevailing weather conditions (frequent applications might be necessary during rainy seasons).
What Could Have Been Better
This isn't a ready-made spray. So, you'll need to dilute it in water before using it. That's a bit too much work, especially for busy individuals.
Pros
Water-based
Eco-friendly
More content
Prevents staining
Cons
Requires dilution before use
12. CRC MaryKate Fabric Waterproofer
Mildew and rot can be a menace, especially during the wet season when clothes tend to get damp. If you're facing that challenge, this fabric waterproofer might be worth examining closely.
Here's a closer look at how this product fares when put to the test.
What We Liked About It
If you're looking for good value for money, this product might just fit the bill. Unlike its competitors which are sold inside spray and aerosol cans, this one comes inside a 1-gallon plastic jerry can.
One disadvantage of having it in a jerry can is that you have to buy a spray bottle separately for easier application. Fortunately, you can easily repurpose any old spray bottles you might be having at home.
As far as effectiveness is concerned, the MaryKate waterproofer is ranked as a heavy-duty water repellent. It's recommended for use on all kinds of covers ranging from boat covers to tents, awnings and even convertible tops.
So effective is this product that 1 gallon of it is enough to provide you with up 800 sq. ft. of coverage.
And the best part is that the product is stain-free and odorless. So, it gives you total peace of mind once you apply a layer or two of it on your favorite fabrics.
What Could Have Been Better
The supplier should consider providing an empty spray bottle along with the 1-gallon jerry can. Otherwise, you'd need to order for that one separately if you don't already have one at your garage currently.
Pros
Neutral color
Restores repellency
No color change
More to use
Cons
No application bottle provided
13. NANOMAN 3.4Fl Oz Shoe Protector Spray
If you're looking for a handy protective spray that you can conveniently pack up and carry around, the Nanoman spray provides you with a pretty good deal.
First off, it's well packaged in 3.4 fl Oz packages. The bottle seems quite well made and its lid quite strong.
What We Liked About It
The first thing that caught our attention as far as this product is concerned is that it has a 24 hour curing time. While that may not be as fast as some of the products we've reviewed so far, it's still quite reasonable.
Once fully settled in, the protective coating remains quite stable for a long time while offering UV protection.
Plus, it doesn't leave a foul odor behind. Yup, you read that right.
Once applied, the spray remains quite clear. It doesn't stain your fabric and so you can count on it to keep your stuff looking new for longer.
To crown it all up, this product is labeled as eco-friendly. So, you can rest assured that by using it you won't be harming Mother Nature in any way.
What Could Have Been Better
The 24 hour wait time might be too long if you're looking for a spray that you can use while on the move. Otherwise, this is a great and easy-to-use spray.
Pros
Easy-to-use bottle
Prevents staining
Beads water
Durable formulation
Cons
Long drying time
14. Sof Sole 7.5-Ounce Water Proofer
Imagine having your shoes, hats, and jackets protected from water damage for two months. Sounds unreal?
Sof Sole waterproofer shields your hats, jackets, and shoes for two months before requiring reapplication. Yet it dries up in less than 3 hours.
What else can we get from this waterproofer?
What We Liked About It
The layer of this spray is breathable which eliminates moisture accumulation that can cause bad odor plus discomfort. That's, for sure, something we like about this product.
Other than that, this spray boasts the ability to repel water and restore vibrancy on the surfaces it used on.
You can apply it on just any other pair of shoes in your closet and you can rest assured it won't disappoint as it typically doesn't leave any weird stains behind.
Lastly, the product's nozzle is quite well-made. It sprays a thin layer of the liquid ensuring that an even layer is created all-around your fabrics.
What Could Have Been Better
The pungent smell on application is quite strong. It is recommended that you work from a well-ventilated environment as the smell might be a bit too much. Also, daily application is recommended to keep its effectiveness optimal (the whole bottle can last up to 2 months on daily use).
Pros
Easy-to-use nozzle
Durable
Breathable
Retains color
Cons
Daily application recommended
Pungent smell during application
15. Apple Brand Garde Rain and Stain Water Repellent

If you have fallen in love with all things made in USA, this spray from Apple Brand might be of interest to you. Besides being made up to the American-Standards, the water repellent boasts a 100% satisfaction guarantee.
So, it's either the product provides you with the best bang for your bucks or your money back. How cool is that?
Let's take a closer look at its positive and negative sides.
What We Liked About It
One reason why we'd choose this repellent over any other out there is that it's packaged in what seems like a high-quality aerosol spray bottle.
All you need to do is press on the trigger and boom, a fine, even layer of it will be distributed all over the surface you intend to waterproof.
Another thing, although this spray takes quite some time to dry up and settle in, its effects can last for up to 4 months when properly applied.
What's more, the additional layer doesn't in any way compromise on the breathability of your material. That's a big plus especially for shoes and garments typically worn in summer.
What Could Have Been Better
Despite the nozzle of this bottle doing an incredible job of spraying an even layer of the product, it tends to start leaking over time. Clearly, the manufacturer still has room for improvement on this front.
Pros
Long-lasting
Simple application
Invisible
Water-resistant
Cons
Nozzle starts to leak over time
16. Cadillac Select Premium Water Repellent and Stain Protector
This is a silicone-free waterproof spray. As you know, there are concerns that excessive use of silicone-based products may lead to some health complications.
And so, it makes perfect sense to try the Cadillac stain protector especially if you share those concerns.
Besides being silicone-free, this product further provides you with an invisible and breathable layer of protection.
Here are some of its good and not-so-good sides.
What We Liked About It
This seems like a top-quality product. In fact, at its price, we feel like it's undervalued.
We'd choose it over any other waterproof spray available out there due to its premium packaging. Its bottle not only lasts long but also makes it extremely easy to apply the spray.
Another thing, the product comes complete with UV protection. So, you can confidently use it on tents, boots and other garments you may need to use under harsh sun rays.
Besides doing an incredible job of warding off sun-rays, this product also has inherent stain-repelling effects.
A simple wipe is all it takes to get your fabrics looking all new again after a day out there.
As if that's not enough, this spray dries in relatively fast thereby coming out as a viable product for the busy folks.
And once it has settled in, it leaves behind an invisible layer which is also breathable.
What Could Have Been Better
Despite all the positive things we've said about this product, it still has its flaws. First off, its smell can be quite overwhelming if sprayed in an enclosed room.
Other than that, some users have faulted it for having a leaky top which potentially is due to poor handling during the shipping process.
Pros
Silicone free
Safe on materials
Stain-resistant
Water-based
Cons
Strong smell during application
Its lid may become leaky with poor handling
The Buying Guide for Waterproof Sprays
Choosing the ideal waterproof spray may be trickier than we would have liked it to be. All the sprays have different properties, and you have to strike the perfect balance to get a formula that would never disappoint.
Our straightforward buying guide is going to point out the features that you have to pay attention to as you shop for the spray that would suit your needs.
The following are the factors to consider when searching for the best waterproof sprays.
If you want your spray to give your gear the protection that you desire, then you need to get the application right.
Therefore, your top pick should be in a spray can or bottle for easier even application over the surface.
Another thing with spraying is that you need to pay attention to the manufacturer's instructions on the proper way to apply the formula. All this information is usually found on the product's label.
The level of protection that you get from waterproofing sprays differs from one brand to another. Besides the water-resistance, some sprays offer UV-protection to ensure that the material does not fade easily.
You also have to think about how long the coating lasts after you have applied the spray. This would determine the frequency with which you will be using the formula.
For instance, if it is for a coat that you wear daily, then you may need to apply the formula occasionally within weeks. As for the sturdier items and you do not use that often such a tent, the rate of reapplication is going to be significantly lower.
Waterproof sprays have different content, and this implies that all of them are suited to work on different materials. Therefore, a spray that seemed effective in waterproofing coats may not necessarily have the same effect on tents.
If you want to be on the safe side, always take your time to read the label of your gear to know which waterproofing spray would be perfect for use on it.
Note that there isn't any waterproofing spray that is not made out of chemicals. Some formulas may be too strong and may irritate the skin or leave a strong chemical smell.
Therefore, as you apply, ensure there is proper ventilation, and you may go a step further by having gloves on during the application of the spray.
Another thing that you should always remember is that most of these sprays are flammable and may cause massive fires if they are not handled with care.
You don't have to break the bank to get a top-quality waterproof spray. In our view, a good spray is one that's moderately priced and typically falls within the "under $20" price range. Of course, high-quantity sprays may cost a lot more than that.
Useful Tips to Applying Waterproofing Sprays on Your Gear
In this section, we are going to guide you on how you could apply a waterproofing spray on your outdoor gear so that it could give a decent performance.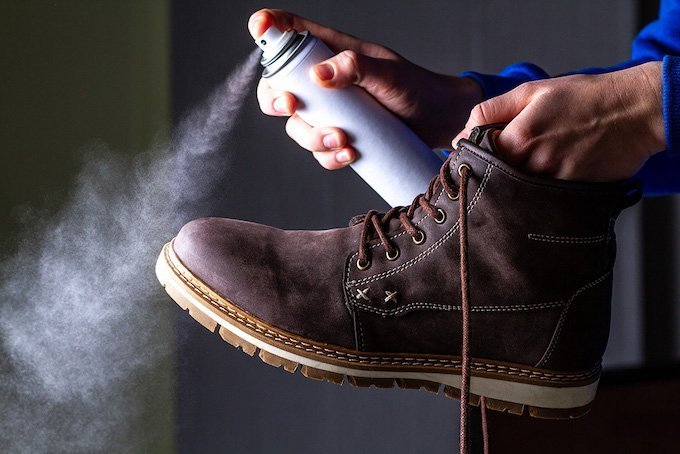 Let's check out the simple steps below.
Step One
Before applying the spray, make sure to clean the material that you intend to treat. This is because dirt bocks the gear's pores, and this hinders the absorption of the formula by the garment.
Step Two
After washing, we recommended natural air-drying of the fabric rather than the use of a heater. This makes the gear more suited for applying the waterproofing formula.
Step Three
When the gear is ready for treatment, apply the formula evenly over the entire surface. We recommend that you do this application outdoors or with gloves on as per the specifications.
Step Four
Before using the gear which you have sprayed, ensure that the formula has been absorbed adequately so that it could serve its purpose effectively.
Related
How to Make a Braided Loop at Home
Frequently Asked Questions (FAQs)
We also thought it wise to include some of the questions we faced during our research on waterproofing sprays. All the expert answers are there to boost your understanding of the topic.
Can the spray damage my gear?
A: The potential of the spray to damage your equipment depends on a number of factors. For instance, if you apply the formula the wrong way, then your equipment may get damaged.
Also, ensure that you use the right spray for the right job to be on the safe side. Most of all, pay attention to the manufacturer's instructions on how to go about the application of the spray.
How long before the spray dries so that I can continue using my gear?
A: Well, this also depends on several factors. These include the nature of the formula and the environment. However, in most cases, it does not go beyond four days before the product dries completely for your gear to be ready for use.
Will the spray have any impact on my garment's breathability?
A: No, it will not. On the contrary, the only impact that a waterproofing spray would have on your garment is boosting its water-resistant properties.
Waterproof Sprays Best Overall Choice
Our top-rated spray for waterproofing fabrics is none other than the handy 303 (30606) Fabric Guard Water and Stain Repellent. It's quite well-made, easy to apply and also highly reliable. That's why it wins our vote of confidence.
Wrapping It Up
Most of the outdoor gears, including boots, coats, and tents are very expensive. Therefore, as a serious outdoor enthusiast, you need to do everything to ensure your equipment remain in good shape for longer.
One product that would help in boosting your stuff's longevity is an appropriate waterproof spray. This would keep water out of your gear and give you peace of mind during your outing.
So, take your time and pick all the pointers that you need from this article that would help you make an informed decision next time you go shopping for the perfect waterproofing spray.