Any angler out there would tell you that the difference between success and failure in any fishing expedition lies in the tools that you use for the trip.
One of these tools is a fish finder, which aims to make your fishing experience more efficient and enjoyable since your work would be made easier.
In recent times, portable fish finders have gained popularity among anglers since they add to the convenience of moving around more easily with the gadget.
However, due to the many brands available in the market, getting the best portable fish finder is not as straightforward as anyone would hope.
Luckily for you, we have come up with this article with the hope of making it easier for you to get the best value for money.
Good Portable Fish Finders In Review
Let's start by analyzing eight portable fish finders, which we believe are the best that you would find in the market.
1. Garmin Striker 4 Fish Finder with Chirp Transducer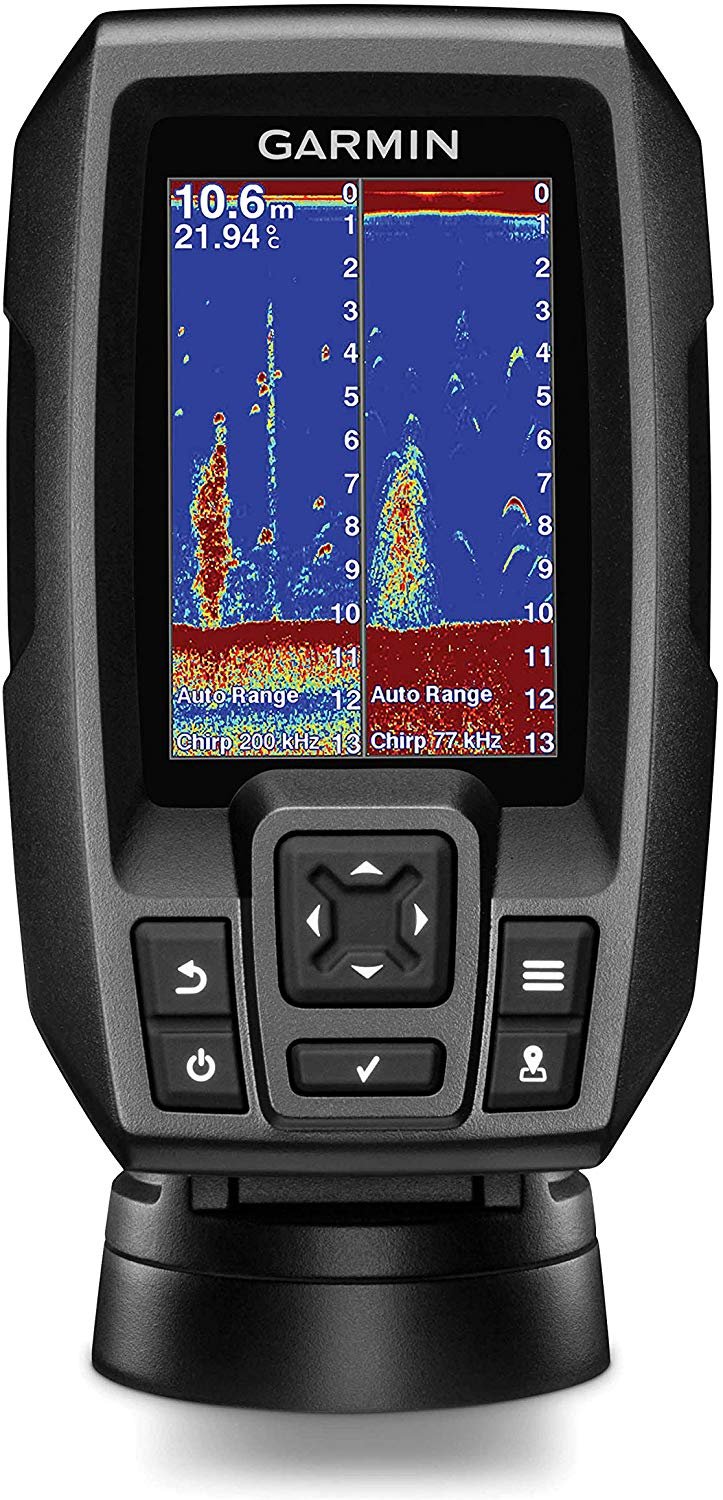 One of the most popular portable fish finders is the Garmin Striker 4. Not only is it simple and well-suited for beginners, but it is also reasonably priced such that you won't have to break the bank to acquire it.
What We Like About It
To start with, this fish finder has a 3.5″ color display with a 480 x 320-pixel resolution. Further, it has a backlight that gives it impressive readability even in sunny or extremely bright conditions.
There is also the waypoint map function that aims to make navigation in the water as straightforward as possible.
Let's not forget the Chirp dual sonar frequency that helps in target separation and can operate up to 750ft in salty water and 1660ft in freshwater.
The images produced by Sonar technology are extremely clear, and this would make it easy for you to make the necessary analysis.
On top of that, the kit features a built-in transducer cable management together with suction cups as well as float options to help with the setup.
What Could Have Been Better
The screen and keyboard have poor water-resistance, and you would, therefore, need to cover them anytime it starts raining. This can be an inconvenience to many.
Pros
Well-priced
Gives a decent performance in both shallow and deep waters
Produces very clear images to add to its usefulness
Cons
Not waterproof
2. Deeper Pro+ Smart Sonar

If you are looking for versatility in a fish finder, that is precisely what you should get from the Deeper Pro+ Smart Sonar.
It is very easy to use and is well-suited for shore fishing. Besides the fish, the gadget also gives you the capability to view the underwater vegetation.
What We Like About It
First, this is a wireless and castable system with built-in GPS, and this adds to its efficiency in locating fish. It also allows you to create bathymetric maps from the shore via the sonar.
Then, the device uses dual beam sonar frequency to give it an impressive scanning performance. It can scan up to 260ft and is castable up to 330ft. With such a performance, it would be hard to be disappointed by this device.
Another feature is the built-in Wi-Fi that allows you to connect the device to your smartphone for easy viewing of the maps and fish.
You should also appreciate how compact the gadget is to add to its portability.
Lastly, it operates in both fresh and saltwater.
What Could Have Been Better
The manufacturer could always improve on the battery life, which tends to last less than a year before you need to replace it. You could be lucky if the battery dies within the warranty period so that the seller does the replacing for you.
Pros
Versatile and operates in both salty and freshwater
Compact and portable
It provides detailed information about the water including its depth and temperature
Cons
Not very durable
3. Venterior VT-FF001 Portable Fish Finder

Being on a budget does not mean that you have to settle for an inferior product that would leave you more stressed than before. An excellent example is the Venterior VT-FF001 fish finder that is reasonably priced and still possesses some of the features that you would find in the pricier models.
Let's have a look.
What We Liked About It
To kick us off, you should appreciate the fact that this fish finder is ideal for all types of fishing. From ice to boat fishing as well as pier and shore fishing, this gadget is versatile and suited for them all.
Then, besides the fish, this device should also give you all information regarding the underwater landscape, including the location of the weeds, rocks, and sand. Having a clear image of the surface beneath makes you more prepared for the expedition.
Another feature that we should mention is the fish alarm that alerts you when you get close to the fish that you may expect to find in a particular location.
On top of that, you could always turn off this alarm whenever you feel like doing so.
One last bit is the accurate depth readings which, as any pro would tell you, may be all the difference for the kind of story you would have to tell at the end of your fishing trip.
What Could Have Been Better
There have been complaints from many customers of the device stopping working after a few months.
Pros
Well-priced
Comes with a two-year warranty
Gives out accurate depth readings
Cons
Its cord is too long
4. iBobber ReelSonar Bluetooth Smart Fish Finder

For the anglers always on the move, the ReelSonar Bluetooth smart fish finder is here for you. It is a small and castable fish finder that comes as a self-contained unit with most of the basic features within the same device.
Other than that, there are several other reasons that make us believe this gadget would be a worthy investment.
What We Liked About It
This fish finder is designed with flexibility and portability as the outstanding qualities. Instead of coming with a separate display, the device is compatible with iOS and Android devices, where you could view all the necessary information from the comfort of your smartphone.
It is also highly detailed and offers information on things such as the water temperature, the underwater geography, the fish hot spots, and so on.
The device also uses patented sonar technology to add to its accuracy and convenience.
You should also appreciate the fish finder's versatility as it can operate in both salt and freshwater. Further, it is well-suited for shore, kayak, and ice fishing as well.
We should also mention that it is powered by a rechargeable battery whose charging status you could always follow via the indicator light.
Lastly, it has two snap swivel connections that allow you to use the device as a remote fish finder or a bobber.
What Could Have Been Better
You need to keep the device within 100ft of your smartphone to allow for communication between the two devices. This distance could always be longer to add to its convenience.
Pros
Lightweight and portable
Compatible with both iOS and Android devices
Versatile
Cons
Not very accurate
5. Hawkeye Fishtrax 1C Fish Finder

This is another affordable option of fish finders that you should consider acquiring. It is user-friendly plus is fast and precise such that it would take you minimal time before you get the results that you are looking for.
Is it worth it? Let's see.
What We Liked About It
The Hawkeye Fishtrax fish finder features the VirtuView HD color display with LED backlight to give the device fantastic readability even in direct sunlight.
It also uses dual-frequency sonar technology for precise and accurate readings at a depth of 150ft.
You should find the season modes to be handy as they enable you to use the device any time of year. The fish finder is also versatile for use in any water body.
The device is straightforward to use with straightforward controls that would pose minimal complications, even for beginners.
You should also appreciate the fact that you can use the device handheld, or you could mount it to a vessel.
The display also makes things easier for you since it is adjustable with over 100 sensitivity levels for you to choose from.
What Could Have Been Better
The 3" display could always be bigger, although the backlight compensates for this deficiency to enable it to withstand even direct sunlight.
Pros
Reasonably priced
Has an audible depth alarm
Fast and accurate
Cons
Operates a bit too noisily
6. Lucky Portable Fish Finder

The Lucky fish finder is just for you if you are looking for a device that is well-suited for a variety of fishing environments. You have the option of using it for ice, lake, sea, and offshore fishing as well.
Once you got through our brief review of this device, you should understand why it is rated highly in the market.
What We Liked About It
To start with, this is a highly detailed device that would give you all the information you need concerning the depth of the water as well as the fish hot spots. All this information aims to boost your chances of making a kill during your trip.
Then, the device is designed to give out alerts whenever a potential catch passes close-by. As a result, you should be better prepared to get your target.
Another benefit lies with the five modes sensitivity options that give the device the capability to operate in different fishing environments.
This is a versatile device that you can use in different ways. You could use it handheld, tie it to the kayak, or you could let it float on the water surface.
With this fish finder, you should have a better understanding of the underwater structure, rocks, and sand.
What Could Have Been Better
The manufacturer could improve on its target separation capabilities as many anglers get confused when they use this device in weedy waters.
Pros
Versatile
Has backlight to make it readable even in bright sunlight
Easy to use even by beginners
Cons
Poor water-resistance
7. Humminbird Helix 5 Fish Finder

With a 5" color display, the Helix 5 series from Humminbird is designed to deliver you crystal clear images of the fish as well as the underwater landscape. Such a feature intends to boost your chances of success since you would be having more information on your fingertips.
What We Liked About It
The first feature is the down imaging quality that enables you to have a better view of the surface beneath your vessel. There is also the 2D Sonar technology that gives you accurate information for you to locate the fish more easily.
When it comes to the display, you have two modes to choose from, the Max mode and the Clear mode. These two modes are different in terms of the amount of detail that you would want to see.
Let's not leave out the dual-beam plus that enables you to combine the wide and narrow beam to give you more detail for your search.
The kit includes a transducer, mounting hardware, Gimbal mounting bracket, and power cable to make the set up a straightforward process for you.
What Could Have Been Better
The clips tend to be cheaply made and have the potential of breaking apart easily. You could always order metal clips if you want to avoid finding yourself in such a situation.
Pros
Easy to use
Colored, clear and wide display
Has side & down imaging
Cons
The device can only save 500 waypoints
8. Lowrance Hook2 4X Fish Finder

The last item on our list is the Lowrance 4X fish finder, which has a combination of features, all of which aim to make the device simple and easy for you to use.
In the end, your chances of catching more fish would be significantly boosted.
Find out more in our brief analysis below.
What We Liked About It
First, the fish finder uses the SolarMax display with easy-to-use menus that would make you navigate through the device more easily.
Then, the automated sonar settings mean that you would spend more time in searching for the fish than in setting up the device for use.
Still, on the sonar, it provides more coverage than other fish finders, and this would give you more options to look out for.
The kit includes a bullet skimmer transducer for 2D viewing, which has the effect of boosting the effectiveness of the fish finder.
The setup should be a straightforward affair with the single transducer capable of being mounted on the trolling motor, on the transom, through a scupper hole or inside the hull.
It has built-in high-detailed maps of lakes and fish hot spots to make it easier for you to locate the fish.
Lastly, you also get a MicroSD slot that you can use for saving your waypoints and even for upgrading your mapping.
What Could Have Been Better
It has no GPS features, and this places it at a significant disadvantage when compared with the competing brands. The GPS features would help in limiting the amount of time you spend searching for fish in the waters.
Pros
Easy to set up and use
Provides wider sonar coverage
Has microSD card slot
Cons
No GPS features
The Buying Guide
In your search for the best portable fish finder, there are several factors that you need to pay attention to. This would help you narrow down your search, and in the end, you would have saved yourself a lot of time.
Let's have a look at some of these elements.
Portability
Well, as the name should have told you by now, a portable fish finder should be portable. In this case, you should look out for factors that affect the portability of the device, and they include its size, the carrying case, and the transducer.
The Display
This is one of the most vital aspects to look out for, and the screen elements that you should focus on include the resolution and the color options.
Higher resolution means that you would have an easier time viewing the information on the screen. It is mentioned in terms of pixels, with the ideal resolution being around 240 x 160 pixels.
Additionally, colored screens offer more clarity than black and white displays, although the latter would still do the job in case the former is out of your price range.
Power
The power requirements of your fish finder are also something that you ought to consider. An ideal fish finder is one with minimal mobility issues, and therefore one with a rechargeable battery should do the job.
Not all of them are powered by internal batteries, as there are some that need to be wired to the vessel's voltage system.
Sonar Technology
This is what determines how easily your device would detect the fish in the water. If you want better results, we suggest that you go for a dual-band sonar system since this has the ability to detect fish at different depths and distances.
Flexibility
A flexible device would be more efficient since you can easily move it from one position to another without having to make significant changes to your vessel.
A detachable fish finder allows you to focus on the fish catching option rather than being occupied with the setup of the device.
The Transducer
This is what sends out the sonar waves, which should bounce off any object that they come across in the water. This data is sent back to a central unit, which transforms it into a visual interpretation of whatever is going on underneath the water surface.
They should be easy to install and uninstall plus are compatible with most of the boat types available.
Your Budget
Before you head out into the market looking for the ideal fish finder, you should have a price range in mind where your best pick would lie.
This is why it is crucial to do extensive research on the features you are looking for to ensure you make minimal compromises no matter the price.
Also, check out the warranty service and period as these are likely indicators of the quality and durability of the product.
How Portable Fish Finders Work
We thought it wise to give you a brief idea of how fish finders operate. Well, as you shall see, it is not as complicated as it may seem.
First, the device emits sound waves from its transducer, and they travel through the water until they bounce off something. When they hit something, they send a message to the device's receiver.
The message that is sent back is analyzed and processed by a small computer, which determines how far the object is from the receiver.
It becomes easier to know how far your supposed target is, whether at the bottom of the lake or in the channel. All this information is displayed on the screen, and you can easily see what is going on underneath the surface.
Note that the fish finders operate differently. While some send their signals in a single direction, others send in multiple directions.
Types of Portable Fish Finders
As you search for the ideal portable fish finder, you should know that you have three main options to choose from. Let's check them out.
Portable Fish Finder
This is the most popular choice, and it features a single unit held together by a nylon case. The key elements of such a unit include a screen, a transducer, and a mounting base.
It is well-suited for ice, and open water fishing plus is also ideal for use with a small boat.
Mountable fish finder
This would be a suitable choice if you need a permanent fixture on your fishing vessel. This is particularly so if you intend to go fishing in deeper areas that are only accessible via a kayak or canoe.
The only bit that you need to watch out for is the setup accessory whereby if you get the wrong tool for the job, you would never set up the device for use.
Castable
This is an advanced type that features a floating transducer that communicates with your smartphone via an app that you can download.
You should find it useful if you are fishing closer to the shore or along the river bank.
Frequently Asked Questions (FAQs)
We have compiled a list of questions posed by users of portable fish finders. We hope that they boost your knowledge of the best portable fish finders in the market.
Q: Are all Portable Fish Finders Waterproof?
A: Although they ought to be, not all fish finders are waterproof. They are designed differently, whereby some can withstand total submersion while others can only survive occasional splashes.
Always take your time to read through all the manufacturer's specifications to avoid getting the shock of your life in case an accident happens.
Ideally, some level of waterproofness should give you peace of mind.
Q: Who would find a portable fish finder to be most useful?
A: the anglers who would find portable this device to be most useful are anglers who fish from different vessels and locations. For instance, you could always attach the device to a rental boat or kayak and then remove it whenever your agreement expires.
Ice anglers would also find this to be a handy device as it would allow them to analyze more holes on a typical fishing day. They tend to provide more information than depth sounders, and this is one of the reasons why they are a popular choice among anglers.
Q: Which is the ideal location for mounting my fish finder on my vessel?
A: We advise that you should mount the fish finder on your vessel's side, especially the lower right-hand section. This is so because this section tends to experience less turbulence and would enhance its delivery of a reliable performance.
The Best Overall Pick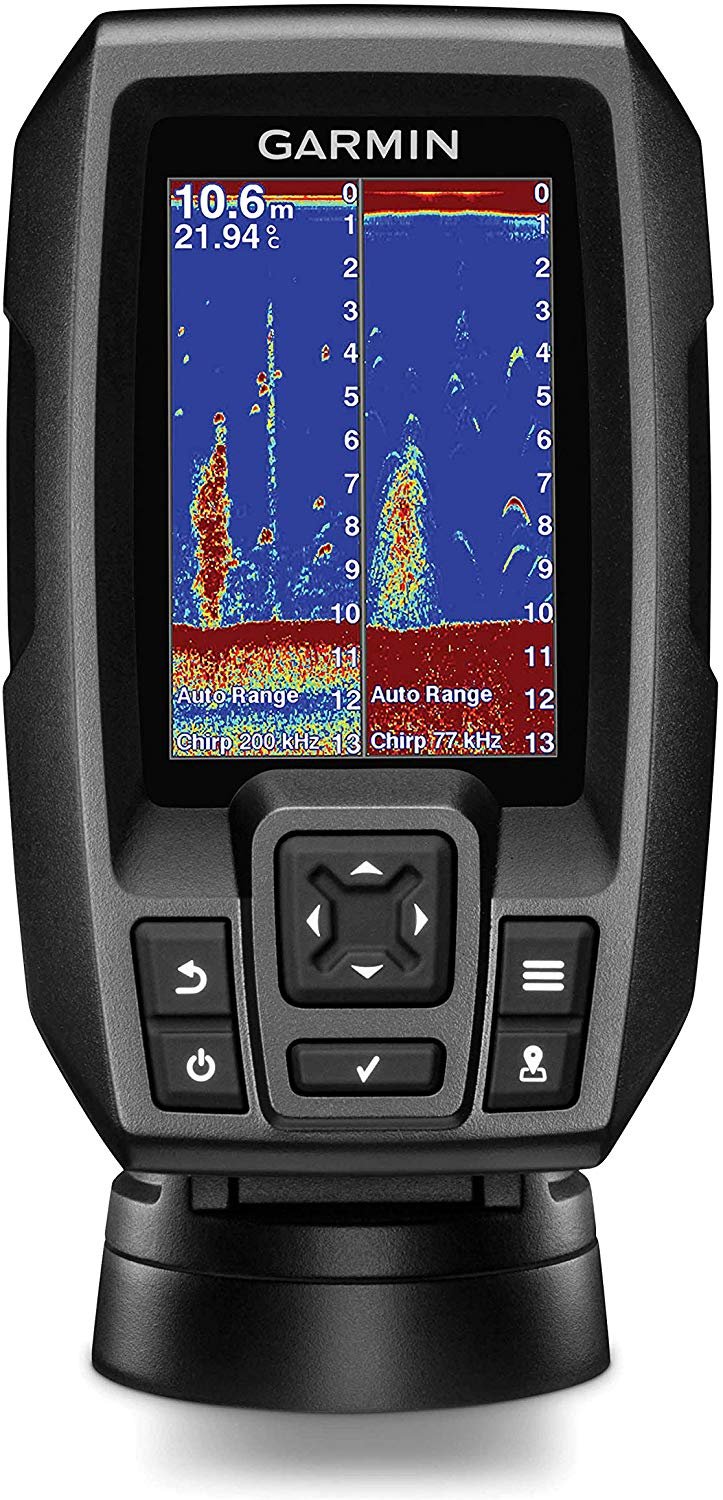 In the end,we settled on the Garmin Striker 4 as the best of them all. It's quite well made, hardy and above all functional. It may not be as savvy as Deeper Pro+ or iBobber ReelSonar but it has just what it takes to exceed expectations. That's why we highly recommend it.
In Conclusion
By now, you should have understood the importance of portable fish finders. They not only boost your chances of success, but they also make your work of locating fish to be much easier.
We hope our article will be of great help as you search for the best portable fish finder in the market. You could always refer to our buying guide to know which features to look out for a while the brands we have analyzed should help you narrow down your search to save time and money.
In the end, you should have a story to tell about your fishing experience with the best fish finder around.