If there is an activity that you need to try out in your lifetime, it is kayak fishing. The activity offers you a chance to enjoy the peace that Mother Nature brings, plus you get the opportunity to take something home for a meal.
However, paddling your kayak can be tiresome, especially when you have long distances to cover. It is for this reason that we advise that you invest in the best kayak trolling motor available.
Not only can a motor help you save energy, but it also enables you to maintain the speed that you feel is ideal for your mission.
Getting the ideal trolling motor for the job is a skill in itself, and luckily for you, we are going to give you a simple guide on how you could go about the selection process.
Top Trolling Motors for Kayaks: Ratings & Reviews
Before we get to the guide, let's start by checking out the following models of trolling motors that we have reviewed, and we firmly believe that they're the best ones available.
1. Minn Kota Endura Transom Trolling Motor
Is your trolling motor scaring away fish? Why not get Minn Kota Endura Transom Trolling Motor that runs quietly compared to other motors in the market.
This is a freshwater motor with a speed of 8, 5 forwards and 3 reverse. The variable speed makes this motor quite practical and can help you conserve battery power throughout the day.
What We Liked About It
The 6-inch telescoping handle is comfortable and you can extend it for efficiency. Besides that, the lever lock bracket ensures the motor is fixed securely in place.
The 12 volts battery, providing 30lb thrust, is sufficient for long use in water. To add to that, the tilt twist tiller enables you to control the speed easily.
There is a lifetime warranty on the shaft of this motor and a two-year warranty on the motor itself.
This sounds like a good product to try out since you can have it replaced as long as the warranty time has not run out.
Other Features & Benefits
This motor boasts good build quality. In particular, it has the ability to resist warping and flexing that could lead to breakage. Furthermore, it is designed with UV-resistant features to minimize damage by sun rays.
The shaft is 30 inches in length. This means it gets properly submerged in water.
To add to all that, you can steer your Kayak effortlessly with this motor as it is mounted on the transom. This allows you the comfort of steering while sitting.
What Could Have Been Better
The shaft isn't sealed meaning that water can actually get into the shaft. The manufacturer should consider sealing it off completely.
Pros
Easy to use
Telescoping handle
Quiet running
Durable shaft
Cons
Unsealed shaft
2. Newport Vessels NV-Series Electric Trolling Motor

Known for its power and ease of use, the Newport Trolling Motor is often rated among the best ones in town. It has what seems like a good shaft (made from composite fiberglass) along with an ergonomic telescoping handle.
But just how does it fare when put to the test? Let's take a closer look.
What We Liked About It
It has a 5-point LED battery meter. This enables you to know the level of charge and helps to avoid incidences of getting stuck due to low battery.
The 8 speeds with 5 forward and 3 reverse enable you to control the kayak better. Depending on the weight of your kayak, this motor has a variable speed for flexible power use.
What's more, the motor can be used in both salt and freshwater. It has zinc, stainless steel, and magnesium hardware to prevent corrosion.
Other Features & Benefits
The 36lb thrust with the two-blade propellers ensures swift movement in the water. These blades are made of fiberglass reinforced nylon to enhance their durability.
The handle is telescoping and 6 inches in length for your convenience. Besides that, it is ergonomic to ensure you have a good grip.
The motor comes with a two-year warranty from the manufacturer.
What Could Have Been Better
On the flip side, though, the motor is quite heavy and this can be a drawback, especially when you have a lightweight kayak.
Pros
Adjustable shaft
36lb thrust
Extendable handle
LED battery meter
Cons
Heavy
3. Goplus Electric Transom Mounted Motor
How do you like your motor handle, short or long? Either way, this Goplus Electric motor is likely to serve you well as the handle is quite adjustable.
Moreover, you can adjust the knob to move the handle backward or forward. And to add to that, it is ergonomic for a comfortable grip.
What We Liked About It
The fiberglass composite shaft is strong and durable with the ability to resist corrosive elements. Besides that, the aluminum head is long-lasting.
There's also a 10-points LED battery indicator to show you how much power is remaining. This is important in protecting the batteries as you're alerted based on power consumption.
The two-propeller design facilitates smooth movement. These propellers can easily move through grassy and marshy areas.
Other Features & Benefits
You can adjust the shaft angle by pressing the knob. And when you want to slow down, you can reset to the normal position.
The boat clamp is adjustable, depending on how you intend to move. This is possible by loosening the two fixing screws.
Wait, there is more: the motor is useable in both fresh and saltwater as the construction can resist corrosion.
What Could Have Been Better
The motor uses up power fast. This is likely to leave you stranded and having extra batteries for back up may be the way to go.
Pros
Adjustable boat clamp
Two-blade propeller
LED battery indicator
Aluminum head
Cons
Drains battery fast
4. MinnKota Traxxis 45 Transom Trolling Motor
The digital maximizer technology used with this motor enables it to have a pretty long run time on a single battery charge. This means you can be out fishing for a longer duration with no qualms.
What's more? You can back-troll instantly by lifting and rotating the Vantage directional indicator at an angle of 180⁰. How cool is that?
What We Liked About It
The motor has an indestructible shaft that flexes without breaking. In addition, the shaft is adjustable for sufficient depth.
This motor has an extendable handle. As such, you can comfortably use it while seated in your kayak.
The ease at which the motor is steered as a result of the moving tiller makes using the trolling motor effortless.
Don't worry if you are new to trolling motors as using MinnKota Traxxis 45 Transom is quite straightforward.
Other Features & Benefits
Fish are unlikely to get scared by the motor as it runs quietly. Moreover, the engine does not overheat during its operation.
Two efficient propellers provide sufficient thrust. Besides that, these propellers use minimal power to operate.
There is a battery gauge to keep you aware of how much charge is left. This way, you can avoid being caught unawares when the charge is running out.
What Could Have Been Better
We would suggest having the motor built from corrosion-resistant materials so it can be used in saltwater conditions.
Otherwise, when you expose this motor to saltwater, it rusts and fails to work within a short time.
Pros
Telescoping tiller
Quiet
Adjustable shaft
Digital and maximized technology
Cons
Only for freshwater
5. Newport Vessels 36lb/55lb Thrust Kayak Series Trolling Motor
This is yet another one of the versatile trolling motors to make it to our list. Its variable speed i.e. 5fwd and 3rev makes it ideal for use in different conditions.
You can opt for a slow speed when you want to conserve power or a fast speed when the situation demands.
But that's just the tip of the iceberg. Indeed, there's a lot more in this vessel for its deserving owners to reap.
What We Liked About It
The long battery cable that comes with the motor allows you to place the battery conveniently within your kayak. Moreover, the cable can be used with most transom mount kayaks.
Of course, you can adjust the shaft to get the right depth for your kayak. Besides that, the shaft is made of fiberglass to prolong its lifespan.
A telescoping handle that you can extend while seated in the kayak is a plus. In addition, the handle is comfortable and boasts a good grip.
Other Features & Benefits
You can use this motor in any water with minimal risk of corrosion. This is because it is built with corrosion-resistant materials.
The propeller is made of fiberglass reinforced nylon for durability. It can withstand being hit by rocks or tree stumps in the water.
There is an LED battery indicator to keep you informed on how much running time you have left. This helps you to plan well and avoid your motor going off.
What Could Have Been Better
There are quite a few complaints posted on the fact that this motor's battery isn't quite reliable. In fact, there have been complaints posted to the effect that over time, the battery indicator becomes nearly useless.
Pros
Battery indicator
3 blade-propeller
Salt and freshwater use
Long cable
Cons
Its battery wears quite fast
6. Cloud Mountain Electric Trolling Motor
Have you been searching for a motor that can give you the freedom to choose which thrust to use? Well, Cloud Mountain Electric Trolling Motor has a variety of thrusts ranging from 36lbs to 86lbs that you can pick from.
The nylon reinforced bracket is strong and durable. Moreover, it helps with maintaining the motor's stability.
What We Liked About It
The ergonomic handle that has a secure grip prevents accidental slips that can result in damage. In addition, the handle is extendable for up to 6 inches.
There is a speed control knob on the handle. Its location is convenient for instant speed adjustments whenever necessary.
You can easily tell how much power is left using the power reader. This enables you to recharge on time which is good for the life of the battery and also your convenience at sea.
Other Features & Benefits
We absolutely love the fact that this trolling motor comes with a well-built control box. The box is well protected from rain and accidental water splashes.
Besides that, this device is encased in stainless steel hardware. As such, it's capable of resisting corrosion even when used in saltwater conditions.
Moving on swiftly, the shaft of this motor is adjustable. This comes in handy for proper depth setting to ensure efficient functioning.
What Could Have Been Better
The screws and bolts joining the different parts of the motor rust over time (yikes!). The manufacturer could consider making these bolts and screws using materials that can resist rust.
Pros
8 speeds
Reinforced bracket
Ergonomic handle
Aluminum head
Cons
Rusting bolts and screws
7. Watersnake T18 ASP 12V Electric Trolling Motor
Are you looking for a convenient trolling motor for your kayak? This is the right one for you as it is light in weight and the size is just right for enhanced portability.
The motor runs quietly and is, therefore, unlikely to scare away the fish as you close in on them. Plus, it doesn't overheat, thereby enabling you to operate flawlessly.
What We Liked About It
The Watersnake trolling motor is built using corrosion-resistant materials. As such, you can use it in any water body with minimal risk of corrosive elements causing damage.
What's more, its two-blade propeller can cut through marsh and grass underwater. As such, you can fully count on it if ruggedness is what you're after.
It's also worth noting that this is a transom mount trolling motor. Simply put, it enables you to steer better and have better kayak control.
Other Features & Benefits
Other than all the good stuff we've mentioned above, this unit boasts an alloy shaft which is highly durable.
For added flexibility, the motor comes with variable speed controls. These controls enable you to choose the appropriate speed settings depending on the situation. Plus, you can always tap into the reverse switch when you need to reverse or change directions.
As if that's not enough, the Watersnake's boat clamp is designed to be adjustable yet capable of providing a secure hold that keeps the motor perfectly in position always.
What Could Have Been Better
The manufacturer could include a tilt bracket to the motor since some users opt for other motors with this feature.
Pros
Lightweight
Quiet running
Saltwater use
Transom mount
Cons
No tilt bracket
8. Haswing and Aquos Transom Mounted Electric Motor
This is rated among the best trolling motors for beginner kayakers. Why so? Because it's quite easy to operate and maintain.
And don't let its simplicity fool you. The unit is quite rugged and all set for anything that might come its way – including saltwater.
What We Liked About It
Right off the bat, this is a pretty light motor. As such, you're better off using it for small kayaks and canoes. One advantage of it being light is that it's also quite easy to control and, therefore, beginner-friendly.
Another thing, the Haswing is a transom mount motor. As you know, motors of this caliber are known to be quite easy to steer.
Plus, this cool kid boasts variable speeds with a super smooth transmission system. As such, you can adjust it as you desire and depending on the conditions you're kayaking in.
Other Features & Benefits
The Aquos boasts an extendable handle. One key benefit of having an extendable handle is that it makes it much easier to control even when you're busy fishing.
Just like its competitors from Minn Kota, the Haswing boasts an adjustable depth collar. This is a crucial feature when you need to adjust the height of the motor to match different water depths.
And of course, such flexibility really comes in handy when you've got to traverse different water bodies (from shallow, grass-filled ones to deep ones).
What Could Have Been Better
The handle tends to slip especially when wet, which can be a challenge. The manufacturer could make the handle ergonomic and add a non-slip material on it.
Pros
Light in weight
Saltwater use
Adjustable boat clamp
Easy to use
Cons
Slippery handle
9. LeadAllWay 12V Electric Trolling Motor
This is a well-made battery-powered motor that comes complete with an air-cooling feature. As such, if you've been worrying about your motor overheating prior to getting the job done, this one can be a safe choice for you.
Its stainless steel construction and great build quality make it rugged and ideal for use even in challenging conditions. But is there more than meets the eye?
What We Liked About It
One of the reasons why we'd go for this over any other motor out there is that it's quite compact. Not only is it easy to pack up and transport but also, has an outstanding zero-emission track record (duh!).
On top of that, it's generally quite easy to maintain particularly owing to the fact that its accessories are readily available.
Segue, the machine boasts 7 speeds i.e. 5fwd and 2rev. Those speeds enable you to adjust the movement of your vessel depending on whatever challenges the situation presents.
Other Features & Benefits
As you know, the blades of a typical trolling motor have to put up with a lot of stress due to underwater objects i.e. underwater rocks and tree stumps.
Fortunately, the LeadAllWay motor has a really well-made three-blade system than can withstand abuse.
What's more, the handy gear comes with a depth adjustment ring. Once again, this comes in handy when you need to adjust the depth of the motor for enhanced performance (as the situation may demand).
What Could Have Been Better
Unfortunately, you have to purchase its battery separately. Finding a compatible one can be a bit of a challenge especially if you're not familiar with the lingo associated with batteries i.e. 12V 120A.
Pros
Cool and quiet
7 speeds
Waterproof
Twist tiller controls
Cons
Battery has to be bought separately
10. LeadAllWay 4HP New Four Stroke Boat Engine
This is probably the most efficient fuel-powered boat engine available out there currently. It comes with a 4-stroke engine plus its lubricants are quite easy to find.
What's more? It has a built-in air cooling system which ensures that you can have an uninterrupted time at sea as overheating won't be an issue of concern to you.
And if you care for the environment (of course you do), you'll definitely be glad to learn that this is rated as a low-emission motor. Plus, it operates quietly. Let's see what more it has to offer.
What We Liked About It
Navigating through uncharted waterways can expose your motor to all kinds of extremities. Fortunately, the LeadAllWay 4HP engine comes with a propeller that's made from aluminum alloy.
Not only can it withstand rocks and other underwater objects but it also is made with saltwater use in mind. You probably already know that aluminum isn't highly corrosive and so is quite resilient even in salty waters.
Another thing, the 4-stroke engine provided here is rated as highly fuel-efficient. As such, you won't need to break the bank all in the name of powering it.
That's all thanks to the fact that it only injects fuel when you need it to.
Other Features and Benefits
We need to mention that despite this being a gasoline trolling motor, it operates rather quietly and efficiently.
Plus, it comes with a throttle control lever which gives you the freedom to control the throttle power at will. That way, you can determine the speed at which you move around the water without breaking a sweat.
Add that to the fact that this unit packs a 55cc capacity and 1.4L tank and you have a highly practical piece of equipment for the money.
In case you're still on the fence, this gear is backed by a 3-year warranty. We really like it when manufacturers provide such extended warranty coverage.
It only means that they're confident about the quality they offer and that, in our view, is a good thing.
What Could Have Been Better
Users have found it a challenge to operate the motor without gear positions. Including gear positions on the motor is something the manufacturer should seriously consider.
Pros
Easy operation
Throttle control lever
Fuel efficient
Air cooling technology
Cons
Lacks adjustable gear positions
How To Choose The Right Trolling Motor for your Kayak
There are many brands of kayak trolling motors available in the market. All these options may give you a hard time in finding your perfect match, and you need to be smart on how to narrow down your search.
In this instance, there are certain features that you need to pay special attention to if you want the appropriate item for the job. We have discussed them below.
Mounting Location
You could mount the motor either on the bow or on the transom of the boat. For most kayaks, transom mounting is preferred due to the ease of fitting, plus it allows you to operate from a sitting position.
Bow mount is perfect for the medium to large vessels, and although it contains advanced features, it is quite pricey.
Water Type: Salty or Freshwater
If you look closely, you'll notice that trolling motors are labeled as either suitable for fresh or saltwater. The latter tends to be harsh on most materials, and for this reason, motors for this environment tend to be made of corrosion-resistant materials.
There are trolling motors that are only meant for salty water. Since the saltwater motors could also be used in freshwater, we believe they would be a more worthy investment.
Thrust
The trolling motor that you acquire should possess the maximum thrust power which your vessel can handle. The thrust that you need depends on your kayak's size as well as the conditions in which you will be fishing.
You will have the following thrust options to choose from 36, 40, 46, 50, 55, 60, and 86lbs.
Battery Power
Electric trolling motors are powered by batteries, and they come in 12, 24, and 36V versions. The 12V models are the smallest and the ones that you find on kayaks.
The 24 and 36V models are the more powerful ones and work best on larger vessels.
Ease of Operation
There are several factors that would affect how easy it is for you to operate the motor. For instance, the handle should be adjustable to your ideal position. Also, it should be located where you do not have to strain your shoulders to get to it.
On top of that, an ergonomic shape would give offer you a good grip on the handle.
Note that besides the hand-operated trolling motors, you also have wireless remote control and foot-operated motors to choose from.
Popular Trolling Motor Brands
We thought it wise to briefly discuss some of the popular trolling motor brands so that you could have an easy time knowing where to start.
Newport Vessels
This company is located in California and was established in 2008. Besides trolling motors, the corporation is also popular for its inflatable kayaks and SUPs.
Additionally, Newport Vessels also produces accessories that you may buy for your kayak.
Watersnake Electric Motors
Founded in 2004 in Australia, Watersnake's main agenda was to make life easier for anglers by adding trolling motors into the equation.
The company has now specialized in designing trolling motors for different fishing vessels, including kayaks.
Minn Kota
The Minn Kota company derives its name from the home of the founder, O.G. Schmidt, who lived near the border of Minnesota and North Dakota.
It remains one of the leading brands of trolling motors globally.
Related
The Sun Dolphin Aruba 10 Review
Key Muscles Used in Paddling a Kayak
Advantages Of a Trolling Motor To a Kayaker
We can point out a few good reasons why any kayaker would value having a trolling motor on their vessel.
Speed
Trolling motors provides the much-needed speed that would get anglers where they have to be in the shortest time possible.
On top of that, the angler would be less tired as compared to when paddling.
Silence
Another benefit of trolling motors is their near-silent operation. As a result, you can get close to the fish without scaring them off.
Coverage
Due to the speed and power of a trolling motor, you are likely to cover a larger area than when you were paddling.
Frequently Asked Questions (FAQs)
In this section, we are going to give answers to some of the common questions we faced in our research on trolling motors.
Q: Are there any legal requirements for using a trolling motor on my kayak?
A: The primary requirement in most states regarding trolling motors is their registration. The moment you add any motor to your vessel, then you have to register it with your state's DMV.
Q: Where should I put a trolling motor on my kayak?
A: It all boils down to your personal preference. However, the transom area is most ideal for making it easier for you to handle it. You may also go for the bow area, but you have to be prepared to deal with some challenges.
Q: How do I know if I can use my kayak trolling motor in saltwater?
A: This depends on whether the motor is made from corrosion-resistant materials. These include zinc and stainless steel.
Best Trolling Motor for Kayaks – Our Verdict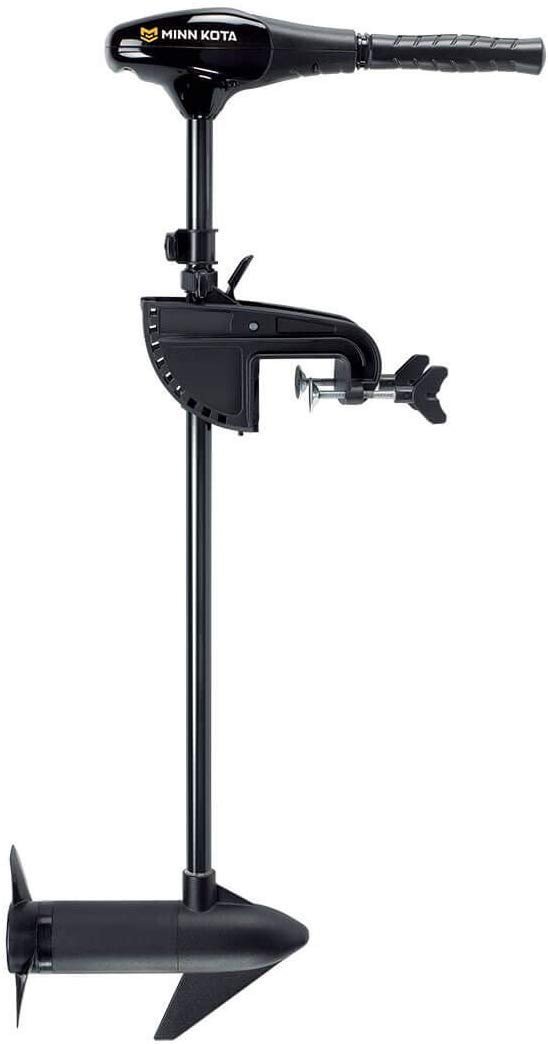 If we only had enough cash for just one trolling motor, we'd go for the Minn Kota Endura.
It's available in different models each one of them providing different thrust levels so you can always get one that best suits your power needs.
What's more, it's quite well-made and particularly its composite shaft is virtually indestructible.
So, we generally think that the Minn Kota Endura provides good value for money.
In Conclusion
If you love kayak fishing, a trolling motor will help in giving you a memorable experience. Plus, in general, trolling motors are quite easy to maintain.
Our article features some simple tips on how you can narrow down your search to get the best product. Further, the brands we have reviewed are high-quality, and some of the best ones in the market.
Therefore, you do not have to look elsewhere, and this will help you save on time and energy.