Irrespective of whether you're a seasoned kayaker or you are a beginner in the game, you will need a means of transportation for your kayak.
In that case, you will need the best kayak trailer. This trailer needs to be:
Durable
Reliable
Spacious
Stick around if you want to find out how to pick the right trailer for your kayak.
Top-Quality Trailers for Kayaks: An Overview
Whether looking for a variety that's suited for a large or small boat, the following run-down has something for you. What's more? Our detailed buyer's guide has the tips and tidbits you need to make an informed choice.
1. Malone Auto Racks Kayak Transport J-Pro2 Trailer
Reliability, affordability, and quality are the main features you should put into consideration when looking for the ideal kayak trailer.
And indeed, this trailer from Malone seems to tick all the right boxes. It's built using a pre-galvanized steel frame and comes with straightforward installation guides. As such, it's one of the easiest trailers for loading anything from kayaks to boats and bikes.
The Extras
The trailer measures 78 by 164 inches, is equipped with steel coated cross rails along with kayak saddles for easy fitting to most vessel attachments.
This Microsport trailer has a 350lb capacity and adequate space for carrying 4 kayaks.
Pros
*Generous carrying space
*Durable steel construction
*Has a spare tire
*Takes only 2-3 hours to assemble
*5-year warranty
Cons
*No lights thus not ideal for night use
2. RIGHT-ON-TRAILER Galvanized Finish Ruff-Sport Trailer
Conveniently carry your SUP's, kayaks, cargo boxes and even bicycles with this Ruff-Sport trailer that can be towed easily by small cars thereby minimizing fuel costs.
This high-speed trailer has been approved by DOT to be highway safe because of its durable galvanized steel construction and safety. Moreover, the frame is sturdy enough to cope with road imperfections.
The Extras
The trailer's wheels measure 4.80 by 12 inches thus quite large for easy movement. Plus, they are equipped with fold-up locking stand for added safety.
What's more, the trailer's soft springs and the 64-inch crossbars offer good support to all the vessels you'd like to carry.
Pros
*Great for saltwater use
*Sturdy steel frame
*Large wheels for fast speeds
*LED lights ensure safer road use
Cons
*Rack pads have to be bought separately
3. Malone MicroSport Bikes, Canoes and Kayaks Trailer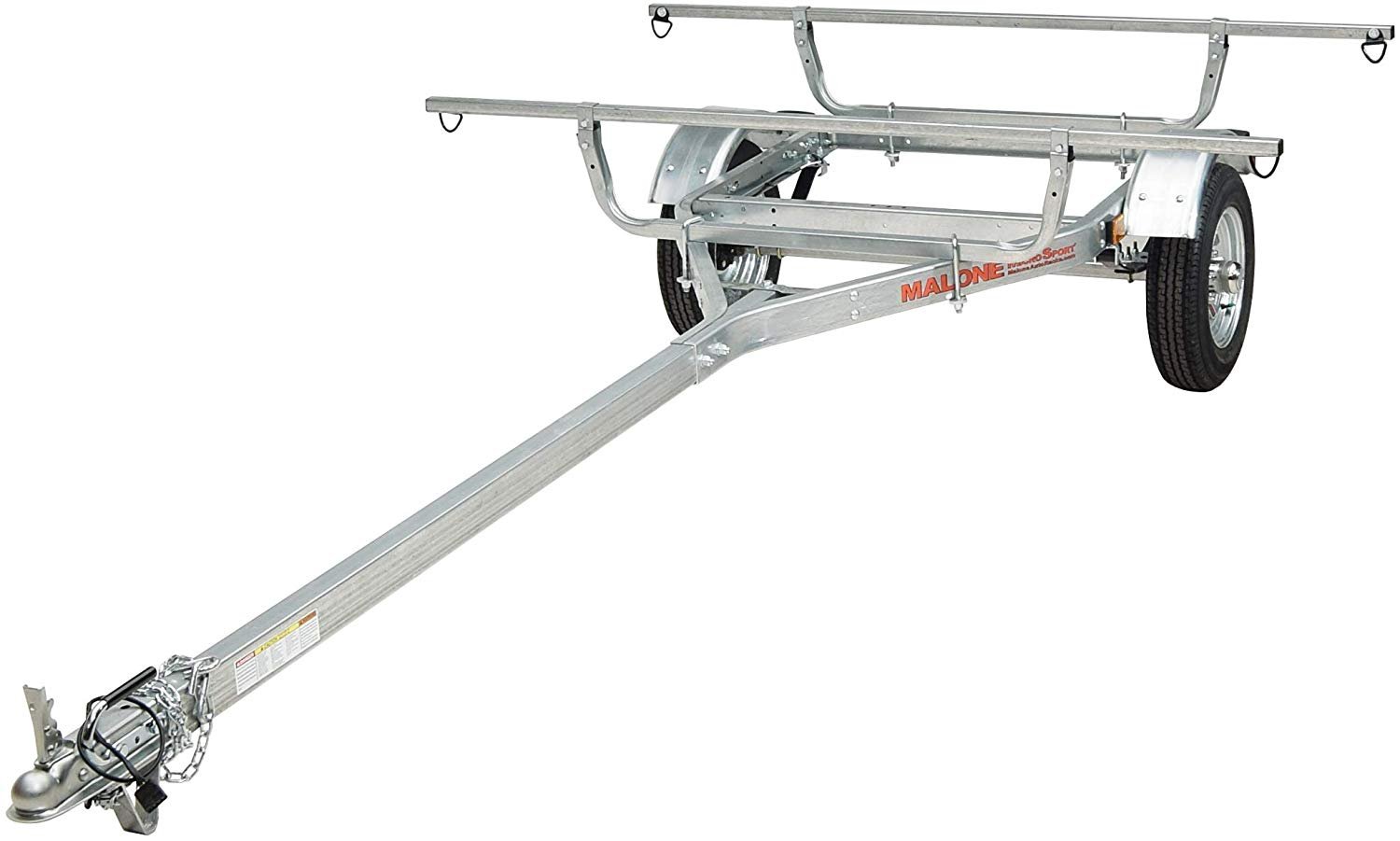 Unlike the Malone Transport Kayak Trailer which has a limited carrying capacity, this one can sustain a weight of up to 800 lbs.
That's not all, the included 66-inch crossbars can be used with other gear carriers from Thule and Yakima.
The Extras
This trailer's frame is made from premium quality galvanized steel and features a heavy-duty tongue that can carry 4 kayaks measuring 20-inches long.
The trailer assembles in about 2-3 hours and is equipped with 12-inch galvanized slotted wheels reinforced with acorn nuts for added durability.
The good news is that all the 2 wheels, sealed hub, and the 54-inch galvanized axle require minimal maintenance.
Pros
*Large carrying capacity
*Maintenance-free steel construction
*Equipped with a light-up system
*Multipurpose
Cons
*Not ideal for long boats
4. Ultra-Tow Folding Aluminum 1170-Lb Utility Trailer
Performance and convenience are what this Ultra-Tow trailer is ready to offer you. With a large payload capacity of 1170lbs, this trailer can handle multiple loads at ago.
You can even customize the trailer by adding some decking (Not included) to enable easy loading and carrying of vessels.
The Extras
This extra-long trailer measures 144 by 62 1/2 by 22 1/2 inches when assembled and folds up to a shorter length of only 72 5/8 inches for easy storage.
The package comprises of a rust-proof aluminum frame, LED lights with full wiring system, and two 4.80 to 12-inch tires.
Additionally, the bed measures 4ft by 8ft, this is indeed a large space for you to fasten your kayaks, storage boxes or boats.
Lastly, the trailer has aluminum wheel fenders to prevent cargo damage from choppy roads.
Pros
*Approved by DoT
*Features a LED lighting mechanism
*Corrosion-resistant frame
*Foldable for convenient storage
Cons
*Inappropriate assembly instructions
5. Right-On Multi-Sport Trailer
This RightOn Multi-Sport trailer provides you with an efficient and cost-effective way of carrying fishing gear as compared to a car roof rack. If properly configured, this versatile trailer can carry up to 6 bicycles.
The Extras
The cart doesn't carry only bicycles but also SUPs, Boards, and canoes. Plus it is light in weight and, therefore, ideal for small-car pulling.
To sum it up, the flip-up tongue stand adds stability while the standard 64-inch crossbars double up as a luggage bed.
Pros
*Easy to load or unload cargo
*Sturdy frame
*Has road safety lights
*Hard-wearing powder coat finish
Cons
*Unclear wiring instructions
6. YAKIMA Rack and Roll 78-Inch Trailer
Are you tired of loading or offloading your fishing vessels from the car's roof? Then this Rack and Roll trailer can be towed easily with your car and has a foldable neck for convenient storage along the wall.
The Extras
The trailer is equipped with 78-inch crossbars and can carry a weight of up to 300lbs. Furthermore, its heavy-duty springs plus the independent suspension enable the easy carrying of your kayaks or canoes.
To top it off, the trailer features locking levers that prevent theft of the tongue or wheels.
Pros
*Collapsible neck for easy storage
*The shock-absorbers ensure comfortable road travel
*The handle attaches to the car or turns the trailer into a cart
*Lockable wheels and tongue
Cons
*Limited carrying capacity
*Thin wheels may get damaged easily
7. Ironton Boat and Personal Watercraft Trailer Kit
This white powder-coated trailer is made from durable steel thus ideal for carrying boats, kayaks or even furniture.
It is ergonomically designed with protective fenders and lights for safe transportation of goods
The Extras
The cart has dimensions of 126 ¾ by 40 ¼ inches, a bed size of 77 ¼ by 40 ¼ inches, and boasts a load capacity of 610lbs.
What's more, you don't need to worry about using this trailer on the highways as it is approved by the DOT. This is because the cart features a lighting mechanism, has a safety chain and rolls on premium quality tires.
Pros
*Has a license plate mount
*Includes road safety features
*Durable steel construction
*Ideal for night-time use
Cons
*It's quite difficult to assemble
8. Rambo R187 Kayak/Canoe Trailer
Do you need help moving your fishing equipment from the campsite to the lake? Then this bike-enabled by Rambo cart with padded contact points might be all you'll ever need.
You will also love the easy-to-use ratchet straps that help keep your vessels intact and secure.
The Extras
The trailer requires the R150 luggage rack (sold separately) for attaching to a bike to carry a 70lb weight but loads up to 300 lbs when hand-ridden.
Although the trailer measures 8 feet long by a width of 3 feet, it can still be adjusted to carry vessels that have a length of 10 inches.
Pros
*Easy to assemble
*Adjustable
*Includes tie-down straps
Cons
*Carries only one vessel at a time
*Not suitable for road travel
How to Choose the Ideal Kayak Trailers
Whether you're just shopping for a used trailer for your kayak on Craiglist or simply going for a new one, there are several factors you need to pay close attention to. Some of these considerations include:
Weight and Frame Construction
You want to consider your trailer's towing capacity as well as your kayak's weight. It is important for your trailer to have the capacity to comfortably carry your kayak.
In that regard, we recommend going for a trailer with aluminum frames because they are lightweight and resilient.
Brake Lights
It is important to take your safety and that of others into account when choosing a kayak trailer. As such, you want to pick a trailer with functional brake lights.
Vehicles behind you are likely to hit you if you do not make it clear whenever you are about to brake. Brake lights will go a long way in guaranteeing your safety while on the road.
Tire Quality
Of course, your trailer has to have tires that are road ready. This means that the tread on the tires should not be worn and neither should the tires have punctures or leaks.
If you will be using a hand trailer, you may want to think about the kind of water you will be kayaking in. For instance, you want to take into account that some tires work better in sand compared to others.
In the same breadth, lakes may be muddy which requires you to have robust tires.
Related
Best Kayaks Under $1K Reviewed
Lifetime Tamarack Angler 100 Review
Kayaks from Under $600 Run-Down
Frequently Asked Questions
Below, we have answered a few commonly asked questions about kayak trailers that could be of help.
How heavy is a kayak?
The weight of your kayak entirely depends on its size and the material it is made from. Kayaks can weigh anything between 20-80 pounds.
Can you strap a kayak to a car?
It is possible to strap almost anything to a car as long as you have the right gear and enough straps to secure your item.
Therefore, it is possible to strap your kayak on a car. However, the best way to do that is by purchasing special racks designed for strapping your boat to your car.
You can always strap your kayak safely onto the cross and roof bars of your car if you are unable to get these specialized racks.
Best Kayak Trailer Up for Sale? Our Verdict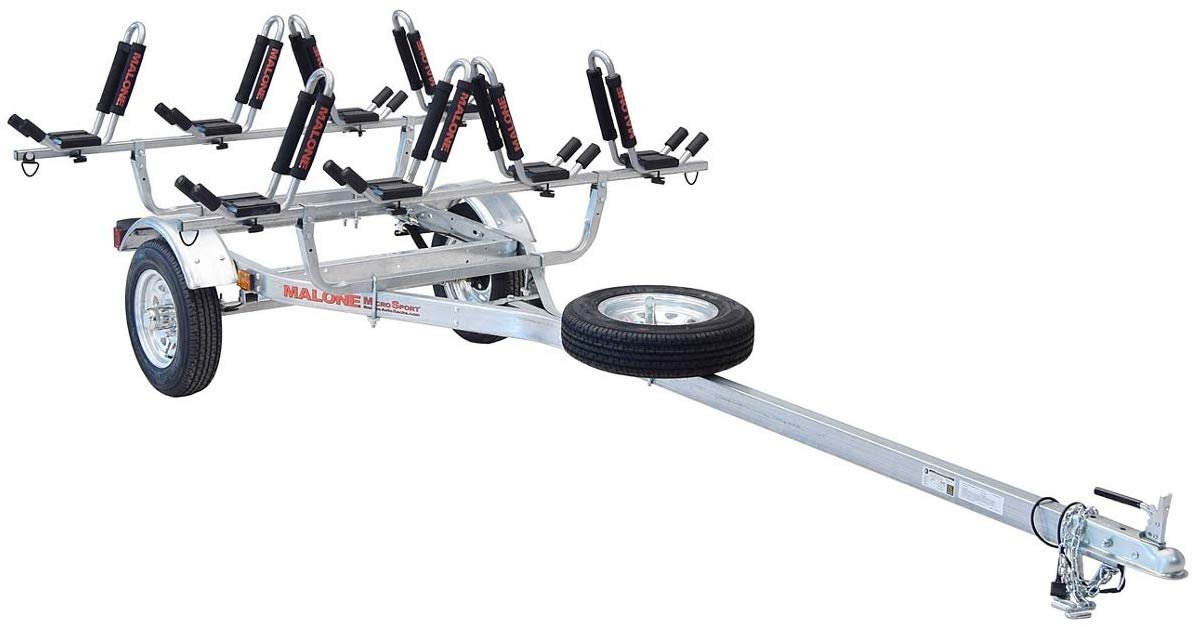 Based on our detailed research, we can conclude that the Malone Auto Racks Kayak Transport Micro Sport Trailer is our best pick.
Why? This is because it comprises a durable pre-galvanized steel frame, it's easy to assemble, has a special tire.
Above all, it is equipped with kayak support saddles for easy transportation.
Final Thoughts
Whether you are a beginner at kayaking or you are used to it, transporting your kayak from one place to another can prove to be challenging.
This is especially true if you drive long distances. That is why it is important to get your hands on the perfect kayak trailer.
An ideal trailer has to possess several crucial features some of which we have discussed above. Now that we have provided you with all the information, you need to make the right choice, why don't you go ahead and do it?