Although Kayaking is an experience we all enjoy, carrying the watercraft to and from the water can be a real problem. It is for that reason that you may want to get your hands on the best folding kayak available.
Just as the name suggests, this kind of kayak is capable of being folded to be more compact and ultimately portable.
If you are unsure about where to begin your search, you are in the right place because this article seeks to help you pick the perfect foldable kayak for the money.
Popular Folding Kayak Models: Quick Overview
If value is what you're looking for, the following few paragraphs have the information you need to make an informed choice. We also have a detailed buyer's guide at the tail-end of this write-up.
1. Advanced Elements Inflatable Convertible Frame Kayak
Check Latest Price
Most whitewater kayakers find foldable kayaks to be the most convenient ones to use because they are easy to carry and fold up.
And this is the realm in which the Advanced Elements kayak excels.
The foldable kayak is not only practical but also hardy (meaning it copes with strong water currents easily).
But that's just a tip of the iceberg, the kayak is convertible. That is, you can easily convert it from a closed kayak to an open one without breaking a sweat.
Plus, it can be paddled either as a tandem or solo kayak.
What We Like About It
Since the kayak comes pre-assembled, you only have to unfold it, inflate it, and finally attach the seats. These simple steps, as shown in the user manual give you a quick startup to your kayaking adventure.
When done, just deflate the kayak and fold it up for storage in the included duffle bag.
Worth noting, the high padded seats provide high back support and are adjustable to ensure seamless paddling especially if you intend to spend long hours on the water.
Other Features and Benefits
This kayak weighs 52 pounds, measures 35 by 21 by 12 inches, and can carry a maximum weight of 550 pounds.
There's an optional deck featuring a honeycomb rip fabric for attaching the double-deck to or the single deck kit.
The hull is made from 3 material layers to make it more puncture resistant. Also, it boasts built-in aluminum ribs that outline the stern along with a bow for increased tracking.
What We Don't Like
Though the seats are adjustable, we feel the kayak could be more comfortable by having a footrest.
Also, the top material of the kayak doesn't seem to be waterproof as it retains some water when wet, therefore, it takes quite long to completely dry up.
Pros
Convertible frame
Padded and adjustable seats
Includes pressure relieve valves
Made with durable rip-proof fabric
Inflates and deflates easily
Cons
2. Oru Kayak Perfect Outdoor Foldable Kayak
Check Latest Price
Are you an adventure fishing enthusiast who is looking for a top-rated foldable kayak? You should try out this sleek and lightweight Oru kayak.
This Beach Lt designed kayak is excellent for novices and pro users alike. What's more, you can use it for regular padding on rivers, calm oceans, and lakes.
But boating isn't a smooth ride all along, that's why this kayak features 2 layers of custom polypropylene to prevent stones or sand from rupturing it.
What We Like About It
The kayak is great for either fresh or saltwater use as it boasts rust-resistant metal hardware and is supported by a 12-month warranty.
Besides that, this kayak can be set up in about 5 minutes and folds up for easy carrying in the provided case (sold separately). Alternatively, you can just stash the kayak into the trunk of the car.
Most importantly, the kayak has undergone intensive durability and strength tests to sustain the frequent fold ups you might subject it to.
Other Features and Benefits
This award-winning Oru Kayak has worn so many awards, and has been featured on Forbes, Shark Tank, CNN, the list is endless.
This probably explains why there are more than 15,000 Oru kayaks on our waters currently. Their ease of use, sturdiness and lovely design are some of the reasons why people like to own them.
Lastly, this one-person kayak weighs 26 pounds, measures 33 by 12 by 29 inches, and has a maximum carrying capacity of 300 lbs.
What We Don't Like
Even though the kayak folds up easily, it's not as compact as the Advanced Elements kayak. Likewise, the seat in this yak could do with a bit of re-design to improve back support and overall comfort.
Pros
Includes a footrest and backrest
Adjustable seat
Lightweight
Has a lifetime of over 20,000 folds
Puncture-proof polypropylene construction
Cons
Doesn't include the storage bag
We've seen more compact ones
3. MYCANOE Portable Foldable 2.5 Origami Canoe
Check Latest Price
This TUV-certified canoe is loved by most professional kayakers thanks to its unwavering strength and performance.
The canoe takes about 10 minutes to assemble allowing you to get into the water fast and seamlessly. To add onto that, it folds in 5 minutes into an origami shape for easy and compact packaging
In fact, it easily fits within the provided storage bag which measures 37x8x25 inches.
What We Like About It
The MyCanoe's foldable design allows the canoe to take up minimal space, therefore, it's ideal for anyone using a small SUV or RV.
For enhanced durability, this polypropylene-made canoe has undergone special UV treatment. The idea is to make it as resilient as possible. Indeed, its manufacturer claims that it can withstand 20,000 folds and last up to 15 years in outdoor use.
When fully assembled, the 55 pounds canoe measures 14.5ft long by 35 inches wide and can carry a load capacity of 440 lbs.
Also, the canoe can comfortably fit 2 adults as it comes with 2 seats and may still have room for 1 kid.
Other Features and Benefits
The canoe's design allows it to react appropriately to the existing water conditions for an enjoyable sailing adventure.
In case you'd like to carry extra load or want to paddle into the rough waters, you can purchase the available stabilizer kit.
Also worth noting is that the floor and sidewalls are built solidly to avoid punctures in case of a collision with other boats, rocks or underwater debris.
What We Don't Like
Though elevated, the seats aren't padded and lack a footrest, which may compromise on your comfort especially when paddling for long hours.
The canoe could have come with a stabilizer kit in the same package. Otherwise, you can't really use this on rough waters without it.
Ordering it separately means you have to pay extra shipping charges and wait for a few more days for it to arrive.
Lastly, this canoe may prove difficult for some to assemble. Fortunately, the process becomes quite straightforward once you get accustomed to the process.
Pros
Easy to maneuver
Collapsible seams for easy storage
Large carrying capacity
Durable construction
Has better tracking
Cons
Stabilizers and paddles aren't included
Quite heavy
4. Tucktec 10-Foot 2020 Model Foldable Kayak
Check Latest Price
This innovative Tucktec kayak doesn't compromise on stability and durability and is, therefore, a good tool to add to your outdoor arsenal.
What's more, the kayak folds up easily so you can store it anywhere you want. That's unlike others that take up quite some space in your garage or apartment.
Plus, you won't need a carrying bag as the kayak folds itself into one.
Carrying it is also easy as the kayak easily fits into most average-sized car trunks, thereby eliminating the need for a roof rack.
What We Like About It
Different from canoes and inflatable kayaks that get punctured easily, this one features durable thermoplastic construction. The material is capable of withstanding all kinds of debris that would, otherwise pose a serious puncturing threat.
Moving on swiftly, this kayak features a broad but flat bottom to enhance both primary and secondary stability.
Therefore, it provides a safe learning platform for beginners.
And in case you're still on the fence, you'll love the assurance that this watercraft comes with a 90-day money-back guarantee.
Other Features and Benefits
The entire Tucktec set comprises; a foldable seat with a backrest, snap-up tracking fin, an adjustable shoulder strap, and a hull sheet designed with riveted toggle clamps.
You'll also love the retractable fin that lifts when launched and drops down to enable better tracking as well as increase stability. Still on that, the pointed hull design also helps the kayak cut through the water quickly.
At the same time, the enclosed side foam rails give you support when sitting and when paddling.
To sum it up, this 10-foot kayak weighs about 30 pounds, is available in various colors and can fit 1 or 2 persons or an equivalent of 350 lbs.
What We Don't Like
Despite all the mentioned unique features, this kayak isn't as comfortable (it doesn't even have a footrest). So, if you're planning for long trips and overnight float trips, this might not be the best watercraft to work with.
Pros
Great stylish design
Offers long-lasting service
Unsinkable
Collapsible into a carrying bag
Adjustable high-back seat
Cons
5. Folbot Edisto Model Full Expedition Folding Kayak
Check Latest Price
Here comes yet another kayak completely equipped with easy-to-install side accessories that you will love.
But for efficient use, this kayak has to be equipped with a fully designed deck to enclose the cockpit and keep water waves out.
To install it, simply attach the deck to the washboards using marine quality Velcro.
What We Like About It
The Folbot Edisto features generous padding to the keel's frame to give more protection to the hull by preventing abrasions.
Its included foot rudder attaches easily to the stern and has foot controls for convenient maneuverability in the water.
Additionally, the foot controls help keep your legs occupied to prevent them from stiffening due to long sailing hours.
Other Features and Benefits
The kayak weighs in at only 7.3 pounds and is one of the best expedition packages you can't afford to miss.
Storage is easy as this Edisto model kayak folds into a small bundle for easy carrying inside the car's trunk.
The kayak is quite stable and tracks well, features most beginner users look out for, this also makes it more efficient for use by the pros.
What We Don't Like
We do feel like the kayak could have come with a deck to avoid the stress of obtaining one. Also, a storage bag could come in handy to keep the kayak intact and clean.
Since there's no proper seat, you might need to put a cushion on the floor or find out how to customize one to make your ride comfortable.
Pros
Easy to install
Feels stable on the water
Includes a repair kit
Tracks efficiently
Equipped with foot controls
Cons
6. Elevens Portable and Foldable Cruise Plus Kayak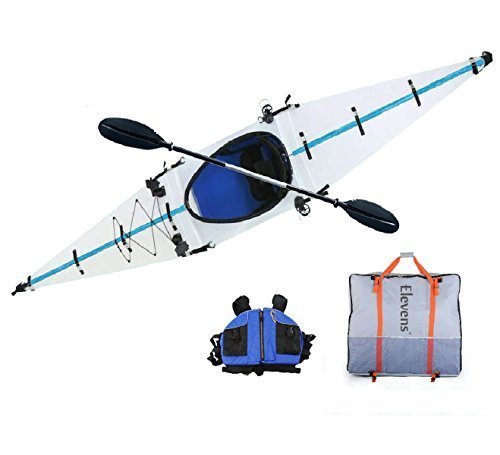 Check Latest Price
Are you planning for a weekend getaway or regular day trips to the lake or ocean? Worry not as this Elevens Cruise Plus has got you covered.
The kayak is lightweight and folds into a small size to fit into the 34 by 30 by 14 inches backpack for convenient carrying.
You can as well throw it in the car's trunk, closet, or anywhere around the house as it occupies minimal space.
What We Like About It
After unpacking from the backpack, you can transform it into a boat in less than 10 minutes. The disassembling process is also simple; it helps a lot when you need to get to the car quickly in case there's a storm approaching.
This kayak is supported by a 1-year seller warranty and has estimated durability of 3-4 years, thus worth the investment.
To expound further, the kayak is rated to withstand up to 10,000 folds and is great for either freshwater or saltwater use.
By purchasing this kayak, you also get yourself a free life vest, camera mount, cup holder, and even a paddle for efficient saddling. These extra features make it stand out as all the others just come with nothing but the basics.
And another thing, the structural design of the hull enables the kayak to cut through water easily and also improves tracking.
Other Features and Benefits
The kayak is brightly-colored to improve visibility from other users, thus suitable for tournaments and also makes rescuers locate you easily in case you get lost.
This kayak's hull is made from substitutes of FRPP; a flexible and robust polymer that is highly resistant to UV, puncture, or abrasion.
For the dimensions, this 30 pounds cruise plus has a width of 23.6 in, a length of 12.8 ft, and a cockpit of 32 by 20 inches.
To wind up, this kayak fits one person and sustains a payload of 200 pounds.
What We Don't Like
Even though being light allows easy portability, it lowers the kayak's stability on windy days or when you are sailing in strong ocean currents.
Also, the compact design of the sitting area makes the kayak quite uncomfortable for long kayaking trips. Also, it might be difficult for a taller person to fit into the seat.
Pros
Foldable and portable
The color doesn't fade away
Includes many kayaking accessories
Durable
Portable
Cons
Lightweight thus may seem unstable in choppy waters
Not good for long kayaking hours
Buying Guide for Best Foldable Kayak
What should you look out for as you pick a top rated foldable kayak? Well, your focus should obviously be on how easy it is to assemble and fold.
However, that is not the only thing you should look at. Here are more factors that you need to consider.
Kayak Beam
This is something that every angler should consider. The level of your kayaking skills has a lot to do with the kind of beam you should pick.
If you are a beginner, a longer beam of thirty or more inches should do. Longer beams provide more stability in the water.
As a beginner, you want to be able to paddle through the water without worrying about your kayak toppling over.
In case you have some sort of experience angling, a shorter beam will provide you with better maneuverability in the water. Go for a beam of about 25 inches, if you have some experience kayaking, as it will give you the sporty feel and handling capabilities you require.
How Easy is it to Assemble?
This is perhaps the most crucial factor to consider when choosing a foldable kayak. There is no point of buying a foldable kayak that will not assemble or fold easily.
Once you are ready to get into or out of the water, the last thing you want is to struggle with your kayak. That said; the fewer parts your kayak has, the easier it will be to fold.
It is also important to consider the number of steps it will take to fold your kayak and how complex the steps are.
Kayak Resilience
You cannot compare a one-piece kayak and a foldable one. Reason? With a foldable kayak, you will be assembling and folding it often which means it is likely to wear out faster.
Moreover, it has moving parts that will move back and forth meaning there is a likelihood that something might break.
In respect to that, your kayak of choice should be resilient enough to be folded and moved without breaking. The kayak should be able to withstand strong water currents as well.
We would advise to go for a kayak that features some PVC because this is the one feature that sets quality portable kayaks from regular ones.
Ease of Storage
Most anglers want a foldable kayak because they want something that is easier to store. This then ultimately means that they are easier to transport.
The smallest kayak should measure 36 x 18 x 10 inches when folded. As you pick the size, you should not think of the size alone. It is also important to consider your storage space and use it as a gauge.
Although a smaller kayak will be easier to store and transport, it may lack some features that bigger kayaks possess.
In that regard, you want to compare the features of both big and small kayaks and compare them. Your aim should be to find a balance between desired features and your storage restrictions.
Kayak Weight
Maybe you do not know this but one-piece kayaks are heavier than portable ones and this is the main reason why people go for the latter.
We are sure that you do not want to have a hard time transporting your kayak to and from the water. You also do not want to always seek help from other people anytime you need to transport your kayak.
If you have to pick something heavy, ensure that you can also afford something like a car roof rack or trailer to transport it.
Related
The Best Fishing Kayaks Under $1000
Frequently Asked Questions
We understand that you may have a few questions when it comes to foldable kayaks. We cannot address all of them here but we have answered a few commonly asked ones.
How do I pack my folding kayak?
First, a quality kayak should come with detailed instructions that explain how to fold your particular kayak.
However, there is a general simple method you can use to fold your kayak.
The first thing you want to do is detach any fasteners on the kayak to remove the skin. After removing the skin, it should be easy to fold it into a compact shape.
The next thing you want is to fold the kayak skeleton and you want to have lubricated joints at this point.
You want to practice folding and unfolding your kayak several times to get the hang of it.
How should I store my folding kayak?
When thinking about storing your kayak, you want to think about more than just the location. Most kayakers tend to keep their kayaks somewhere in the garage.
However, if you do not have adequate room in your garage, you can buy a hoist or a rack to hang on a wall. You can also buy a kayak that comes with a storage bag.
Best Choice
All these kayaks are foldable hence easy to store, but the Advanced Elements Inflatable Convertible Frame Kayak stands out in terms of efficiency and comfortability.
Why? This is thanks to its ability to convert easily from an open to a closed kayak, padded seats, and capability to inflate or deflate with ease.
Final Thoughts
Getting a foldable kayak can save you a lot of time and effort. You know that your 'yak is the right one when it is lightweight, compact and performs just like a regular one.
Also, you should be able to store your favorite folding kayak easily, transport it, and generally enjoy your paddling experience.
It is not really necessary to consider the brand of a kayak to know how well it will perform. Just look out for features such as durability, weight, and ease of storage as these are the factors that determine whether a kayak is suitable or not.
With these reviews and guide at your disposal, you should be able to make an informed choice.