Kayaks present a better way of fishing, bird watching, among other recreational water activities. The recent improvements in craft technology have made kayak fishing an envy of many.
But is it possible for you to find the best fishing kayak under 300? This article precisely answers this question as it is going to highlight some of the cost-friendly kayaks you can trust your money with.
Our Detailed Analysis
Whether inflatable or solidly-constructed, kayaks are made to give you a good time on the waters, be it rivers, lakes, or seas. The following guide will help you in the selection process.
Features to Look for in Kayaks for Below 300 USD
Everything in a kayak from the tail to the tip has an important role, but these 4 basic factors will help you get an efficient one.
Durability/Material Construction
Let not a kayak's outward beauty deceive you, first consider the durability or the ability of the kayak to stand up to the weather elements.
The commonly used materials are PVC and polyethylene. The latter makes good solid kayaks thanks to its flexible nature. UV resistant polyethylene kayaks are great as they can be stored directly under sunlight while the non-UV resistant ones will require some specialized storage area.
PVC is used in the construction of inflatables, which though strong, is prone to punctures and pressure losses.
This is a very crucial point when buying a fishing kayak. Going fishing means a lot of things to carry like food, gears, and not forgetting yourself plus the total weight of your intended catch.
Most standard kayaks are designed to carry around 300 pounds of luggage, although some have a holding capacity of up to 600 lbs.
The storage compartments in modern kayaks are almost the same. Some kayaks have 3 storage hatches, others 2 or 1. You can freely choose either of those depending on your personal needs.
For example, if you always go with your family for fishing, you better settle for the 2 or 3 hatched kayak.
Inflatable kayaks aren't good as solid ones but are great for shallow water paddling and recreational fishing.
Conversely, solid kayaks are suitable for creek paddling and whitewater fishing.
Thinner yet longer kayaks are mostly preferred by many users thanks to their streamlined design that increases better tracking in rough waters.
Shorter kayaks, on the other hand, are good for saddling in calm waters as they have a widened hull for added stability. However, their speed is steadily low as compared to those with longer hulls.
Kayaks with skegs saddle straight even in choppy conditions while those without usually tend to wander or weave across the water.
Best Fishing Kayaks Under 300: Product Reviews
Without further ado, let's now get into our detailed and honest reviews of the top fishing kayaks below the 300-dollar mark.
1. Intex Explorer K2 Inflatable 2-Person Kayak
This Intex Explorer K2 kayak features heavy-duty inflatable vinyl construction for added rigidity and comfortable use in lakes or rivers. But, you might need to avoid rocky places since the yak though puncture-proof, isn't indestructible.
The kayak weighs 30.60 lbs, has sitting space for 2 persons, and has a carrying capacity of 400 pounds.
Indeed, this kayak has a lot of storage space in front or behind the seats but has no specified storage compartments for tackles or food.
Finally, the included skeg helps you achieve directional stability when moving in rough waters making the kayak great for long-distance paddling. Most importantly, the skeg is removable for the secure storage of the kayak.
Pros
*Puncture-proof construction
*Features Boston valves for easy inflation and deflation
*Offers balanced stability
*Easy to transport
*Comfortable
Cons
*Lacks UV protection
2. Intex Challenger K2 Inflatable 2-Person Kayak
Just like the Intex Explorer K2 kayak, this one is also made from puncture-resistant sturdy vinyl that provides ultra-protection from UV rays.
This kayak weighs 33.53 pounds, sits 2 adults, and is great for use on small water bodies. It also has a weight capacity of 400 lbs, giving enough room for all your fishing gear.
Gear and foodstuff can be stored easily in the cargo straps on the yak's front area or around the seats. However, the kayak lacks a dry storage area.
Talking of stability, this inflatable kayak has a rigid floor that inflates or deflates quickly through the 2 included separate air chambers. What's more, the hard plastic skegs located on the underside give you more directional control over the kayak.
Pros
*Has 2 quick-fill/deflate Boston valves
*UV-proof construction
*Easy to set up and disassemble
*Beautiful design
Cons
*Unstable in large or fast-moving water bodies
*Can't do without the skegs as it will keep spinning around
3. Pelican Sonic 80X Recreational Kayak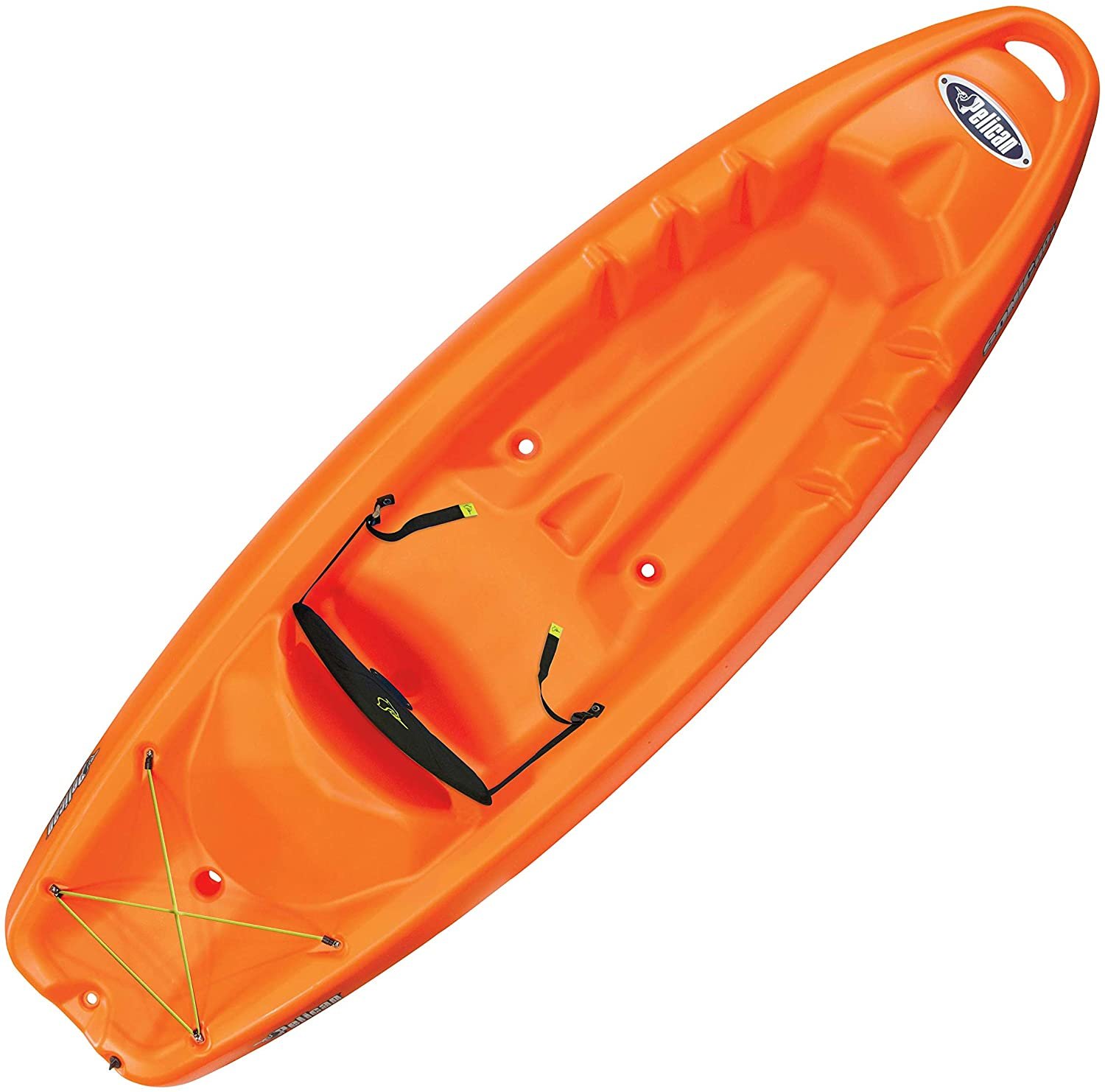 This Pelican kayak is made from impact-resistant polyethylene plastic that will last you for years, unlike the easily destroyable inflatable kayaks.
This 8-feet sit-on-top kayak has a 225-pound carrying capacity and has plenty of sitting space for 2 kids or youths planning to engage in various recreational activities.
Additionally, the kayak is equipped with a rear tank well bungee-corded area for the storage of essential equipment.
Although the kayak has no skeg, it's self-bailing and has a twin tunnel hull that enables easy maneuverability or stability in calm waters.
Pros
*Quite affordable
*Durable construction
*Beginner-friendly
*2-year warranty
*Self-bailing
Cons
*Lacks a skeg and therefore not ideal for choppy waters
4. Lifetime 6-feet Youth Wave Kayak
Finding a kayak that's ergonomically designed for kids isn't easy, the reason Lifetime has made this child-friendly kayak for you. The kayak is constructed from tough UV-proofed polyethylene to increase its durability by preventing cracking or fading.
The 18-pound kayak has a sloped entrance, therefore suitable for kids of any age as long as they don't exceed the stipulated 130-pound holding capacity.
Although there's limited storage space, the kid's items may be placed on the front part just below their legs.
At only 6-feet, this kayak seems short, which can be a restraint to its stability. But this isn't the case thanks to the kayak's twin-fin design for increased tracking and reversed chine for better balance.
Pros
*5-year warranty
*Retains its shape and color
*Lightweight design for easy carrying
*Child-friendly
Cons
*Smaller carrying capacity
5. Intex Excursion Inflatable Pro Kayak
Here is another Intex kayak made from tough PVC for extra durability and reinforced with a polyester core to cut down its weight. Similarly, the kayak is UV and impact resistant, therefore a worthy lifetime investment.
The kayak is 39.01 pounds when not inflated, this might seem too heavy when carrying also considering that it doesn't include a storage bag. Still on that, this kayak sits 2 persons, and has a larger holding capacity of 400 lbs.
You will love the plenty of storage space in the bow and stern area featuring stainless steel D-rings for easy tying down of fishing gear or dry bags.
The high-pressure inflation through the spring-loaded valves adds rigidity in the water while the 2 removable skews allow for easy maneuverability.
Pros
*Deflates for easy storage
*Large carrying capacity
*Durable PVC construction
*Tracks well
Cons
*Very expensive
*Not as fast as expected
6. Sea Eagle 330 Inflatable 2 Person Deluxe Sport Kayak
The polykrylar hull material of this kayak is thick and sturdy to offer extended durability despite regular use.
This 26-pound kayak has a 500 lbs weight capacity and seats 2 adults. The kayak is still stable for one person to use leaving the extra chair for gear storage.
That isn't all, there's more storage space in the rear (Under the back seat) or the front if you can improvise some straps.
To conclude, this Sea Eagle kayak has 2 skegs on its base to help in better tracking when dealing with strong winds or currents.
Pros
*Includes a durable nylon storage bag
*Easy to put up or disassemble
*Large weight capacity
*Portable
Cons
*Seems challenging for 2 adults to sit-in
Related Articles
What's The Best Time to Buy a Kayak? Pro Tips For You
8 Best Cheap Kayaks for the Money [Unbiased Reviews]
Lifetime 10 Foot Tandem Fishing Kayak Review (Unbiased)
Frequently Asked Questions
The following questions might just help you get an in-depth understanding.
Inflatable or non-inflatable, which is great?
All are excellent, however, inflatables are easy to store and transport while non-inflatable kayaks thought aren't easily portable, offer more durability.
Is it a must for a kayak to have a skeg?
No, some kayaks still achieve stability without skegs by featuring wider or chinned hulls.
Which One Is The Best?
The Intex Explorer K2 Inflatable 2-Person Kayak is our best pick. Why? This is because it features durable vinyl construction, has multiple gear storage space, and tracks well. Likewise, the vessel deflates quickly for compact storage.
Bottom Line
Fishing and kayaking are inseparable, while kayaks are perceived to be highly-priced, this article has just disapproved of this. You can still get a super-efficient kayak at a lower price of under 300 dollars without having to dig deeper into your pockets. Happy fishing!