Are you strapped for cash and looking for an affordable baitcasting rod? Well, we are pleased to let you know that you can take great pride in owning one of the best baitcasting rod under $50.
That said; you have to be very careful when choosing a rod within this price range if you want to get a top-quality one.
Let us look at some of the affordable top-rated rods in the market today and how to choose the right one.
Top-Rated Baitcasting Rods under $50
We want you to have an easy time as you pick a baitcasting rod. In that regard, we have put together this run-down to help you make an informed choice.
1. Abu Garcia Vengeance Casting Rod

If you are looking for an extremely lightweight baitcasting rod, this is the perfect one for you. With this rod, you get first-rate performance and quality.
How so? Well, the Abu Garcia Vengeance rod gives you the confidence to face out with average-sized fish, whether in fresh or saltwater.
Besides that, this rod comes with a comfortable grip for easy handling and minimal hand fatigue.
What we liked About It
Even though it is cheaply priced, this baitcasting rod comes with just enough muscle for crankbait fishing.
Plus, with its grippy EVA handle, you will be able to fish for long hours without your fingers and palms straining.
Moving on swiftly, the Abu Garcia Vengeance is made from graphite. As you know, graphite is light in weight and also highly sensitive meaning it enables you to detect faint nibbles easily.
Lastly, the rod comes with stainless steel guides that have titanium inserts. We absolutely love those inserts as they preserve the lines and make it easier for you to detect vibrations.
What Could Have Been Better
Although this rod is quite well made, its blank is made entirely from graphite. That means it might not last long when used to fight extremely large fish species (e.g. the saltwater monsters). In our view, this rod is just enough for basic/beginner fishing tasks.
Pros
Comfortable handle
Highly sensitive
Lightweight and convenient for all-day use
3-year warranty
Cons
Its blank is made from graphite which isn't hardy
2. Ugly Stik Elite Casting Rod

Just because you're aiming for the under $50 budget range doesn't mean you have to settle for less when it comes to rods. And indeed the Ugly Stik Elite Casting rod is designed to provide you with a decent balance of value and performance.
This casting rod features a clear tip that is exclusively designed to provide awesome sensitivity.
Apart from that, its blank is made from graphite for reduced weight and enhanced sensitivity. And to ensure that it's durable, its handle is wooden and quite rugged.
To top it all up, the Ugly Stik Elite boasts durable one-piece stainless steel guides that don't have inserts. The idea here, according to Shakespeare, is to create the smoothest guides for possible for low budget consumers.
What we liked About It
One thing we absolutely love about this rod is that it is light in weight. That means you can easily pack it up and take it with you anywhere you go. Plus, you can use it to cast all day long without getting your hands fatigued.
Also, the rod's action is quite fast. While that's a good thing for some styles of fishing, you might want to go for a medium action rod instead if you're into long-distance casting.
The icing on the cake is that this rod is highly sensitive. You can easily and comfortably feel the bites even ones made by little pinfish when using this fishing equipment.
What Could Have Been Better
The Ugly Tuff guides used for this rod do not feel quite as well-made and aligned as the ones used on the Abu Garcia Vengeance. The workmanship just doesn't seem perfect to us.
Pros
Fast action
Lightweight
Flexible
Cons
We don't really like the quality of the guides used
3. Berkley Cherrywood HD Casting Rod

It is true that you get what you pay for – well at least in most cases. Nevertheless, this rod does come with great features even though at a low cost.
It provides medium action that will allow you to aim at bass and other kinds of fish that weigh more or less the same. Plus we feel that this is the kind of action you need when you plan to cast over long distances on the beach.
What's more, the Cherrywood HD casting rod boasts the patented SS304 line guides which are exclusive to Berkley products. One unique thing about these guides is that they're quite tough and nearly as effective as aluminum oxide ones. Yet cheaply priced.
What we liked About It
We like that this particular rod is user-friendly and, therefore, perfect for beginners. Its manufacturer has tried to make it tough yet highly sensitive. This has been achieved through the use of a graphite-composite blank.
On top of that, the Cherrywood HD rod has a wooden cork handle. Well, that might not be as comfortable as an EVA handle but it still is good enough 99% of the time.
And to crown it all up, this gear is available both in one-piece and two-piece variants. The one-piece variety is quite ideal for saltwater fishing in particular.
What Could Have Been Better
The handle of this particular rod is quite short and we think that if the manufacturer made it longer, it would have been more comfortable to hold.
Pros
Durable
User friendly
Great sensitivity
Awesome build quality
Cons
4. Ugly Stik GX2 Casting Rod

The GX2 rod from UglyStik is renowned for its strength and durability. That's particularly because it's made from a combination of fiberglass and graphite.
Fiberglass is quite strong and durable and graphite is highly sensitive. As such, you can fully bank on this rod if you're after longevity knowing quite well that it won't fail you when it comes to detecting tiny bites.
If you are looking to catch those hard-mouthed fish that need you to really grasp and rip, this is the perfect rod for you.
What we liked About It
We are certain that you will appreciate the longevity and robustness that this rod comes with just as we do.
Unlike all the other rods we've reviewed so far, this one provides you with a combination of fiberglass and graphite.
When a blank is made of these two materials, it pretty much guarantees you of the best of both worlds. That is enhanced strength (for dealing with feisty fish) and extra sensitivity (ideal for ice fishing).
We also certainly love the 8+1 strategically distributed guides that this rod comes with. The guides are strategically placed and smooth enough to protect your line.
What Could Have Been Better
Some people find that the trigger of this rod is a bit poorly designed such that it irritates their hands. That's, however, varies from one person to another (also depends on how you hold the rod while using it).
Pros
Comfortable grip
Comes in a 1-piece or 2 -piece foldable rod
Durable
Cons
Unusually shaped trigger might irritate your hands
5. Entsport E Series – Camo Legend Casting Rod

If you spend most of your time fishing in saltwater environments, it's important to always be prepared for whatever the waters might bring. Who knows, you might end up with a huge bass or catfish.
Such fish can easily break any poorly made graphite rod. And, therefore, if you're on a budget, your best bet is to always get a rod that's fully made from carbon fiber.
The Entsport E Series is one of those. And, though not quite sensitive, it's one of the best-made rods out there in the world.
What we liked About It
We absolutely love its high-density EVA handles. Besides that, we think that its line guides are quite well done and positioned.
Moving on swiftly, this rod comes with two different tips. Yup, you read that right.
With those 2 tips, you can conveniently decide which power you need for the day. One of the tips is designed for medium-heavy power while the other is of medium power.
In a nutshell, this is like investing in 2 rods in one. How cool is that?
What Could Have Been Better
This is a 2-piece rod. And while that provides you with additional flexibility, it also means that the rod's build quality may not be as good as what you'd find in 1-piece rods.
Pros
Portable
Comes with a storage bag
Rust-resistant
Cons
6. Piscifun Torrent Baitcasting Fishing Rod

The Piscifun Torrent is a robust yet sensitive and lightweight fishing rod. It is made from enveloped stainless steel guides and branded carbon fiber material to guarantee you of a good angling experience.
In addition, the external layer of the rod is covered in molded resin that can endure high temperatures. You can, therefore, use this rod comfortably even under direct sunlight.
What we liked About It
This rod comes with padded handles for extra comfort so you never have to worry about fatigue while angling.
Also, its guides are thoughtfully designed and distributed. As such, they provide you with a smooth and even transition for enhanced consistency. And of course, that alone can provide you with better controlled especially when battling big fish.
What Could Have Been Better
We believe that this rod could be designed a little differently to achieve a better casting distance. Otherwise, this seems like a really well-made rod to us (for the price).
Pros
Durably built
Great sensitivity
Comfortable handle
Cons
Its casting distance could be improved
7. Cadence Baitcasting Rod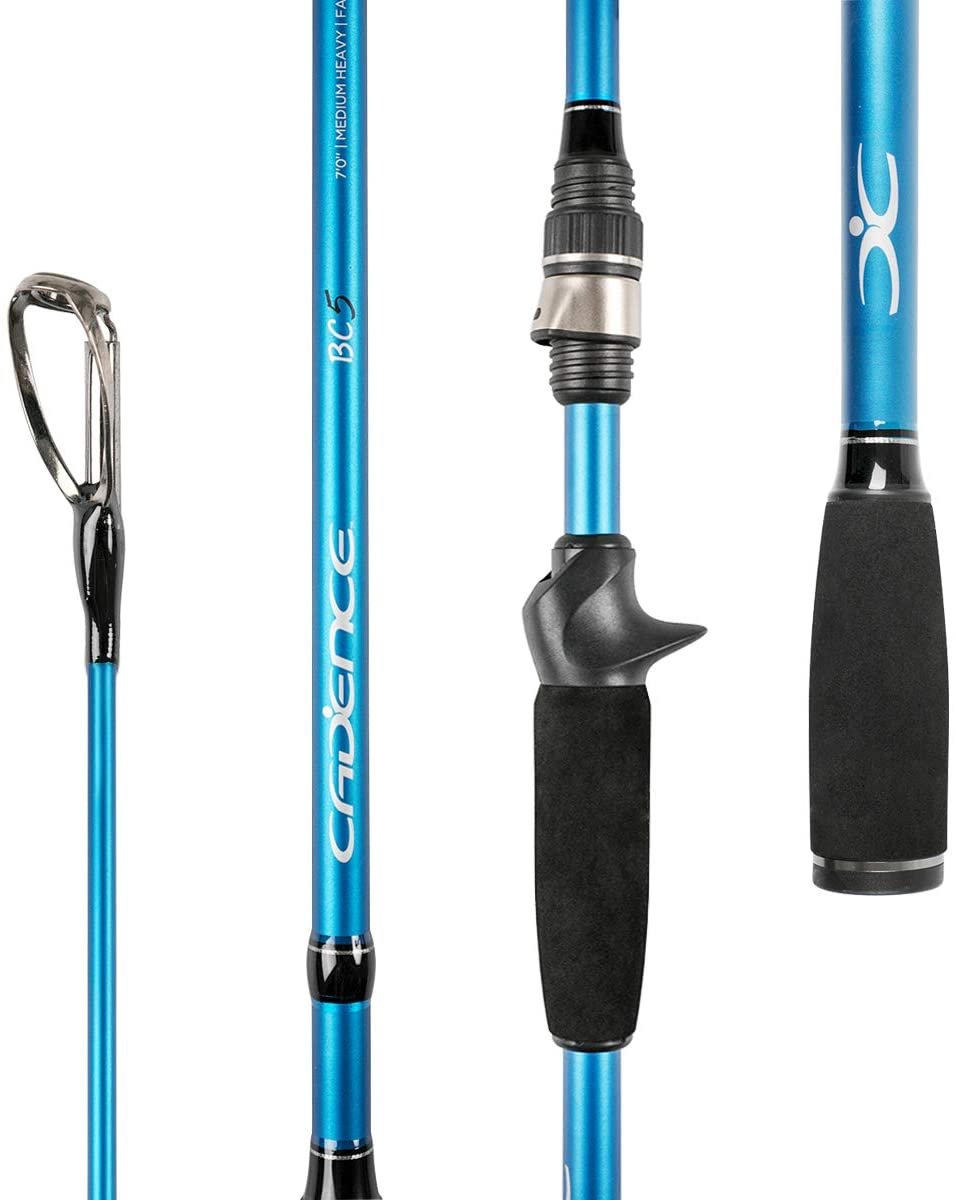 We absolutely love the fact that this rod is made from the highest-rated graphite quality for its price. You know, the strength of graphite is measured in tonnage and at 24 tons, you can bet that the Cadence Baitcasting rod is a really well-made rod.
Besides that, its guides are made of stainless steel to reduce friction and preserve your line. Also, its EVA handles provide a firm and comfortable grip that you will appreciate as well.
What we liked About It
This Cadence Baitcasting rod comes in different colors, sizes, and lengths, which make it ideal for any looking for freedom of choice.
It also comes in a 2-piece unique design that can be folded to make it more portable.
And of course, we love the quality of customer support provided by this company. It's quite top-notch and never outsourced.
What Could Have Been Better
Some people have complained about this rod being a bit stiffer than expected. For example, one person who bought a medium-action version of this rod reported that they found it stiffer than expected.
Pros
Portable
Durable
Lightweight
Cons
Might feel a little stiffer than expected
Related
Baitcasting Rod Under $200? Our Top 10 Picks
Baitcasting Reel under $50: Dead Honest Reviews
Some Fishing Rod Storage Ideas
How to pick the best Baitcasting Rod Under 50
Now that you have an idea of what products are in the market within the $50 price range, it is time to look at the features you should look out for when purchasing your rod.
They include:
Rod Material
Generally, baitcasting rods come in two materials – graphite and fiberglass. Graphite is ideal when you're looking for a lightweight and highly sensitive rod. However, it is not as hardy as fiberglass. That said, fiberglass is also not as sensitive as graphite.
Rod Power
Rod power refers to the strength of a rod. Power ratings range from heavy to ultra-light. Now, the kind of fishing you do is what will determine the amount of power you need.
For example, a light power rating is perfect for fast action and light lines. One the other hand, heavy power ratings are perfect for heavier lines.
Handle Grip and Comfort
The handle is what you will hold as you fish. Handles can be made from cork or foam and you want your handle to be as comfortable as possible so that your hands do not get tired as you fish.
Our Top Pick
In this entire list, the Abu Garcia Vengeance rod would have to be our top pick. This rod offers the best combination of first-rate materials to guarantee its longevity and efficiency.
With its comfortable EVA handle and lightweight nature, you will enjoy fishing and transporting this gear.
At its price, we feel that it provides the best value for money to quality-conscious shoppers.
Frequently Asked Questions
Below, we have addressed a few commonly asked questions about this topic that can be of help.
What are baitcasting rods used for?
First, baitcasting rods must be used in collaboration with baitcasting reels. This combination is used to cast bait out into the water.
Which is the best baitcasting rod?
There are numerous amazing products to pick from. As such, the best one for you is the one that offers all the features you desire within your budget.
Final Thoughts
Clearly, you can get a decent baitcasting rod at a bargain. We have done all the hard work for you and now all you have to do is make the right choice.
With this guide at hand, that should be easy to do.