Fishing is a great pastime activity, but not without the right equipment. Of course, we cannot talk about fishing gear without mentioning baitcasting rods.
If you are looking for affordable gear, you are in the right place because we are going to help you find the best baitcasting rod under $200. Keep it here to find out how.
Top-Rated Baitcasting Rods Under $200
We are here to make your job easy. In that regard, we have made a list of the best-rated baitcasting rods that cost no more than 200 USD.
1. KastKing Speed Demon Pro Tournament

First in our list is the Speed Demon Pro and we rank it highly mainly because of its great portability. This rod is suitable for all seasons and weather conditions.
We are sure you will appreciate the fact that this rod comes with high-end components that contribute to its longevity as well.
What we liked About It
The quality components of this rod help decrease its weight while increasing its lifting power and durability at the same time.
We love that the handle of this rod is made from cork material. Why? Because cork is able to transmit vibrations well to provide you with a greater level of sensitivity when it comes to fish bites.
That said; cork also does give this rod a finished and sophisticated appearance.
What Could Have Been Better
The manufacturer used standard graphite to make this rod and this makes the exterior not as durable. So, this gear might not last long if used to capture extremely huge breeds of fish.
Pros
Allows for different kinds of fishing
Comes in different lengths
Comfortable handle
Highly sensitive
Cons
Not hardy
2. St Croix Mojo Bass Mf Casting Rod

The St Croix casting rod was created with your needs as an angler in mind. Constructed with high-quality materials, this rod will meet and even surpass your expectations.
This rod is the perfect choice if you are looking for a decent quality rod that will not cost you an arm and a leg.
What we liked About It
This particular rod is outfitted with a cork handle. What does this mean? Well it means added comfort and enhanced grip.
Another great feature we noticed with this rod is that its line guides are made from aluminum oxide. As you know, this material is the gold-standard as far as line guide manufacture is concerned.
What Could Have Been Better
There have been complaints from customers about receiving broken products. Therefore, we feel that the manufacturer can improve on their packaging and be more careful while shipping.
Pros
Greater sensitivity
Friction-free
Lightweight
Cons
Made in Mexico (some people only trust American-made products)
3. Kastking Royale Select Fishing Rods

The Royale Select rods come with Fuji Line Guides that offer greater casting accuracy and distance while efficiently dispersing heat.
Its fishing reel seats are fabricated from robust nylon for all-day comfort and a sturdier base.
What we liked About It
KastKing Royale Select Bass rods are contest verified and created with avid anglers in mind. These rods blanks are incredibly sensitive, lightweight and ultimately provide longevity.
They come with different rod lengths and actions designed with particular fishing methods in mind to guarantee that you have access to the right rod for your kind of fishing.
The reel seats of these rods are made of durable nylon to provide a strong base for both spinning and castings reels as well as provide you with long lasting comfort.
What Could Be Better
The manufacturer needs to consider offering better customer service as there are a few complaints about that online.
Pros
Made from quality material
Lightweight
Great sensitivity
Cons
The company's customer support could be better
4. Shimano Zodias Casting Rod

Zodias aims at providing anglers with responsive and crisp rods that will be able to deliver incredible casting accuracy and distance.
The Shimano Zodias rod utilizes Hi-Power X construction that allows you to easily and effectively transfer energy through the rod.
What We Liked About It
Shimano designed this rod to provide you with an adaptable line up of actions and weight. Of course, this allows for fine-tuning of the rod for your target catch.
The rod is flexible as well to allow for adjustability and increase overall power. With its quality construction, this rod will certainly provide you as the angler with greater control.
What Could Be Better
The product is made from glass. While this provides a stylish look, some people worry about the rod being easily breakable.
Pros
Comfortable grips
Can be fine-tuned according to target catch
Lightweight
Cons
Doesn't seem rugged enough to us
5. Shimano Trevala Graphite Jigging Casting Rod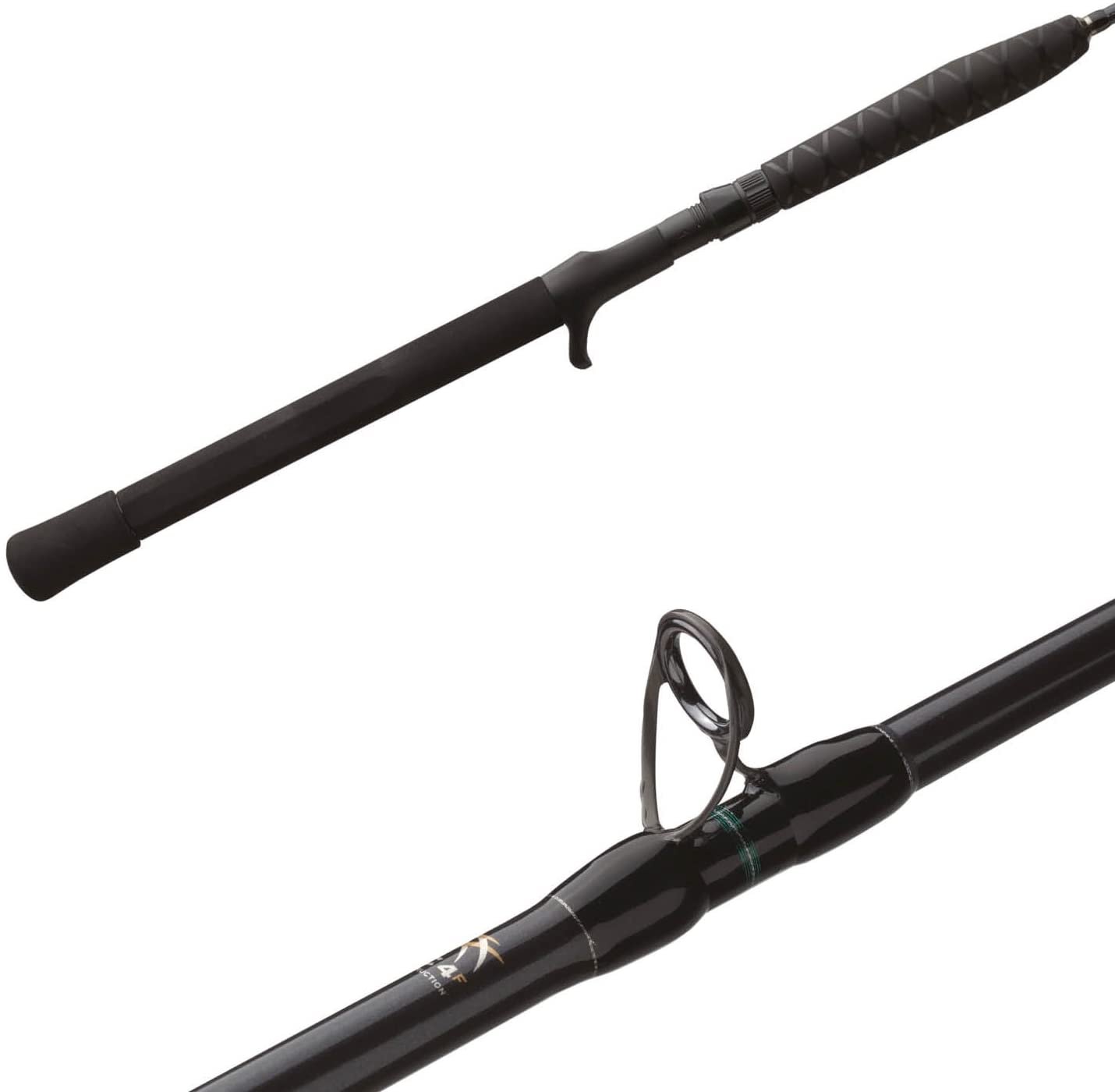 The materials used to make this rod are of great high quality. What is more, you will be able to choose between a baitcasting and spinning rod when it comes to these products.
What We Liked About It
Shimano outdid themselves with this rod that is extremely strong. Besides that, it has a great sensitivity level that you will appreciate because it increases the chances of catching more fish.
Depending on the rod size you pick, you will be able to catch fish that range from 30 to 80 Lbs.
What Could Have Been Better
The rod does come with a warranty but only if you buy directly from the manufacturer. Well, not everyone will buy from the manufacturer, but we are sure no one wants to buy a product without a warranty.
We feel that the manufacturer should provide a warranty for all their products irrespective of where you buy them.
Pros
Robust and durable
Increased sensitivity
Lightweight
Cons
Small reel seat
6. Falcon Rods HD Casting Rod

Although Falcon is relatively new to the industry, it has earned its reputation as a baitcasting rod manufacturing company.
The HD casting rod is strong and long lasting and suits beginners as well as seasoned anglers. It comes in an ergonomic design that will fit properly in your hands and we are sure you will love that.
What We Liked About It
This rod is able to withstand a lot of abuse and is therefore great for experimenting and using under harsh conditions.
It comes with an impressive backbone and easy to master action, which means you get to use the rod for years.
In fact, this rod is strong enough to be used in competitions.
What Could Have Been Better
We think that the handle of this rod is quite short and could have been a bit longer for a more comfortable grip.
Pros
User friendly
Comfortable to hold
Robust
Cons
Short handle
7. Piscifun Serpent Baitcasting Rod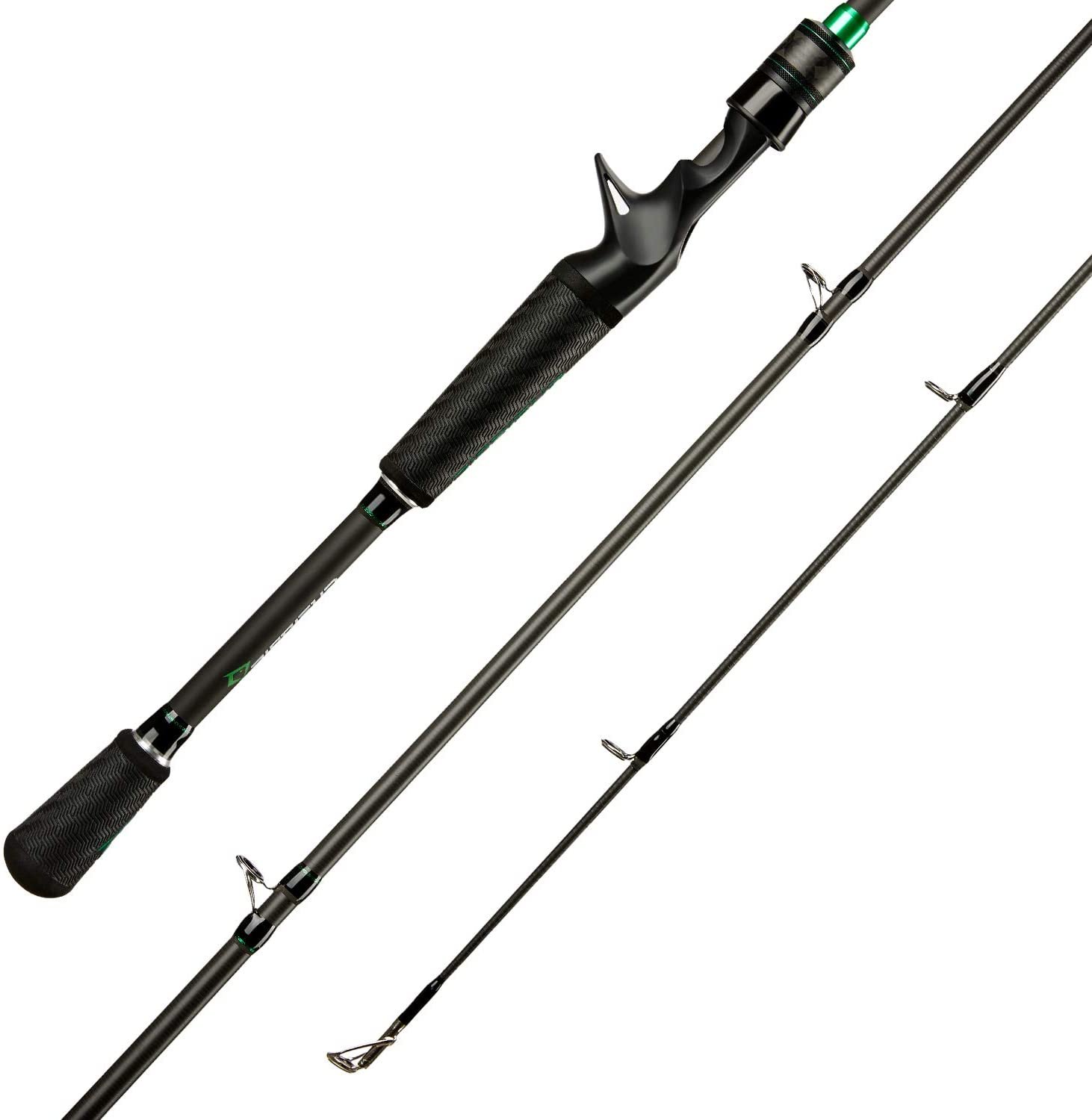 There is a never-ending debate among fishing gear manufacturers in respect to how durable and lightweight their rods are.
There exists a common misconception that lightweight rods are not as long lasting and while that may hold some water in some cases, it is definitely not the case when it comes to this particular rod.
What We Liked About It
The Serpent baitcasting rod is fabricated from IM7 carbon blank without any coating, which makes it lighter than other rods but stronger as well.
Simply put, this rod comes with greater overall performance. Moreover, the Fuji guides guarantee that the line moves devoid of friction for seamless operation.
We also like that this rod comes with anti-slip grips to ensure that the rod does not keep sliding off your hands.
What Could Have Been Better
Customers assume that, since this rod is cheap it is likely to fall apart sooner than later. We feel that the manufacturer should assure customers of the product's performance and durability.
Pros
Durable
Lightweight
Anti-line twist guide
Cons
May seem like a cheap compromise to some people
8. Abu Garcia Veracity Rod

Abu Garcia is a reputable brand that is trusted by many people for a number of reasons. The Veracity rod is competition-ready, all you have to do is slap on the correct reel, and you are good to go.
With this rod, you will be able to catch those trophy fish effortlessly and access all the action you need to feel your way through the water.
What We Liked About It
This rod comes with an EVA grip that is anti-slip and comfortable to hold and we are sure you are going to appreciate that because you do not want to have irritated and tired hands while angling.
The manufacturer of this rod created it with seasoned anglers in mind and that is why it is referred to as competition-ready.
To top it all up, this rod offers strength and sensitivity at the same time.
What Could Have Been Better
Although this rod is made with the professional angler in mind, it does lock out beginner anglers with its complexity.
The manufacturer should consider making it user friendly for everyone.
Pros
Durable
Great sensitivity
Comfortable grip
Cons
Not beginner friendly
9. Shimano Clarus 7'0 Freshwater Casting Rods

This rod offers great performance and it is actually competition ready. It offers great sensitivity, strength, and is lightweight.
We are certain that you will appreciate such features.
What we liked About It
Constructed on 30-ton graphite blanks and fixed with Fuji reel seats and guides, this rod offers an exclusive combination of responsive performance and strength.
With it quality cork handles, this rod provides you with a high level of quality. Moreover, rods from Shimano are designed for different kinds of fishing.
Therefore, whether you want a spinnerbait rod, jig, or worm rod, Clarus will not fail you.
What Could Have Been Better
The rod comes in a unified piece that does not allow for folding. The manufacturer could have made the rod foldable for easier storage and portability.
Pros
Robust
Great sensitivity
Lightweight
Cons
Not foldable as it's a one-piece rod
10. Shimano SLXC 70 MH SL Casting Rod

The SLXC offers quality performance with its useful actions all through the lineup. This rod comes with a sensitive and stylish carbon fore grip that will make your angling experience less tiresome and more enjoyable.
What We Liked About It
We love that this rod comes with a comfortable grip that will guarantee that you do not get tired in the middle of your angling session.
It also comes with enough rod power to handle those big fish that you have wanted to catch. The power is also able to resist a considerable amount of flexing and we found that to be a plus.
What Could Have Been Better
The manufacturer does not have standard packaging and this puts some products at risk of breaking while being shipped.
We think hard round tubing should do as far as packaging this rod is concerned.
Pros
Fast action
Long lasting
Versatile
Cons
Different packaging not suitable for rods
Related
Fishing Rod Storage Ideas: Our Tried & Tested Insights
Best Baitcasting Reel Under 100 Reviews & Buying Guide
Buying Guide for Baitcasting Rods Below 200 Bucks
As you search for the perfect affordable baitcasting rod, here are the factors to consider.
You want your rod grip and handles to be anti-slip and comfortable. This will ensure that the rod remains intact in your hands and does not irritate your hands.
Rod power is the level of resistance that a rod offers when flexed. Different rod powers handle different bait sizes and weights.
You want to consider the fish you intent to catch in order to determine what rod power will suit you best.
Frequently Asked Questions
Below, we have tackled a few commonly asked questions that can be of help.
How long should a baitcaster rod be?
Approximately five to eight feet.
Is a Baitcaster better than spinning reel?
Yes, it is because it allows for longer casting.
Our Top Pick
Our top pick in this entire list is the KastKing Speed Demon Pro Tournament rod. Why? We love that it is portable and suitable for all weather conditions.
The fact that it is made with high quality components that make it durable is also a plus.
Final Thoughts
By now, you can tell that there is an array of affordable baitcasting rods to choose from. Consider your budget and the features you want and you will be good to go.
With this comprehensive guide at hand, you should be able to make the right choice so go ahead and do it!