If you ask any experienced fisherman for advice on how you can have smooth fishing experience, the response is likely to be a simple one; have the right tool for the job.
One of these items include an appropriate baitcasting reel, and you need one that offers you the necessary control and precision to pull the fish out of the water effortlessly.
Luckily for you, you do not have to dig too deep into your pockets to get the perfect baitcasting reel as there are affordable options available.
In this article, we are going to guide you on how you could get the best baitcasting reel under $50.
Top Baitcasting Reel for Less Than $50 [Buying Guide]
What factors do I need to consider as I shop for the high-quality and affordable baitcasting reel? We have answered this question below in detail.
The Gear Ratio
This factor determines the reel's rate of line retrieval as well as the device's effectiveness in dealing with the heavy and larger fish species. Go for ratio range of 5:1 to 6.5:1 if you're a newbie. That's the medium-sized stuff that's easy for everyone to use.
Bearings
For a smoother and more accurate casting and retrieval, a baitcasting reel with more bearings would be appropriate. Further, consider the quality of the bearings such as rust-resistance and this is where we recommend stainless steel bearings.
The Drag Capacity
The drag pressure is crucial in preventing your catch from escaping while using minimum effort. It should also have some adjustability so that you could set the required preciseness and control.
The Braking System
In this case, you have two options to choose from, and those are magnetic and centrifugal systems. For the novices, the magnetic system would be most appropriate while the pros could do with the centrifugal type.
The Fanciest Baitcasting Reels under 50: A Guide
If you take your time and check out the following models of affordable baitcasting reels that we have analyzed, you would have saved time and energy required to conduct another wholesome research.
1. KastKing Royale Legend Low Profile
For a smooth and quiet operation, the KastKing Royale is your perfect affordable baitcasting reel. We could attribute this smoothness and silence to the 11 bearings which contribute to a spectacular performance.
And for your comfort, this fishing reel has a low profile design. On top of that is the moisture-wicking handle that keeps you in control, especially when the reel gets wet.
There is also the maximum drag of 17lb that gives you an easy time in dealing with the heavier fish species.
Pros
Smooth and quiet operation
Impressive maximum drag
Braking system puts you in full control
Cons
2. Piscifun Torrent Reel with Carbon Fiber Drag

Just because you are on a budget does not mean that you cannot find a high-quality baitcasting reel. An excellent example of such an item is the Piscifun torrent which is packed with a host of impressive features.
For instance, the 7.1: 1 gear ratio gives the reel versatility as it allows for faster fishing as well as getting the catch from their covers.
It is also quite durable with the Japanese Hami cut 3604 brass gears that can withstand different climatic conditions.
Also worth mentioning is the 18lb drag that enables you to deal with the heavier fish efficiently. To add to this feature is the extended aluminum handle for enhancing the drag.
We also liked the one-of-a-kind oil hole on the side plate for easy lubrication of the reel.
Pros
Powerful drag
Easy to maintain
Durable
Cons
The handle is not that comfortable
3. KastKing Spartacus Corrosion-Resistant 6.3:1 Reel
There are several reasons why the KastKing Spartacus would be such a reasonable investment. To start with, it is a versatile reel that is suited for both fresh and salty water.
Then, it is relatively lightweight at 7.2oz to minimize arm fatigue, especially when you fish for long durations.
When you look at the 11+1 corrosion-resistant ball-bearings and the 6.3:1 gear ratio (brass gears), you can expect a smooth and accurate casting experience.
We also liked the centrifugal and magnetic dual brake system that gives you full control over the line and gives you an easy time pulling the fish out of the water.
Lastly, the handle knobs are comfortable to hold for long durations.
Pros
Powerful
Smooth operation
Comfortable handle knobs
Cons
4. Cadence CB5 20lb Drag Reels

Another high-quality baitcasting reel that you may consider acquiring is the Cadence CB5, and we shall tell you why. First, the handle and knobs are designed to be extremely comfortable and not to wear you down easily.
Then, there is the 6.6:1 gear ratio for a smooth and fast line retrieval process. On top of that are the seven stainless steel ball bearings and one anti-reverse bearing for a super low torque ball bearing system which minimizes the energy you use in the casting operation.
Lastly is the carbon fiber drag system with a 20lb drag which is handy for dealing with the heavier fish species.
Pros
Comes with a 90-day risk-free trial
Built to last
Lightweight
Cons
5. Abu Garcia Silver Max Low Profile

Are you a beginner who is new to baitcasting reels? Well, the Abu Garcia low profile reel would be the perfect choice for you.
First, you are likely to experience smooth operation of this reel, and we could attribute this to the five stainless steel ball bearings plus one roller bearing.
We are also going to touch on the machined aluminum spool that gives the reel more strength while maintaining its lightweight nature.
Let's not leave out the Madtrax brake system that provides the consistency of the brake pressure that is required all through the casting.
Pros
Well-made
Sturdy and lightweight
Smooth operation
Cons
Only for right-handed use
6. Noeby Low Profile Leisure

For those looking for a lightweight option, the Noeby low profile reel could be what you need, although it is not very effective for dealing with the heavier and aggressive fish. Other than that, there are several features in this reel that are likely to impress you.
Let start with the 11 bearings for a smooth operation and also that they (bearings) are made of brass to make them wear-resistant and durable.
We are also going to mention the magnetic braking system that minimizes backlash as well as incidences of birds nesting on your line, which tend to ruin your fishing experience.
Lastly, it comes with a one-year warranty for your peace of mind.
Pros
Lightweight
Well-built
Smooth and silent operation
Cons
The drag could have been more
7. Shakespeare Agility Caster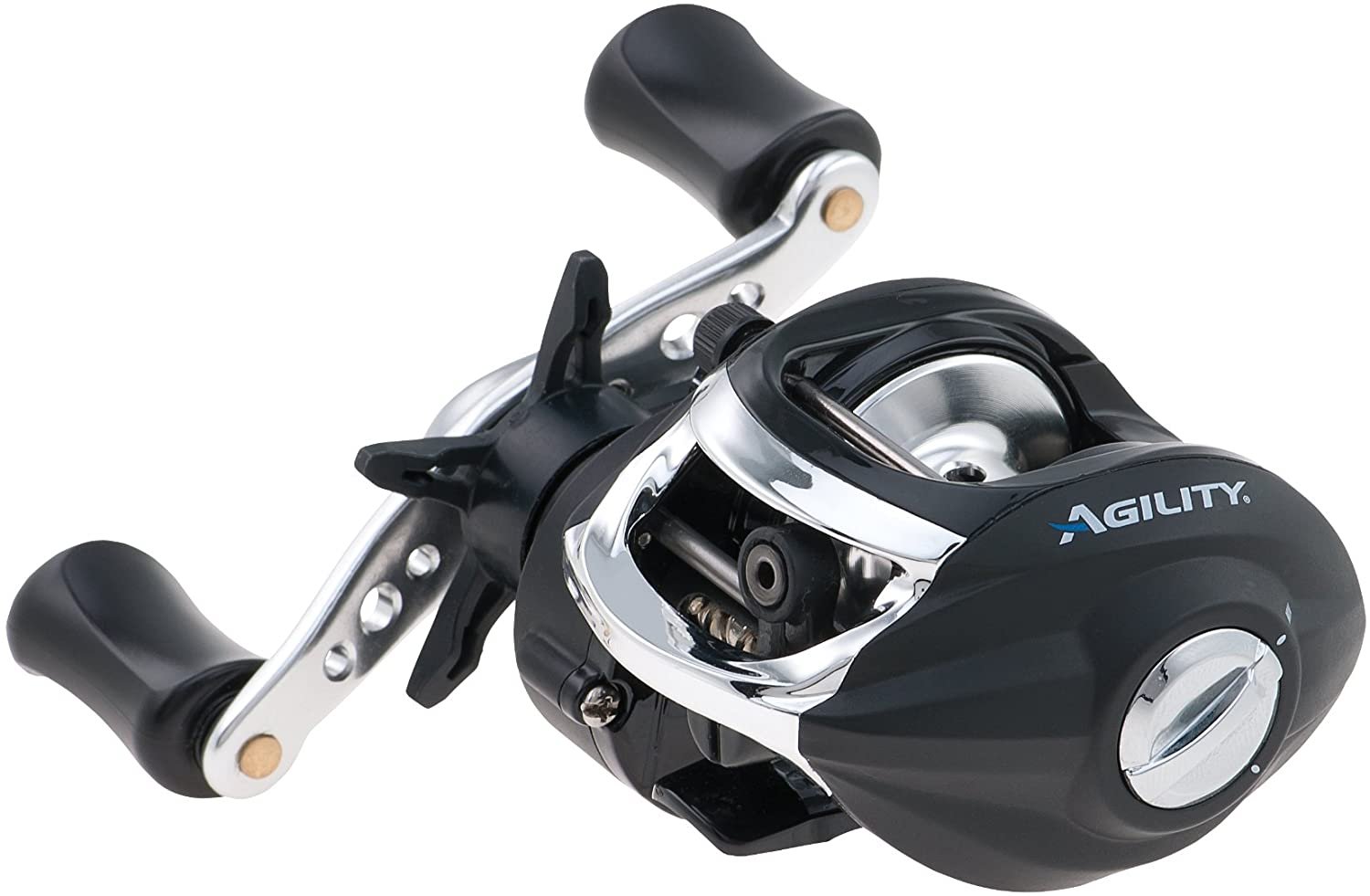 This is a budget-friendly option with brass gears that should last for the foreseeable future. It also has relative stability and strength courtesy of the machined aluminum ported spool.
The adjustable magnetic cast control is also a feature that many users find useful in this reel.
However, since it has only three bearings, the Shakespeare fishing reel may not be as smooth and quiet as you would have liked plus is not effective for dealing with aggressive fish.
Pros
Affordable
Long-lasting brass gears
Has relative stability and accuracy
Cons
8. Soolf Baitcasting 17.5lb Unit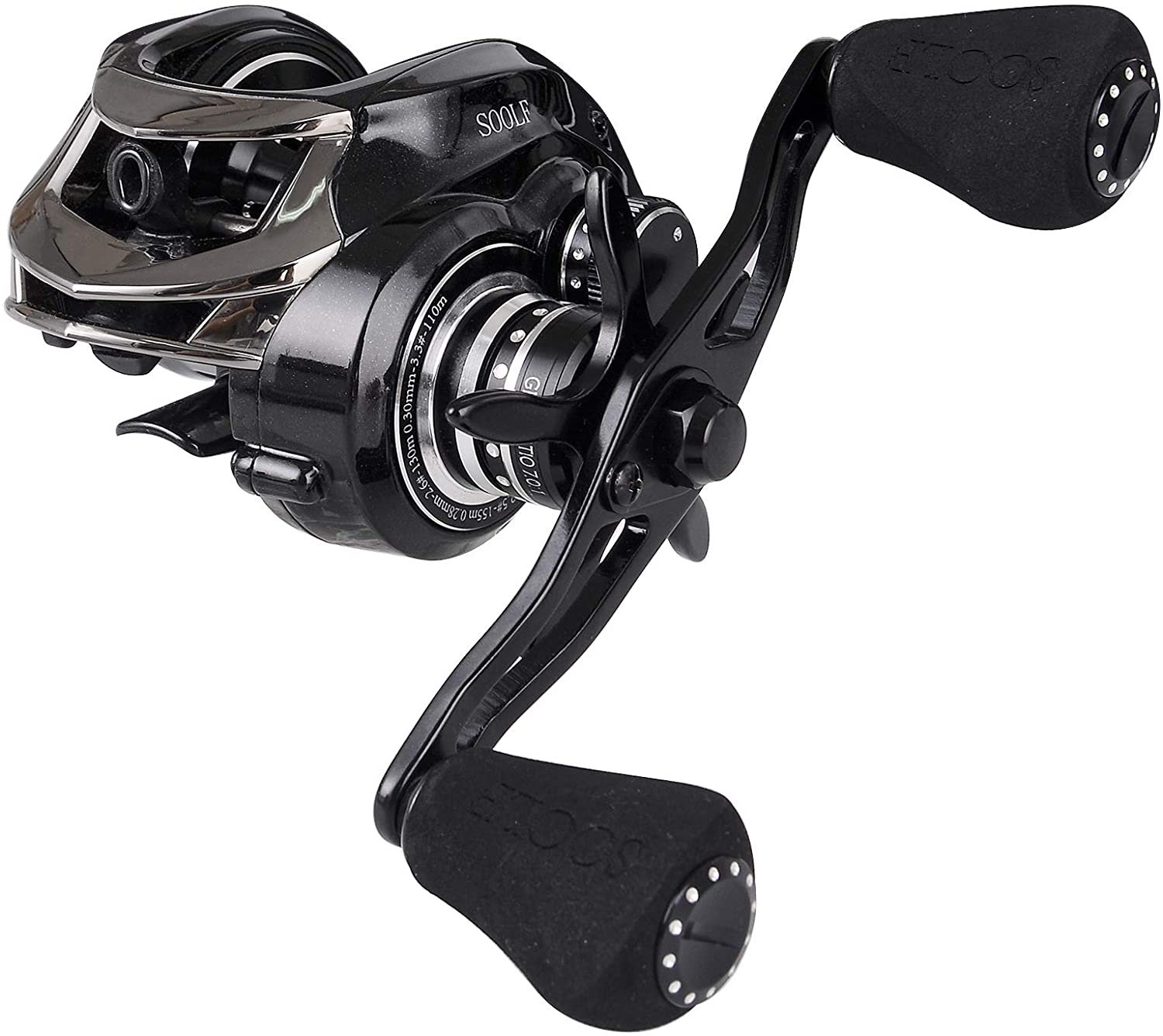 The Soolf fishing reel may be the last one on the list but is not as inferior as you may think it is. For starters, it has a one-piece graphite body to make it durable, lightweight and corrosion-resistant
Then, besides being suited for both fresh and salty water, the Soolf baitcasting reel is quite powerful with a maximum drag of up to 17.5lbs.
We liked the 7.0:1 gear ratio for silent fishing and a quick retrieval process.
Let's also touch on the 25-point adjustable magnetic brake system that gives the reel smoothness and accuracy in its casting.
Lastly is the EVA grip handle for a comfortable fishing experience.
Pros
Lightweight and durable
Ultra-smooth performance
Great casting distance
Cons
It can be hard to use by beginners
Our Top Pick
The item that we felt stood out from the rest during the research is the KastKing Royale Legend Baitcasting Fishing Reel. Its impressive combination of features ensures that it does not disappoint whenever its services are needed.
Wrapping It Up
Now that you have known more about the best affordable baitcasting reel that costs below $50, it's time to find one that meets your expectations. After all, what would be the use of acquiring a product that would only end up stressing you more?
Related Articles
Best Baitcasting Reel Under 100 Reviews & Buying Guide
How to Oil a Fishing Reel – Step-By-Step Breakdown