Are you tired of using the traditional spinning reels because of their endless inefficiency and would like to exercise more control over your bait? Then it isn't late to try your catch on baitcaster reels. You will be amazed by the results!
Baitcasting reels allow you to pinpoint the place of your lure, are easy to use, and deliver more power even when reeling-in hard on fish.
This guide has just summarized for you the elements of some of the best baitcasting reel under 200.
Top Quality Baitcasting Reels: Our Analysis
There are many reels on the market. This makes it difficult for you to decide on the one that suits your fishing needs. But don't worry as this write-up is meant to help you out.
What to look for in a Good Reel
Planning to get a new baitcasting reel? Here's a detailed guide on what to consider.
A good frame should be made from a lightweight, rust-free, and durable metal. For example, most baitcaster reel frames are made with aluminum or a composite of 2 or 3 metals for added strength.
Ball bearings should be durable and resistant to corrosion. A reel with more bearings will cast and retrieve a fishing line more smoothly than that with less.
While a larger or longer handle delivers more power for getting out bigger fish, most compact reels have shorter handles and are great for the lighter fish species.
How the handle is placed (left-hand or right-hand oriented) will determine how you will cast or retrieve your fishing line.
An efficient tension and braking system ensure proper casting of the line, especially in windy conditions when the spool spins faster as compared to the bait.
Small spools are convenient for short fishing line applications, while larger spools are suitable for stiffer lines as they enable easy management of the coils.
A gear ratio refers to the number of turns the spool makes in each handle revolution. Most baitcasting reels have gear ratios of 6.4:1, 5.3:1, and 7.1:1.
Nonetheless, reels with lower gear ratios of below 5:2:1 are essential for fishing baits that pull hard or heavy but slow-rolling spinnerbaits.
Detailed Analyses of Good Baitcasting Reels from Below $200
Due to the high efficiency of baitcasting reels, you will find out that they don't come cheap. Luckily, we've summarized for you the best 9 efficient baitcaster reels priced under 200 dollars.
1. Lew's MB Fishing Tournament Baitcast Reel

This MB Baitcast reel still upholds the tradition of Lew's reels of long-lasting efficiency. The reel weighs only 6.7 Oz and uses a 10 ball-bearing system that works in combination with a clutch bearing with zero-reverse.
This reel is housed in a single piece frame of die-cast aluminum for increased durability. Other key features include the Zirconia line guide, multi-setting brake system (MSB), and an external lube port.
The reel has a maximum drag of 14 lb, a high capacity spool, and features an ergonomically designed handle with custom paddle knobs.
Pros
*Removable graphite side plate
*Durable frame
*High-speed retrieval rate
*Lightweight and easy to use
Cons
*Expensively priced
*Requires to be configured before use
2. SHIMANO Citica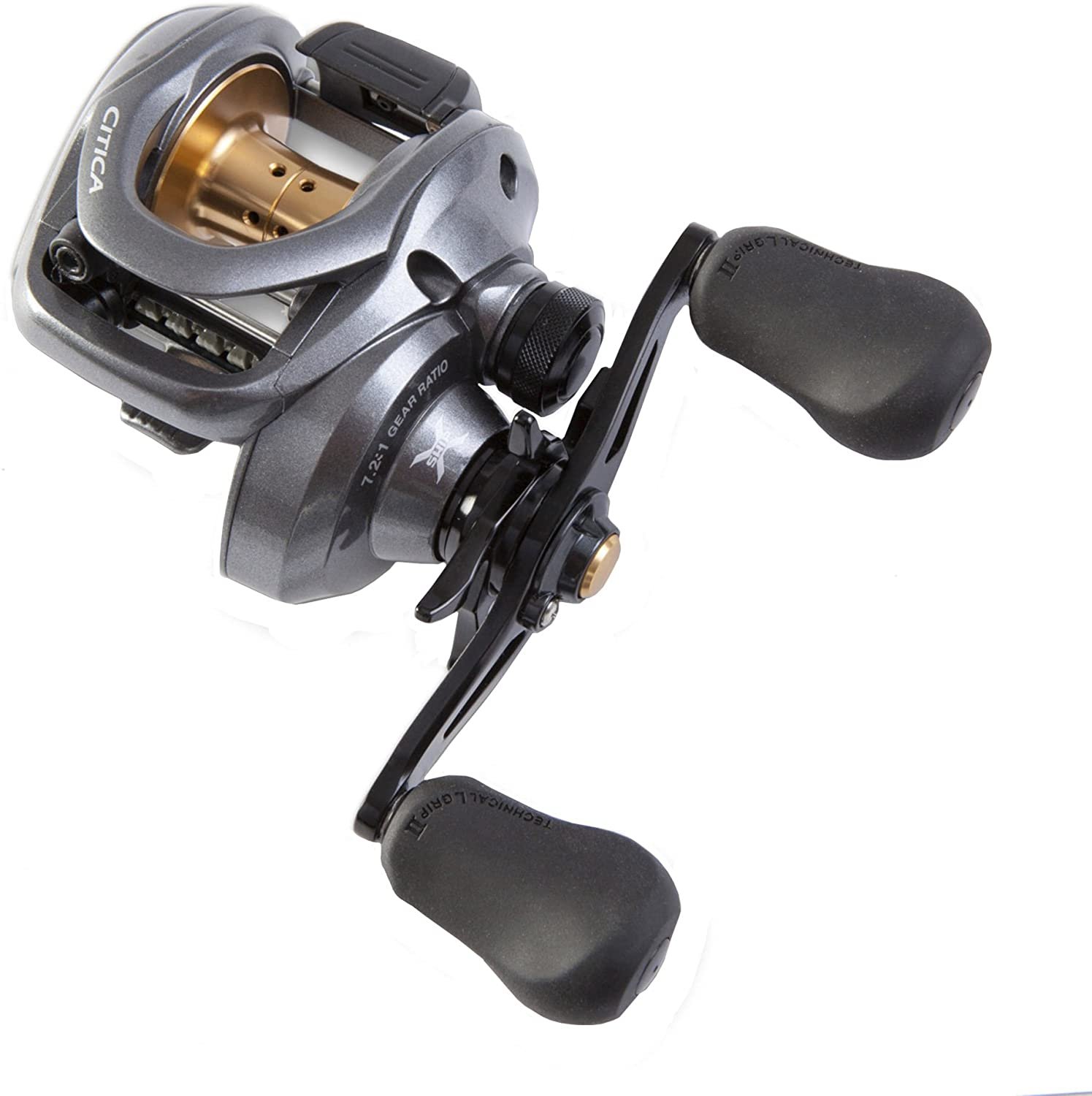 This Citica baitcasting reel helps you to gain enough casting distance by combining the SVS braking system with the S3D pool.
The reel features an aluminum construction to help minimize vibration while its design helps you to interchange lures and weights.
Lastly, this Citica reel is available in the gear ratio of 6.3:1 or 7.2:1 in either left hand or hand options for more versatility.
Pros
*Solidly built
*Lightweight
*Leaves room for rapid changes
*Smooth line release and retrieval
Cons
*Requires frequent cleaning and oiling
3. Abu Garcia SX Low Profile Revo Fishing Reel

The REVO SX reel is obtainable in 2 gear ratios; 6.6:1 great for general fishing applications or 7.3:1 for faster line and bait retrieval.
Furthermore, this 11.2 ounces reel features a powerful carbon matrix dragging system that can sustain 24 pounds of fishing line.
The included roller bearing with the 9 ball bearings made from strong stainless steel ensures smooth operation.
Summing up, the C6 carbon-made side plates help in efficient weight reduction with no compromise on the strength or durability.
Pros
*Has an Anti-reverse feature
*Prolonged gear life
*Smooth line feeding
*Well-made
Cons
*Quite challenging to use
4. Daiwa Tatula Type-R CT Baitcast Fishing Reel

Unlike the heavier older Daiwa Tatula reels, this CT Type-R reel is lighter for efficient handling.
The reel boasts of high-quality features that include the Magforce Z Cast Control, TWS T-wing system, and an 8-bearing system.
All these systems combine to deliver refined performance in reducing friction between fishing lines for total cast control.
Pros
*Durable aluminum side plate and frame
*Rust-free clutch mechanism
*Weighs only 7.2 ounces
*Powerful dragging system
Cons
*Very expensive
*Not great for beginners
5. KastKing Royale Legend Elite Series Baitcasting Reels

These brand new Elite Baitcasting reels from KastKing are great for fishing tournaments since they are believed to deliver more performance withstanding their low profile.
Each baitcasting reel features a compact frame with a swing-wing cover on the side for easy release.
What's more, all the gear ratios are color-coded for easy identification. The other components include; a 17.6 lbs carbon dragging power and 5 magnetic brakes with 10 points of adjustment for the prevention of backlash.
Pros
*Very reliable
*Elegant design
*Efficient carbon drag washers
*Durable aluminum handle and spool
Cons
*Not great for larger fish species
6. SHIMANO SLX Baitcasting Reels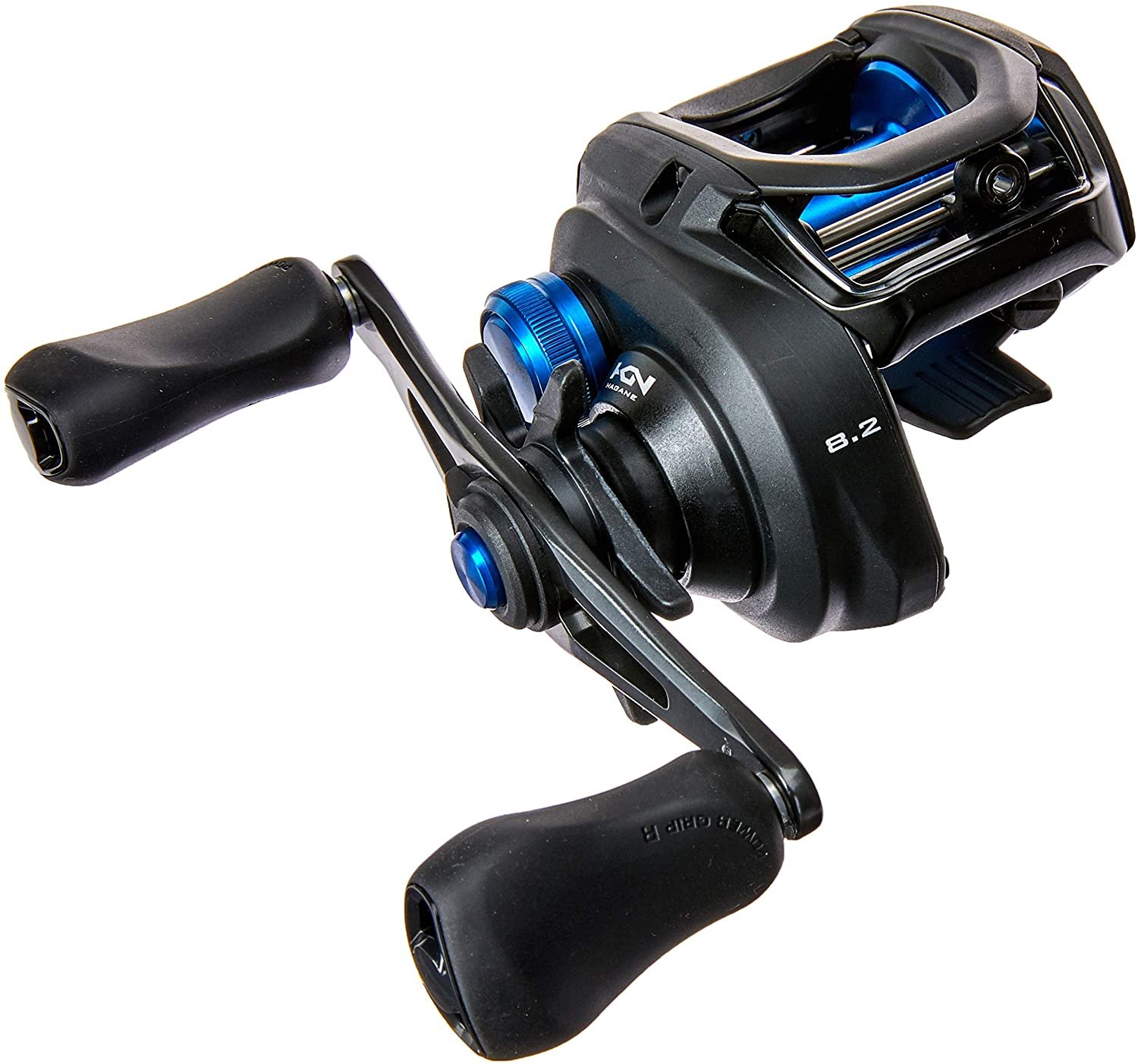 Are you planning to try out some bass fishing techniques like deep crankin', froggin', or flippin'? Then this SHIMANO SLX reel with 4 bearing systems plus a 1 reverse bearing with an additional 12 lbs drag for smooth running won't disappoint.
Backlashes are easily eliminated by the reel's Variable Brake Adjustment System (VBS).
Amazingly, the7 ounces lightweight HAGANE metal body won't warp up because of its strong impact resistance.
To conclude, the reel can be obtained either as left or right-handed and in multiple gear ratios; 7.2:1, 6.3:1, or 8.2:1.
Pros
*Easy access side plate
*6 pins for efficient VBS adjustment
*Beautiful black finish
*Available in multiple gear ratios
Cons
*The handle might get stiff if not properly maintained
7. Abu Garcia X Low Profile Revo Baitcasting Reel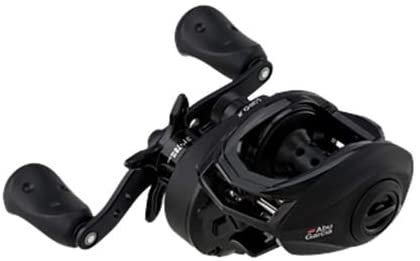 This Revo4 X has a wide spool for high-speed line feeding, while its D2 gear design is durable and more efficient in salty or freshwater environments.
Also, this 8 ounces baitcasting reel has a Hybrid carbon matrix drag system for reliable dragging and a sturdy X2-Crafitic alloy frame.
Lastly, most fishermen prefer this reel over the others thanks to its non-wavering performance.
Pros
*Efficient D2 gear system
*Accurate casting prowess
*Lightweight
*Drags smoothly
Cons
*Lower dragging power than the Revo4 Sx-hs model
*Poor handle system
8. KastKing Spartacus Ultra Smooth Baitcasting Fishing Reel

This reel comes as a development to the KastKing Royale Baitcasting reel by featuring magnetic and centrifugal dual brakes that are great for fishing tournaments.
The reel has a carbon drag with 17.6 lbs of torque and a fantastic gear ratio of 6:3:1 which makes it a handy tool for your fishing arsenal.
Other outstanding features include the durable graphite construction, 11+1 rust-free ball bearings, and the removable side covers.
Pros
*Super-efficient brake system
*Well-machined brass gear
*Available in both right and left-hand models
*Corrosion free elements
Cons
*Not beginner-friendly
9. Lew's LFS Speed Spool Baitcasting Reels

Here comes another top-quality baitcasting reel from Lew's with a gear ratio of 5.6:1. Although this version is only right-hand operated, left or right-hand options are available in the gear ratios of 7.5:1 and 6.8:1.
The frame of this 10.4 ounces reel is made from one-piece aluminum to keep all the inner parts in place.
Notably, the reel boasts of a stainless steel 10-piece double-shielded bearing system and has an efficient Rulon drag system that generates up to 10 lbs of power.
Pros
*Equipped with a sturdy 34mm anodized aluminum speed spool
*Adjustable Magnetic Control System
*Easily removable side plate
*Smooth operation
*Has solid brass gears
Cons
*Not great for use in saltwater areas
*Quite noisy
Related
Baitcasting Rod Under $200? Our Top 10 Picks
Ice Fishing Fishfinders in 2020 [with Buying Guide]
Kayak Trolling Motor Reviews with Buyer's Guide
Frequently Asked Questions
Still got questions on this kind of fishing gear? Let's now get to the questions you might be having.
Which is the best gear ratio?
All gear ratios are excellent but can be chosen depending on the type of fish you intend to use the reel on. Also, the speed at which you want to cast and retrieve matters.
Should I choose the left or right-handed baitcaster reel?
It all depends on what works best for you. If you're left-handed then it makes sense to go for a left-handed reel and vice versa is true.
Which One Is The Best?
The Lew's MB Fishing Tournament Baitcast Reel is our best pick. This is because it has a 10-pin ball bearing system, a sturdy single-piece aluminum frame, a high-capacity spool, and an ergonomic handle design.
Conclusion
A baitcasting reel's gear ratio, spool size, handle design, braking system, and general construction are the main features that determine its efficiency.
However, the baitcasting reel's hand orientation and ability to operate in either fresh or saltwater can't be overlooked.
So, be sure to pick just the right gear based on your preferences. All the best!