If you're yet to start using baitcaster reels you're missing out on a lot of fun.
These conventional reels provide you with lots more control over your cast.
Plus, thanks to their unique designs, they are perfectly suited for targeting big and strong fish species.
But even with that said, reels of this nature don't come cheap. That's why recommend narrowing down your search to the best baitcasting reel under 100 family.
At that budget range, you'll have the opportunity to sample out some of the best-made options available out there currently. We're talking about reels with:
Powerful drag
Accurate braking systems
A healthy distribution of bearings
Durably constructed to withstand saltwater
But as you can imagine, it's never easy to make a choice in a world full of options and extremely sweet sales copies. So, we decided to make things easier for you by sharing our two cents on baitcaster.
Best Baitcasting Reel Under 100 Reviews
Below is a compilation of 10 reels that we independently carried out research on.
Some of them are really good. Quite a few of them are just above average.
Fortunately, we're here to help you separate the wheat from the chaff. Read on.
Related
---
1. KastKing Royale Legend Low Profile Baitcasting Fishing Reel

When you head out to fish, you need to bank on a reel that can handle anything you throw at it. And that's precisely why we like the KastKing Royale.
It boasts a nice, low profile design plus it operates quietly enabling you to take your target fish by surprise.
The Royale is tough built and seems strong enough to handle feisty fish. Therefore, if you're looking for a tool that you can count on when it comes to targeting those saltwater monsters, this might just be it.
Key Features
When it comes to precision, this fishing equipment has it right. With its Brass-gears and a powerful drag system made of carbon fiber, the Royale provides a blend of high performance and low maintenance cost.
For added convenience, this reel packs some shielded ball bearings that are corrosion-resistant. As such, they provide you with a smooth casting and retrieval experience. Needless to say, such smoothness can help your line to last longer.
And that's not all – the reel comes with a well-built aluminum spool which is easy to maintain and light in weight.
You also get a nicely made dual braking system. As such, this system gives you good control over your casting experience. As you know, it's always important to be in control of everything that happens to your line as you cast.
When you're in control, you're able to focus better and make the most of your day on the waters.
So, this is something we think is really well-made. It might not be perfect but it does what it's supposed to do – and that's what truly matters.
Pros
State -of-the-art design
Dual braking system
Silent brass gears
Smooth ball bearings
Easy to fine-tune
Lightweight
Cons
May have backlash from time to time (though rarely)
---
2. Piscifun Torrent Baitcasting Reel

Looking for the best baitcasting reel over 100? The Piscifun Torrent Baitcasting Reel is another excellent fishing reel in the fishing industry.
It is a saltwater baitcasting reel which is light in weight plus it's designed with versatility in mind.
Apart from its light-weight, it comes with a handy dual-braking system. Indeed, this system brings together centrifugal braking along with magnetic braking. As you can imagine, this gives you loads of control over your casts.
Not to mention, this bait caster is easy to fine-tune. You can use a wide variety of baits with it plus its casting distance is way above average.
For the adventurous anglers in the house, the fact that this reel comes with corrosion-resistant gears is a big plus.
And that's of course alongside the fact that the Piscifun packs a 7.1:1 gear ratio.
Now, the 7.1:1 gear ratio might be too fast for you if you're a beginner. But if you've got some experience in baitcasting, you'll be sure to enjoy every bit of the extra speed.
And of course, the spool runs quietly making it just perfect for hunting elusive fish species.
Key Features
One of the key highlights of this reel is that it packs 17 pounds worth of drag power. Such a powerful drag system makes you ready for almost any kind of fish in the American waters.
Other than that, the reel has a thumb bar that gives you more control over your casts.
Also, the shaft gear and the main gear use a high-quality anodized aluminum alloy meant to maximize performance.
The reel further comes with a unique side-plate oil port that is handy for long-term maintenance.
As you know, it's never easy to oil a fishing reel but this unit from Piscifun makes the whole experience a lot easier.
We could go on and on but we think our point has been made. This is a good reel for the money although it might not be the easiest to use if you're a beginner.
Pros
Durably constructed
Shielded bearing
Has a steady-speed retrieval
Has high efficiency
Easy to maintain
A perfect pick even for beginners
It has a double-line winding shaft for performance and stability.
Perfect for both fresh and saltwater fishing
Cons
Steep learning curve
---
3. Abu Garcia Black Max Low Profile Baitcasting Fishing Reel

Having an efficient, robust, and durable fishing tool can be motivating. It can also stimulate high confidence when you get your foot into the waters for a fishing expedition.
Perhaps, this is what makes the Abu Garcia one of the leading reels on the market currently.
The reel is built to last and we also happen to think it looks good. Of course, that's a subjective opinion.
Its body is made up of graphite. As you know, graphite is a long-lasting, non-corrosive material that's also light in weight.
The reel's spool is made of anodized aluminum. That's a really good material as besides being non-corrosive it moves quite smoothly and efficiently thereby protecting your fishing line.
Of course, a smooth spool also improves your casting experience and makes it possible to spend long days in the water without getting overly tired.
Key Features
A smooth spool, durable body, and awesome handles are some of the promising features of this baitcasting reel.
On top of that, the Abu Garcia measures 7 x 5 x 3 inches and weighs a paltry 8.8 ounces. So, it's quite light in weight and compact.
But don't let its lightweight feel fool you. Its frame is quite well made and capable of surviving a few years of abuse.
When it comes to functionality, this puppy boasts brass-made gears which give it an extra boost of strength and reliability in saltwater conditions.
Those gears work together with its powerful braking system to provide you with lots more confidence and of course a better fighting chance.
And to top it all up, you get an ergonomically designed handle with a great grip. So, you can hold and operate the reel for long hours without even noticing it.
Pros
Durably constructed
Designed with a powerful braking system
Ergonomic handle for comfortable grip & effective control
Has a power disk drag technology
Efficient gear ratio
Cons
Produces some noise
Complex for beginners
---
4. KastKing Speed Demon 9.3:1 Baitcasting Fishing Reel

The KastKing Speed Demon baitcasting reel is one of the fastest baitcasting reels that you can find out there.
As the name suggests, this bait cast reel has an exceptional gear conversion ratio of 9.3:1 with brass matched gear.
With that in mind, this "speed demon" is skillfully designed to provide the highest efficiency for freshwater bass fishing, ice fishing, and trout fishing.
Not to mention, this speedy baitcasting reel features 12 + 1 highly-shielded ball bearings for effortless casts and quick retrieval.
Also, this KastKing-made product is made with a high-quality 3-disc drag system. This provides it with 13.2lbs of drag which is usually enough to handle big and aggressive fish species.
On top of that, this reel comes with a drilled aluminum spool which comes in handy at eliminating backlashing. This is important when casting during windy days.
Looking for extra braking power? This reel boasts an impeccable, tournament-ready trilateral magnetic braking system.
This provides you with more control while in action.
Key Features
At 9.3:1 gear ratio this is an incredibly fast fishing reel that you can count on if you're an experienced baitcaster.
But if you're a newcomer, you might want to start with a smaller gear ratio so you can build your confidence and accuracy.
Yet another key feature of the Speed Demon is that it has a drag system of 13.2lbs. That might not be the most powerful option we have seen so far but it's just enough to tame some saltwater monsters.
Not to mention, this product has 12+1 maximally-shielded smooth bearings that are necessary for a smooth cast and quick retrieval.
And if you're looking for a reel that you can use all day long e.g. when in deep-sea fishing, the fact that the "Demon's" handle comes with an EVA knob makes it a great choice.
Pros
Revolutionary design
Easy to handle
Smooth
Effective braking system
Durably constructed
It has exceptional speed
Incredible drag power
Cons
Tension knob may not last long
Also Read
How to Store Your Fishing Reels
---
5. Cadence CB5 Baitcasting Reels

This is one of the reels that we'd recommend for beginners. Why so? Because it packs a 6.6:1 gear ratio which is neither too fast nor too slow.
In terms of construction, the CB5 is quite solid yet light in weight. We solely attribute that to the fact that it is made from aviation-grade aluminum combined with carbon fiber. Both materials are known to be light in weight and ideal for saltwater bodies.
Other than that, the CB5 boasts a powerful drag system that packs a whopping 20 pounds of drag power. That's the highest drag power we have encountered in this review so far.
As if that's not enough, the Cadence's low tongue and smooth reel make it a great choice when you want to fish stealthily.
Key Features
The first thing we really like about this reel is that it is built with comfort in mind. Its frame and sideplates, for instance, are made of graphite which is light in weight and also durable.
Its gear lines are also creatively built with the goal of reducing friction and minimizing hand fatigue. In general, this unit functions quite well when smoothness and all-day performance are top priorities.
The second thing we love about the Cadence reel is that its main and pinion gears are made from hard brass. This makes it durable and greatly reduces resistance which typically increases over time in gears that corrode.
The ball bearings of this baitcasting reel are also worth writing home about. Indeed, the unit provides you with 7 double-shielded stainless steel ball bearings along with 1 anti-reverse bearing.
This entire arrangement makes it easier for you to turn the handle even when you're retrieving a heavy load.
We generally think that this is a really good reel only that it's underrated. That said we came across complaints from users who claimed that it started producing noise after several years. So, it's not infallible after all!
Fortunately, the company behind it has done a really good thing by backing it up with a 90-day money-back guarantee.
With that, you're at least assured of getting your money's worth just in case they ship one with a noisy spool to you. Plus the system comes with a 1-year warranty.
Pros
Light in weight
Affordably priced
Comes with a 1-year warranty
90 days risk-free use
Durably constructed
Palm-friendly design
Cons
Some complain that the reel gets noisy over time
Slower gear ratio compared to others reviewed so far
---
6. KastKing Spartacus Maximus Metal Baitcasting Reels

Looking for the best bait cast reel to battle it out with the big one? We've got you. The KastKing Spartacus Maximus is a powerful reel that you can bank on; any day.
For starters, it boasts a powerful drag of 25lb which is just powerful enough to help you face bigger and tougher fish. In fact, the 25lb drag is the most powerful one we've encountered in this list so far.
Besides that, the Spartacus is made from high-grade materials. For instance, it boasts stainless steel bearings that remain functional whether used in fresh or saltwater conditions.
Its frame is made from high-quality aluminum which makes it light in weight, non-corrosive and affordable.
We'd also like to note that the Maximus packs a 6.3:1 gear ratio which is just enough for beginner fishing.
And to top it all up, you get a 6-level adjustment centrifugal braking system complete with casting controls that help to prevent backlashes during windy days.
Key Features
One of the most adorable features of this reel has to be its robust construction.
The reel has a good looking low-profile design and yet packs some large-flat paddle EVA knobs.
The knobs are plushy, non-slip and ideal for all-day use.
Generally, its spool operates smoothly unless when used in the sand for too long. In such cases, regular maintenance such as opening and oiling the reel's interior parts can be of help.
In our view, this reel is designed with beginners in mind. It is fast but not too fast. What's more? It is powerful and has got lots of braking power plus drag.
On the flip side, though, it might be a little too slow for experienced anglers. For that, you'd need to go for a reel with a higher gear ratio.
Pros
Has multiple-lines casting capacity
Highly durable
Comfortable to handle and work with for a longer time
High levels of drag suitable for bigger fish
Easy to fine-tune
Cons
Higher price tag compared to other brands
Lower gear ratio
---
7. Daiwa Millionaire-S Baitcasting Fishing Reel

Are you a bait caster looking for a high-performing fishing reel at a relatively lower price? If so, then this Daiwa-made machine might be what you're looking for.
This cool pup from Daiwa comes with modern features that make work easier for the savvy anglers, and you're not an exception.
The heavy-hitter is designed with common fish species in mind i.e. bass, salmon, striper, snook among others.
Needless to say, this baitcaster reel is tough built for saltwater use. A closer look at its spool and bearings confirms that it's indeed designed to withstand corrosion.
Key Features
One aspect of this baitcaster that we absolutely love is that its frame is made of one-piece aluminum. So, it's quite solid and can always recover even after a major fall.
At the same time, the frame is light in weight. As you know, aluminum remains one of the lightest yet relatively strong metals available out there.
Being light in weight yet sturdy, this popular baitcasting reel under 100 seems to provide good value for money to quality-conscious buyers.
We particularly like the fact that you can use it for long hours without getting your hands abnormally fatigued.
So, if you're heading out for a deep-sea fishing mission or an overnight kayak trip, this is something that would come in handy.
And to crown it all up, the Daiwa comes with a free-floating spool. The main advantage of such a spool is that it makes it possible for you to make long-distance casts.
Plus, its free-floating design makes it all set for smooth, quiet and stealth fishing experience.
The only major knock on it is that its handles are not plushy. So, if your hands are delicate, you probably wouldn't like the experience of operating this reel for long hours.
Pros
Smooth and noiseless reels
Guarantees high performance
Highly reliable
Light-weight and sturdy design
It has a high-quality aluminum single-frame
Has a reliable braking system
Cons
Handle knobs are at times hard
Low drag capacity not ideal for big fish
---
8. Quantum Accurist PT LP Baitcast Reel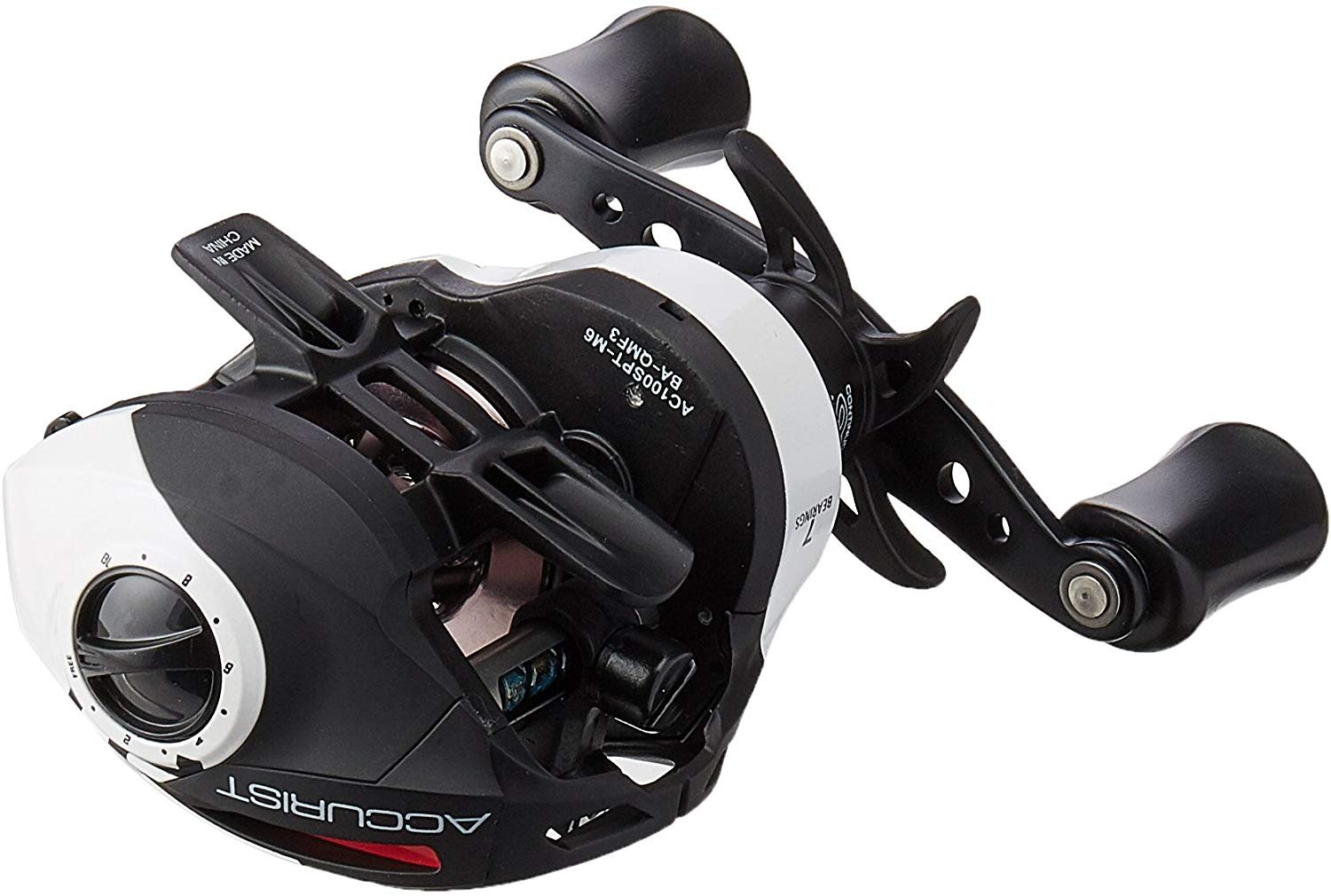 Without mincing our words – the only major issue with the Quantum Accurist is that its reel tends to become stiff with continued use.
That, however, happens after several months of serious use (or years of use if you only fish once in a while).
Other than that, this seems like a pretty good deal for the value shopper. It has a good design and a robust system.
Indeed, the Quantum provides you with a ceramic drag system which is quite reliable. We feel that this system's reel keeps you ready for any surprises the rivers, oceans, and lakes might throw at you.
Yet another advantage of going for this reel over any other available out there is that it comes with an easy-to-access lubrication port. This makes it extremely easy for you to oil the internal parts of your spool and this way, you can keep it smooth-operating for long.
On top of that, this unit boasts a one-piece aluminum frame that is strong, sturdy, and yet light in weight.
Key Features
First things first, this reel comes with a ceramic drag system. So, what does that mean? Well, unlike standard drag systems, ceramic ones tend to roll faster thereby saving you energy and making it possible for you to cast faster.
It is way superior to the standard steel bearings. And if anything, it is more resilient to saltwater conditions than steel as ceramic is a no-metal. You know, non-metal components have zero risk of corrosion.
Another awesome attribute of this reel is that it provides you with a combination of centrifugal and magnetic braking abilities. The centrifugal braking system kicks in during the initial stages of the cast thereby preventing a backlash.
At the same time, the magnetic braking system works in almost the same way the centrifugal system does. The only difference is that you can adjust them using a dial that's provided on the side plate.
In our view, the Quantum Accurist is almost perfect. That said, there are some who find its spool a bit too tight.
So, you might want to keep that fact in mind before ordering one.
Pros
Durably constructed
Light-weight construction
Compact and stylish design
Easy cast control
It has an adjustable reel that can spool multiple lines
Powerful drag system
Cons
Stiff spool
Tight drag
---
9. Ardent Apex Tournament Baitcasting Reel

If you're looking for a cheaper but a pro-level bait caster reel to add to your fishing gear, then this is one of the best picks.
This fishing reel features high-quality ball bearings with one instant anti-reverse bearing that is effective in backlash prevention. These bearings produce incredibly smooth and fast retrieval of 30.6" per turn.
What's more? With its external and easily adjustable 270 degrees magnetic braking system, this fishing reel offers a high-degree accuracy and precision that every angler would need for a superb cast control.
When it comes to its material construction, the Ardent Apex Tournament Baitcasting Reel features a highly durable 6061 T6 machined aluminum-made frame construction that adds strength to the system.
Key Features
It is has a light-weight frame made up of 6061 T6 machined aluminum which makes it ideal for all-day use. Its spool is also made of aluminum which as you know is corrosion-resistant.
Besides that, this high-performance fishing machine features a forged aluminum drag star and a swept-back aluminum-made handle outfitted with EVA grip knob that offers excellent handling and a comfortable fishing experience.
Behind its promising performance lies a 6.5:1 gear system that gives its robust performance. If you're looking for a fishing reel with a higher gear ratio, then this option might not work best for you.
However, its gear system has the adequate potential to offer the satisfactory performance needed by an average angler.
Pros
Made of a high-strength aluminum-made frame.
Comfortable handle
Compact construction
Light-weight
Smooth
Dual brakes for the efficient cast control
Cons
Difficult to fine-tune
No user manual provided
---
10. Daiwa Fuego CT Baitcasting Reel LH

This is yet another great fishing reel made by the good guys from Daiwa. The first thing we love about it is that it has some great looks.
Its frame is not only light in weight but also compact. So, this is clearly one of the reels that you can easily pack up and show it off proudly to your buddies.
But is there more to it than just great looks? For starters, this Daiwa reel boasts a 7.3:1 gear ratio. That's a pretty fast gear system because it means for every single turn made on the handle, the spool rotates for 7.3 times.
So, this tool from Daiwa is pretty fast and might be a bit challenging to operate if you're a newcomer.
That said, if you've been fishing for quite some time and are looking for something that's a bit faster and more aggressive, this unit might be worth upgrading to.
Key Features
A fast reel such as this one requires adequate controls for it to do a good job. Keeping that in mind, the team from Daiwa made sure to provide it with magnetic braking.
Indeed, the reel comes with a patented Mag Force Z cast which enables you to adjust its braking power so you can cast better.
If you're looking for a reel with a smooth drag, the fact that this unit provides 13.2lbs worth of drag makes it ideal for most fishing situations. You can comfortably use it to reel in the big game!
Surprisingly, this reel weighs in at 7 oz. So, it's quite light in weight and, therefore, easy to pack up and transport in your backpack and also convenient for a long day of fishing.
Plus it's worth keeping in mind that this machine's spool provides you with an incredibly long line capacity of 100yds. So, if you're looking to add a few more yards to your cast, this is a feature you can count on.
Last but not least (forgive the cliché), this cool kid comes with a 90-millimeter handle which besides being easy to hold also provides you with comfortable knobs.
Note: According to the manufacturer, this reel can expose you to chemicals including TDI. So it's not Prop65 compliant.
Pros
Light-weight and compact design
A perfect choice for left-handed anglers
Good gear ratio
Smooth performance
Has a powerful drag system
Durably constructed.
Cons
Meant for left-handed anglers
Not Prop65 compliant
---
How to Choose a Good Baitcasting Reel Under 100
To make a good choice, you need to look beyond what the product's description reads on Amazon. The truth of the matter is that it takes a lot more than just lip service for a reel to stun when it matters. And for that, here are the factors you need to consider before making your purchase.
Gear Ratio
The higher the gear ratio, the faster the reel is and also the harder it gets to control. So, if you are a beginner, you'll want to go for a gear ratio that falls in the range of 4:1 to 6:1.
If you're an intermediate looking for a bit of thrill and fun, go for anything between 6:1 and 7.5:1. That's just fast enough to take any fish species by surprise but not too fast. So, you still have a bit of control over the cast.
However, if you're an advanced angler and possibly a thrill-seeker, you might want to go for reels whose gear ratio reads 7.5:1 and above. Such reels are super-fast but can be really difficult to tame if you're a newcomer.
Max Drag
Drag is, simply put, the amount of resistance your spool can provide when you're fighting a fish. In theory, the higher the drag, the more reliable a reel is for fighting large fish. However, you want to be careful not to go for the highest drag level available at the expense of spool smoothness.
So, how much is enough? Experts recommend going for reels whose max drag falls between 12 pounds and 20 pounds.
Compactness & Weight
It takes time to land a nice catch and for that reason, your best bet is to end up with a reel that's compact in design and light in weight. But even then, you don't want a reel that's so light that it ends up being too delicate.
That's why we advise our readers to go for aluminum alloy reels. If you can find a reel that's made from aviation-grade aluminum you'd be in luck.
The material is light in weight yet has the potential to handle almost everything thrown at it.
One-Piece Design
One-piece reels, as their name suggests, have their frames from just one piece of material all thanks to the many wonders of 3D design and CNC cutting. There are two main advantages of one-piece designs.
The first one is that they reduce the likelihood of the fishing line getting snagged. That translates to reduced friction, a longer-lasting line and above all – accurate casts.
The second reason why we recommend one-piece designed reels is that it lessens the corrosive effects of saltwater.
Braking System
The two main types of braking systems used in the top-rated baitcasting reels under 100 are the magnetic and centrifugal varieties.
Both kick in immediately you make a cast and are meant to achieve the same goal i.e. minimize backlash.
The centrifugal braking system is common in low end and old model reels. You'll find the magnetic braking system in most of the reels we've reviewed above.
The reason for this is that magnetic brakes can be adjusted using a dial that's typically provided on the side-plate. Centrifugal brakes cannot be adjusted as easily.
Other Factors to Consider
*Ease of maintenance
*Comfort of the knob handle
*Bearings (go for stainless steel, double-shielded ones)
*Material (go for aluminum over graphite reels)
Frequently Asked Questions
Whether you're after inshore saltwater reels or simply looking for ones that can help you tame catfish, the following informational section might be of help. We respond to some of the burning questions about this fishing gear.
Q: What's the easiest baitcaster to use?
A: An easy-to-use would be one that has a moderate gear ratio i.e. not too slow and not too fast. It should also be light in weight and have a smooth spool. One reel that comes pretty close to that is the KastKing Royale but still, it isn't perfect so you might still need to carry out further research so you can make an independent choice.
Q: Are baitcaster reels any good?
A: Baitcasters might be a little frustrating to use if you're a newbie in fishing. Fortunately, with a bit of experience, they can be the best thing for any angler. That's because they offer good control over the cast and better accuracy.
Q: Baitcasting vs spinning reels, which ones are better?
A: Yes – kind of. With a baitcaster, you get the freedom to use a heavier line, face out with large fish and cast for longer distances compared to spinning reels of the same dimensions.
Best Reel Choice – Our Verdict
For a budget-friendly choice, we think that the KastKing Royale punches significantly above its weight. It is a low-maintenance reel plus it's designed for both freshwater and saltwater conditions.
Its gear ratio is just perfect for anglers with intermediate skills. Plus its quoted price makes it a steal.
The second runner's up position, in our view, belongs to the Cadence CB5. It is quite well-made and beginner-friendly plus it comes with a 90-day money-back guarantee.
That said, its spool tends to become noisier with continued use. So, it might not be a good choice if you're looking for something you can use every day for a couple of years.
Worth Reading
Final Thoughts
As you get ready for a trip to the water, it's important to have the correct reel for the job. We trust that you've found the tips and suggestions provided useful in that regard.
So, from our desk, we'd like to wish you lots of luck in catching whatever you are after be it bass, trout or steelhead (you name it!).